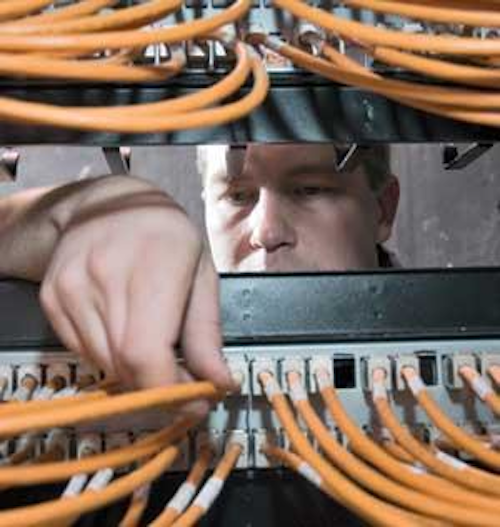 The combined F/UTP and fiber system supports one of the first casinos to deploy Ethernet rather than serial connections on the gaming floor.
As the third-largest United States gaming company, Penn National Gaming (www.pngaming.com) owns and operates 19 gaming and racing facilities in 15 states across the nation. Together, these facilities contain more 25,000 slot machines, 400 table games, nearly 2,000 hotel rooms, and more than 900,000 square feet of gaming floor space.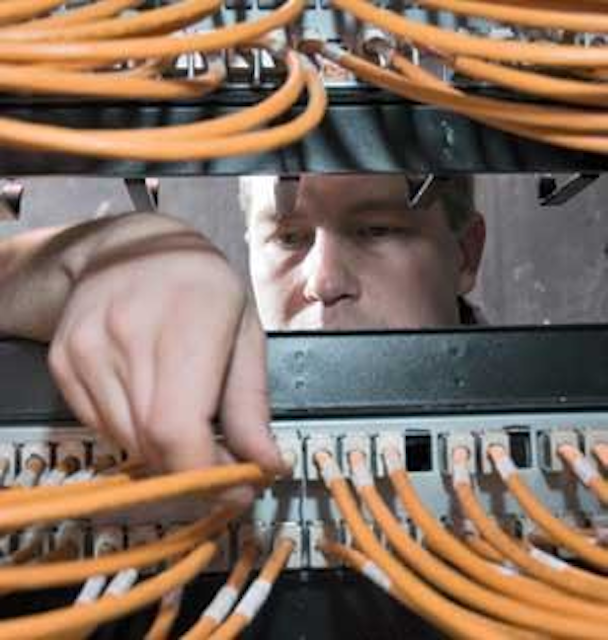 William Hannah, systems administrator for the new $350 million Hollywood Casino in Grantville, PA, checks the AMP Netconnect XG Shielded terminations of the backup slot-machine system, which, like all casino cabling, is color-coded for cable-management purposes.
Click here to enlarge image
The company's success started at the original Penn National Race Course grandstand in Grantville, PA, which opened with more than 10,000 in attendance in August 1972. That site is now the home of the new Hollywood Casino (www.hcpn.com) at Penn National Race Course, a $310 million facility with integrated thoroughbred horse racing and gaming. As the first Penn National Gaming facility to be designed and built from the ground up, the 5-level Hollywood Casino is the com-pany's keystone property and a model for its futuregaming facilities, including an advanced 10-Gigabit shielded network cabling infrastructure.
Making a sure bet
In Pennsylvania, the casino gaming industry is regulated and licensed by the state's Gaming Control Board (PGCB), which was established in 2004 and paved the way for legalizing slot machines in the state. Penn National Gaming received its $50 million slot-machine license in September 2006 and commenced construction of the 365,000-square-foot Hollywood Casino, including: parking garage; lower service level; 11 restaurants, bars, and entertainment areas; new racing grandstand; and a gaming floor designed to accommodate 3,000 slot machines.
Michael Raiser Associates, Inc. (www.mramra.com), a New Jersey-based consulting firm with extensive experience in integrated low-voltage system design and casino gamingrequirements, designed the entire network cablinginfrastructure for Penn National Gaming and for Keating Building Corp. (www.keatingweb.com), the general contractor for the Casino.
Aaron Trusky, IT technical support technician for Hollywood Casino, examines AMP Netconnect XG Shielded patch panel terminations in one of the casino's lower-level telecommunications rooms that supports slot machines on the gaming floor located above.
Click here to enlarge image
"In 2005, our firm engaged in an evaluation to determine the best cable and connectivity for the evolution to 10-Gigabit Ethernet," says Michael Raiser, president. "We concluded that there were multiple reasons forusing copper shielded cable. Even with the ratification of the 10-Gigabit standard, there is still no proven methodology for 100% end-to-to end alien crosstalk testing for UTP [unshielded twisted-pair] at 100 meters. That, coupled with shielded cabling's inherent advantages in significantly reducing EMI [electromagnetic interference] and RF [radio-frequency] interference, made shieldeda better choice. Over the past several years, we have designed many facilities, including Hollywood Casino, using shielded 10-Gig copper solutions."
The network cabling installation for the Hollywood Casinowas sent out for bid and ultimately won by Battaglia Integrated Technologies (BIT), a division of Battaglia Electric (www.battag.com), also the high-voltage electrician for the project. Battaglia selectedTyco Electronics' AMP Netconnect XG 10-Gigabitcabling and connectivity systems, one of the few productlines approved by Michael Raiser Associates. The AMP Netconnect (www.ampnetconnect.com) system is a combination of XG shielded twisted-pair copper cabling, XG 850-nanometer (nm) laser-optimized 50-µm multimode fiber, and XG Plus 850-nm fiber that is capable of supporting 10-Gigabit Ethernet (10GBase-SR) beyond 300 meters.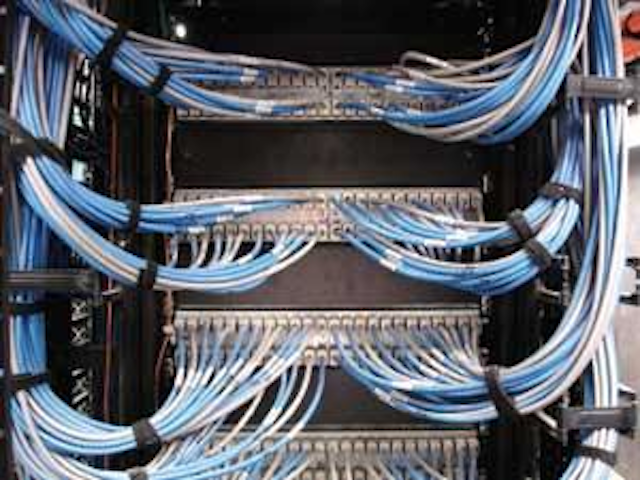 Consultant Michael Raiser Associates Inc. designed the cabling infrastructure with 10-Gigabit-capable shielded copper cabling to avoid alien crosstalk issues and prepare the casino for the future. The foil shielding of the AMP Netconnect XG Shielded system is designed to eliminate the alien crosstalk associated with 10-Gigabit Ethernet transmission.
Click here to enlarge image
According to James Shea, director of special projects atMichael Raiser Associates, Battaglia met the bid qualifications for the casino project and had the Tyco Electronics' certification as a Netconnect Design and Installation Contractor (ND&I).
"As an ND&I, Battaglia is able to provide a 25-year warranty, which is extremely critical in the casino and hospitality marketplace," says Shea. "Unlike the commercial world, where businesses lease space for a few years, these venueshave a 25-year life expectancy. These types of facilities are not afforded the luxury of knocking down walls or closing off areas. They rely on their space for generating revenue, and to close down a series of slot banks or a singlehotel room to rerun cables means the loss of thousands and thousands of dollars. That is why, in these markets, it ends up being more cost efficient for ownership to invest in a 10-Gigabit shielded system upfront."
Hitting the jackpot
The network cabling infrastructure at the Hollywood Casino features more than 15 telecommunications rooms (TRs) throughout the facility, connected to the main data center on the mezzanine level via 12 to 24 strands of the AMP Netconnect XG and XG Plus multimode fiber. The AMP Netconnect XG Plus fiber provides connections to outlying facilities on the 600-acre property, including a warehouse, call center, horse stalls, maintenance areas, and a wastewater-treatment plant. The ability of the AMP Netconnect XG Plus fiber to support distances beyond 300 meters offered Hollywood Casino a real cost benefit because multimode electronics using vertical-cavity surface-emitting laser (VCSEL) technology at the 850-nm wavelength cost significantly less than jumping to singlemode transceivers for supporting distances over 300 meters.
Five of the TRs located on the service level of the Hollywood Casino support the slot machines on the main gaming floor located above. From each of the TRs, AMP Netconnect XG shielded copper cabling runs up into a cable tray system under the main gaming floor where three foiled/unshielded twisted-pair (F/UTP) cables connect to each of the 270 banks of slot machines. Each slot-machine bank contains anywhere from2 to 14 individual slot machines, for a total of 2,020 throughout the casino and with space to expand to 3,000.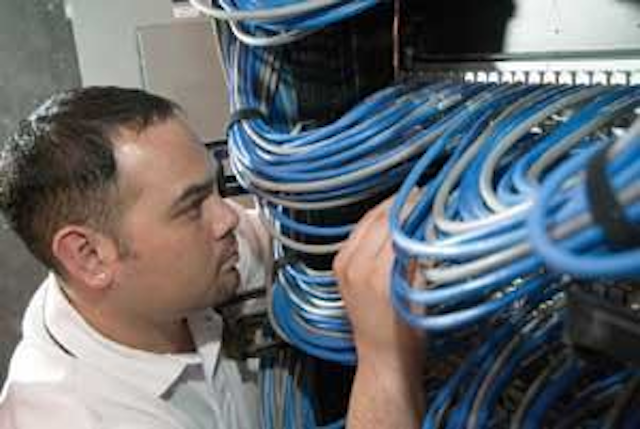 Chad Brownawell, IT technical support technician, examines one of the more-than 3,500 terminations of the AMP Netconnect XG Shielded system, which conforms to TIA/EIA-568-B.2-10 Category 6A requirements for 4-connector, 100-meter channels.
Click here to enlarge image
"The strategy of having the TRs on the floor below the slotmachines was not something I had seen before, but it makes sense from an aesthetics point of view," says William Hannah, systems administrator. "The five slot machine TRs are large, and space on the main gaming floor can be better served for other functions. I thought the design was strange at first, but it has worked very well; we like that we can service the TRs without having to go on the main gaming floor."
The PGCB requires their own separate network to gather data from every slot machine for the purpose of billing and monitoring. Consequently, the slot machine cabling design is unique, with one AMP Netconnect XG shielded cable supporting the state system, one supporting the casino's slot machine system, and one for future use and slot machine expansion.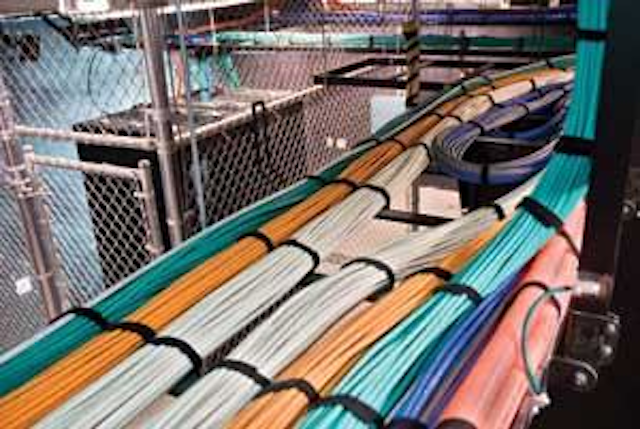 Using more than 100 different VLANs, Hollywood Casino maintains network integrity and segregates specific applications. All cabling is also color-coded to easily tell the various application traffic streams apart from each other.
Click here to enlarge image
"Every day, we receive an invoice from the state for the previous day's wagering, and if they see anything out of the ordinary, they have the abilityto take those machines off line," explains Hannah. "At each of the slot banks, we implemented a fiber ring for the state with fiber running from machine to machine and then converting back to theshielded copper cable."
The Pennsylvania Gaming Control Board, which regulates and licenses the state's gaming industry, controls its own separate network to gather data from every slot machine in the state. At Hollywood Casino, this required housing the state's passive and active networking equipment in separate, secure cages within each slot-machine telecommunications room, complete with video surveillance.
Click here to enlarge image
For the casino's internal slot system, a Cisco switch is installed in each bank of slots, and a star configuration using short runs of the shielded copper cabling is used to create a connection from the switch to each machine in that bank. "We're one of the first casinos to deploy a structured cabling system that supports Ethernet to the gaming floor," says Hannah. "Most casinos are still running serial connections to the slot machines. Every element of information or transaction that occurs at a slot machine is reported back to our system over the LAN. When players use their player card, we know where they are, who they are, and their gambling history. That's how we track jackpots and how our patrons earn points."
Running the house
In addition to supporting slot-machine systems, the AMP Netconnect XG shielded system connects everything from office workstations, wireless access points, and automated tellermachines to jackpot-redemption units, point-of-sale registers, and a casino-wide audio-visual system.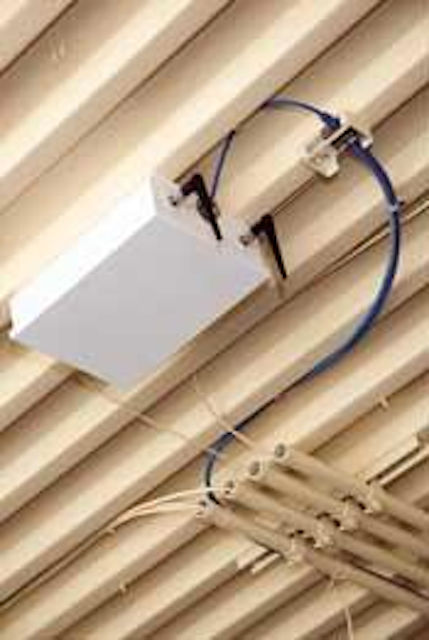 The network at Hollywood Casino connects to wireless access points throughout the facility that support a wireless phone system and wireless handheld devices for taking drink orders on the floor, at the racetrack grandstand, and at other areas throughout the casino.
Click here to enlarge image
"The network connects to over 60 registers at restaurants and retail stores, as well as to wireless access points that support our cocktail servers who use wireless handheld devices for taking drink orders out on the floor," says Joseph Lom-bardi, manager of information technology (IT) technicalservices for the casino. "On the service level, the network supports all the day-to-day office functions, including accounting, human re-sources, purchasing, housekeeping, food and beverage, facilities, slot operations, the warehouse, and marketing. It takes a lot to run a casino, and it's all supported by the structuredcabling."
The 500-plus video displays throughout the casino run high-definition video over twisted-pair cabling using aZ-Band (www.z-band.com) bi-directional active hub andbalun system that provides a means of distributing high-definition television signals throughout the facility. "By using a Tyco Electronics twisted-pair cabling solution for video, the casino will be able to easily transition to IPTV [Internet Protocol television] in the future," says consultant Raiser.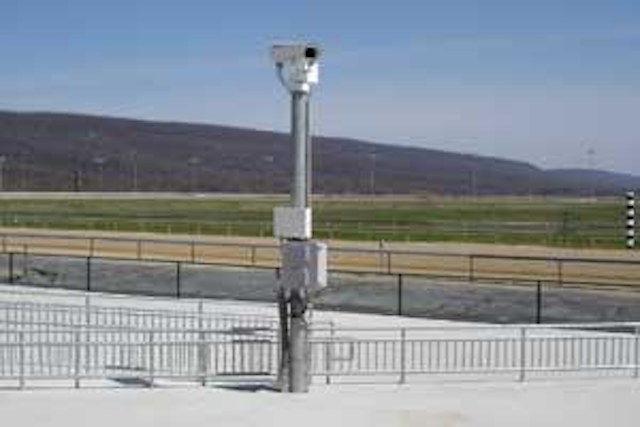 Hollywood Casino operates manned and robotic cameras on its thoroughbred racetrack, which are connected to the network for sending live signals out to other racetracks and off-track wagering venues.
Click here to enlarge image
As a highly Hollywood-themed venue, the casino displays numerous high-definition movies, images, and presentations on screens and monitors throughout the facility. "In ourHollywood On The Roof lounge, we operate a 90-foot-wideIMAX theatre-type dome," explains Lombardi. "In addition, we have a video wall in the sports bar, and there is a large video board when patrons first enter the casino. It looks like something you'd see in Times Square, and all of it is con-nected to the network."
In addition to entertainment video, the network cabling enables Hollywood Casino to run a full simulcastingoperation that represents about 85% of the casino's horseracing business. Simulcasting allows the Casino to receive broadcasts via three satellites and take wagers on races taking place at other racetracks around the world.At the same time, Hollywood Casino operates manned androbotic cameras on its own thoroughbred racetrack, which are connected to the network for sending live signals out to other racetracks and off-track wagering venues. The casino conducts live racing four nights a week that will expand to five during the summer. In the casino's signature Mountainview Terrace restaurant, each table has its own monitor that allows patrons to change channels and place wagers on any broadcasted or live race.
Staying on track
The significant size of the Hollywood Casino and amount of cabling, coupled with a tight schedule, made implementing the network cabling infrastructure challenging. More than14 miles of fiber-optic cables and more than 211 miles of copper cables were ultimately installed throughout the casino, along with nearly 4,000 AMP Netconnect AMP-Twist shielded jacks. The jack features a simple 2-piece construction with a shield clamp that simplifies shield connection and offers the fastest shielded termination on the market.
"The performance level of the technology and sheer volume of cabling required was unlike anything we had ever seen on a single project, and this was certainly the largest shielded installation we've ever done," says Chris Schwag, vice president with Battaglia Integrated Technologies. "While it was a challenging project, we found that it was no more difficult to install the shielded solution than UTP. The AMP Netconnect termination tool was a key component in the ease of installation and con-sistency. Likewise, the way the jacks are engineered made grounding and bonding simply a part of the terminationprocess."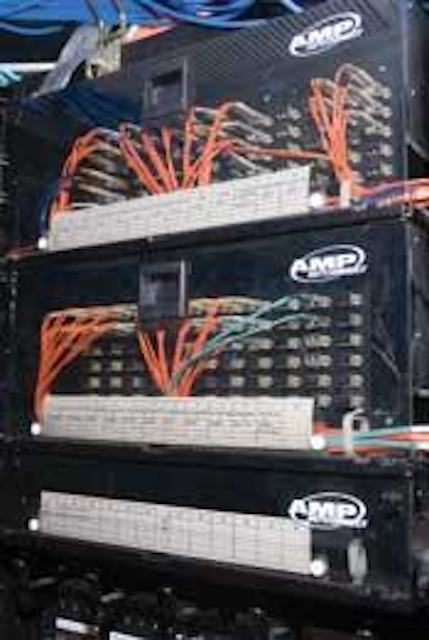 The casino's telecommunications rooms are connected to the main data center via 12 to 24 strands of AMP Netconnect XG and XG Plus multimode fiber. The ability of the XG Plus fiber to support distances beyond 300 meters offered a cost advantage over deploying more-expensive singlemode solutions.
Click here to enlarge image
According to Schwab, the most challenging aspect of the installation was staying on track with the aggressive schedule and working among so many different trades, all of which were mobilized simultaneously. "When we brought thecabling up to the gaming floor for the slot machines, we had to coil it, terminate it, and wait for the machines to be installed," says Schwab. "At the same time, we had to keep it protected from all the other trades working in that area. Thankfully, thecable and hardware held up very well."
Complying with the PGCB's requirements was a key challenge for everyone involved in the Hollywood Casino project. The PGCB required separate routers and switches for connecting to its Harrisburg-based data center through the casino's demarcation point. All of the state's networking equipment also had to be housed in separate, secure cages within each slot-machine TR, complete with video surveillance. A full inspection by the PGCB was required before the casino was able to open its doors on February 12.
To allow racing operations to continue throughout the construction process, a temporary facility was built on the property. Known as the Paddock Club, the temporary facility included a small food-and-beverage operation, simulcasting, and a call center to support the casino's telephone and Internet wageringplatforms.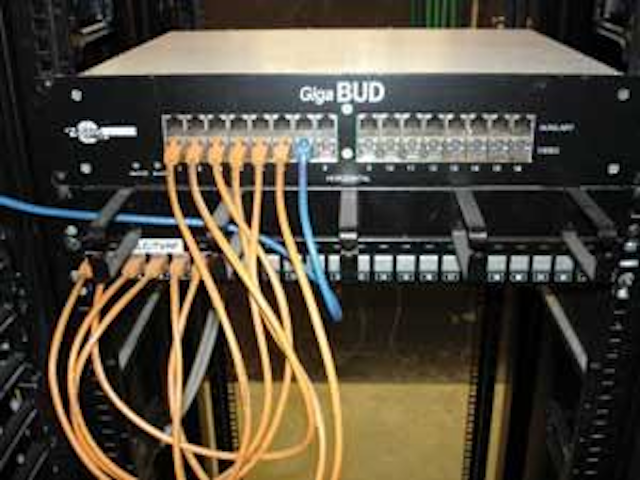 The more-than-500 video displays throughout the casino run high-definition video over twisted-pair cabling using a Z-Band bidirectional active hub and balun system that provides a means of distributing HDTV. The use of video over twisted-pair cabling will allow the casino to smoothly transition to IPTV in the future.
Click here to enlarge image
"In preparation for demolition and construction of the new casino, we had to move the entire racing operation out of the old facility and into the Paddock Club," says Lombardi. "We were then challenged to move it all back and bring everything to life without any interruptions to our operation. This required working closely with our service providers and moving into the new demarcation room over three different scheduledtimes. We were able to successfully accomplish everything without impacting the business or interrupting operations for even a few minutes, which we feel very good about."
Setting the pace
By implementing a 10-Gigabit shieldedsolution, Hollywood Casino is prepared for advanced technologies, such as downloadable and customized gaming, that willrequire increased bandwidth to the gaming floor and table games, if and when they are licensed by the PGCB. The casino already has plans to expand the 2,020 slot machines to 3,000, add more restaurants, and eventually build a hotel on the property. They are confident they have prepared their network for what-ever lies ahead.
"Using over 100 different VLANs [virtual local area networks], we've maintained the integrity of the network and have completely segregated the slot machine system from our other network operations," says Lombardi. "The slot floor is golden, and we need to protect that. We also color-coded all the cabling and used a distinct labeling scheme so that we can tell the state slot cable apart from the casino's slot cable and the point-of-sale cable."
To maintain 5-9s availability (99.999%), Hollywood Casino has around-the-clock staffing, with technicians on call and a backup main data center. The facility is also in the process of implementing a disaster recovery plan, which will entail simulated shutdowns and network recovery. In addition, a full network monitoring system sends alerts in the event of a network problem, and enables IT staff to constantly monitor how the network is operating and performing.
"The network delivers everything we do here, and reliability is number one; without a solid infrastructure design, implementation, and operation, we're in trouble," concludes Lombardi. "Our infrastructure needs to be solid, and we're confident that we've done that and prepared ourselves for the future."
Lombardi adds, "Our parent company is very ambitious with plans to double in size over the next two to five years. From the way we wired the slot floor and implemented video over twisted-pair to our staffing and day-to-day operations,Hollywood Casino is, in many ways, a model for PennNational Gaming moving forward."
WILLIAM (BILL) HAYNES is vice president of information technology for Hollywood Casino at Penn National Race Course. He can be reached at: Bill.Haynes@pngaming.com