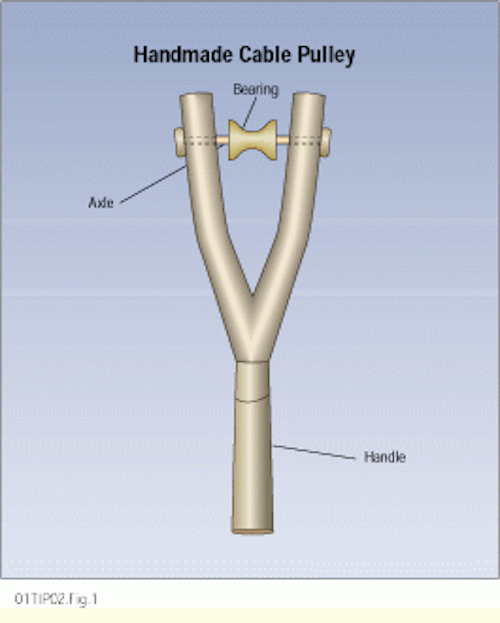 Todd E. Myers,
Pennsylvania State University
Problem
When you are pulling cable through conduit to the workstation, maintaining the minimum bend radius of optical-fiber and Category 5 copper cables can be difficult. In addition, you can scrape the cable jacket on the collar of the conduit and scratch your fingers and knuckles.
Solution
A handmade pulley can alleviate these problems, as well as ease the cable-pulling and reduce the tension on cables with low pulling tensions in difficult horizontal pulls.
Procedure
1) Fish the conduit from the wall outlet box to the cable tray or telecommunications closet.
2) Attach the cable to be pulled to the pull string.
3) While one installer feeds the cable at the closet or conduit, the other positions himself or herself at the wall outlet, placing the cable pulley into the outlet box.
4) Make sure that if the conduit enters the box from the top, the pull string runs under the pulley; if the conduit enters the box from the bottom, the pull string should run on top of the pulley.
5) While the installer at the far end of the run feeds cable into the conduit, the installer at the wall box holds the pulley device with one hand and pulls cable with the other.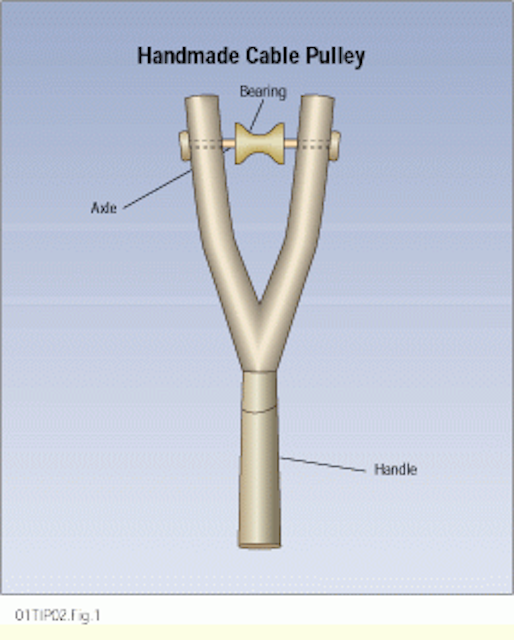 Click here to enlarge image
Note that the bearing in the pulley device has a central groove to route the pull string and cable.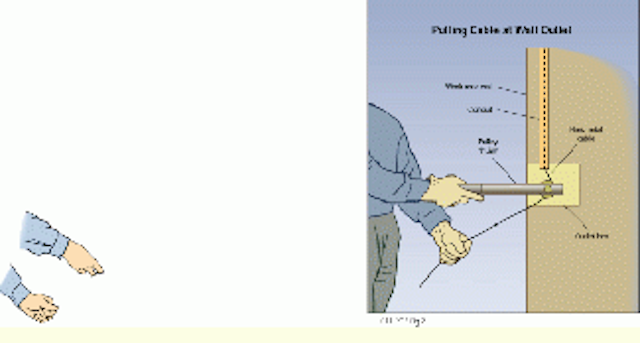 Click here to enlarge image
The conduit enters the wall box from the top, so the cable is pulled under the pulley to avoid abrasion from the conduit end.
Todd E. Myers is an operations coordinator at Pennsylvania State University (University Park, PA). His installer tip was the grand-prize winner of the Installer Tips Contest at Cabling Installation Expo `96, held in Charlotte, NC, last October.