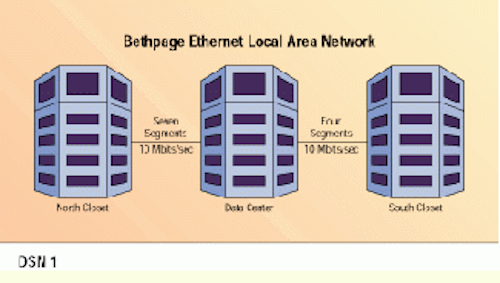 This high-speed Category 5 copper/fiber cabling system provides voice, data and imaging for a large ratio of employees per square foot.
Bruce Nash, The Robert Plan Corp.
The Robert Plan Corp., an insurer that specializes in underwriting and servicing urban and residual market automobile insurance in seven states, relies on alert employees using advanced technologies to uncover any faulty insurance applications and inflated claims.
Last year, the company had outgrown its corporate headquarters in Lynbrook, Long Island, NY, and needed to lease additional space. When Grumman Aircraft vacated a 237,000-square-foot, two-building office complex in nearby Bethpage, the company saw an opportunity to consolidate employees from several offices and, at the same time, upgrade its technology infrastructure.
Most of this upgrade took place on the first floor of a two-story, 200,000-square-foot structure in the office complex. The company put in a system to support voice, data and image applications that speed claims processing and help its approximately 1500 employees efficiently manage work flow.
A key application in the system is a personal computer imaging system. The system lets employees in different locations simultaneously view documents from physicians, lawyers, police and other authorities. This quick review of cases is accomplished before claimants have an opportunity to run up exorbitant legal and medical fees, or storage fees for disabled vehicles that it would not normally approve. The work flow process is automated on a client/server computing platform that expedites claims processing, saving the company time and money.
Users are connected over a series of 10-megabit-per-second Ethernet local area networks. However, the company decided to put its more than 400 imaging users on a 100-Mbit/sec Category 5 copper/fiber distributed data interface, or FDDI, running on AT&T`s Systimax structured cabling system. By accessing gateways on the local area network, these employees can download the information they need from any mainframe computer and display it on their workstations. This configuration eliminates the dedicated relationship between personal computers and mainframes, speeding the flow of information.
Pushing the envelope for Category 5
The backbone of the communications system is a structured cabling system that combines Category 5 copper and multimode fiber cabling for reliable performance at a realistic cost. The 15-year extended product and application warranty protects system components and provides published specifications for updating the system to meet future needs. This cabling system provides data and image transmission over the network for longer distances with fewer errors.
W.V. Communications (Lodi, NJ) installed the system and certified it to perform reliably at 100-Mbit/sec transmission and higher. According to William Strauss, president, "It was the first time we certified a system with so many workstations running such a large number of high-speed applications simultaneously."
Tony Curlo, the company`s director of sales and marketing, adds, "It is running those high-speed applications simultaneously that is important here." He points out that "this installation, to our knowledge, is the largest system in the country that is actually running at full bandwidth--100 Mbits/sec."
Installing and certifying the cabling system to run high-speed, high-bandwidth applications over copper was just one of the challenges the installer faced in cabling the two-floor complex. For one thing, the company had an aggressive installation schedule. "Normally," explains Strauss, "an installation of this size could take four months, but we had to complete it in 45 business days." The total installation time for the 25 to 30 men working on the project was eight weeks.
"Plans for work areas were fluid, so we had to be extremely flexible," says Strauss. "Demolition was taking place during the physical construction of the data center and during the installation of electrical, plumbing and heating systems."
Curlo says that the unusual time frame also required "total coordination among the trades." The installer had to work with other contractors and employees throughout the installation. During that time, 1500 employees and their workstations were moved--600 in one weekend--and the technicians continued to install cable while the move took place.
The building`s existing cable, coming out of the main computer room down a column to a series of metal conduits, known as a Walker floor system, had to be ripped out before the cabling could be laid. Not only was that system jammed with cables--a combination of low-speed voice and data copper and coaxial cable amounting to 400,000 feet--but the company wanted to clean out the system and get rid of all inactive cables. This job took 10 men working one week to complete. The cable first had to be identified, then cut piece by piece through pop-open access panels and pulled out of the conduits. The Category 5 cable was then installed in the existing conduits.
The installers laid 700,000 feet of cable in runs averaging 250 feet each. This included 2000 feet of 12-strand 62.5/125-micron multimode fiber-optic plenum backbone, or riser, cable. This cable connects the two wiring closets (intermediate distribution frames) to the main data center (main distribution frame). It also includes the Category 5 copper cable running from the closets to each workstation.
Three thousand horizontal cables support 1500 personal computers, with each user location having two ports--one for data and one for voice. All the work areas are wired for data and voice, and 400 are now used by employees running imaging applications at 100-Mbit/sec speeds.
Modular patch panels
Multi-max modular patch panels were used in this system. "These are slightly different from the standard Category 5 patch panels," says Curlo. "Each aluminum panel has 24 cutouts that can support any combination of media--copper, fiber or coaxial cable. What The Robert Plan did," he adds, "was to color-code the RJ-45 Category 5 jacks in the wiring closets to make it easier to identify them. We used orange to identify the 100-Mbit/sec jacks for imaging and black to identify the 10-Mbit/sec Ethernet jacks for data."
What made the project different was the volume of cables used because of the large number of employees per square foot in the building--1500 in a 100,000-square-foot building. Employees work in small cubicles and use a large monitor that takes up much of that space.
To manage the cable volume, the installer created large harnesses of cables held up in the ceiling by cable support mechanisms. This supported the cables in bundles of 300 to 500, keeping their weight off the ceiling. As the cable travels down the section, the harness gets smaller and smaller as bundles of cable are dropped off. In each of the three sections of the building, the cables branch down through a dropped ceiling to each of the building columns, which are approximately 30 feet apart.
Certification
"To comply with certification requirements, however," Strauss notes, "the cabling system design had to be slightly modified. The Electronic Industries Association/Telecommunications Industry Association Category 5 standards state that horizontal cable runs cannot exceed 90 meters, or 295 feet. Almost 100 cables in the design exceeded the EIA/TIA standards` limitation and, therefore, had to be re-routed to another closet."
For its 6000 terminations, all copper cables were terminated using Category 5 RJ-45 connectors while the fiber-optic cables were terminated with STII connectors. These were stipulated in the guidelines and reflected in the customer specifications.
The Robert Plan`s Wellfleet router platform presently links more than 500 486 DX personal computers through Ethernet to a router that connects them to the FDDI backbone, which is the basis of the Novell network. In addition, for imaging, more than 400 Pentium 60- and 66-megahertz workstations using 21-inch monitors are connected through the copper/FDDI hubs to the backbone. That number is expected to increase to 500 by the end of the year.
The benefit of using this system is that the company can hook up new workstations without rewiring. "We wired for future use," says Curlo. "A user can be up and running in a few minutes simply by plugging a new patch cord into the existing panels."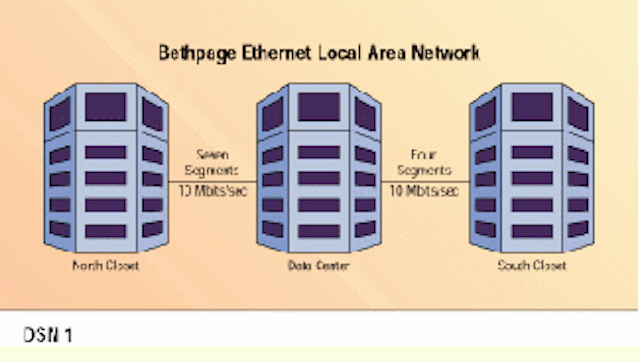 Click here to enlarge image
The Robert Plan`s Bethpage, NY, facility is cabled for an Ethernet 10-megabit-per-second local area network in three sections. The north closet will support 314 users; the data center, 453; and the south closet, 111 users.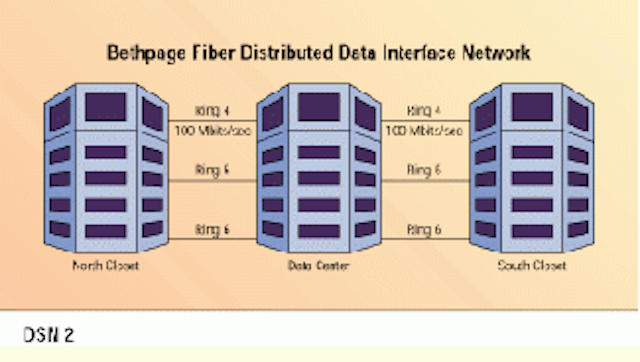 Click here to enlarge image
The 100-megabit-per-second FDDI local area network will support 192 users from the north closet, 198 from the data center and 5 from the south closet.
The Certification Process
The certification process at The Robert Plan Corp. had several requirements:
The structured cabling system, designed by Epic USA (Fairhaven, NJ), had to be reviewed and verified to ensure compliance with AT&T guidelines by an authorized designer/engineer--Tony Curlo.
The technicians performing the installation had to have completed a one-week installation and maintenance training course.
These installers also had to follow a 32-page set of AT&T installation guidelines, with directives on everything from twist rates to bend radius.
"Finally, it was required that we test every Category 5 cable with a LAN cable tester, and the fiber-optic cable with an optical-loss test set," says Curlo. As part of the documentation process, "we recorded and documented all the tests and furnished the customer with the information in 3-inch binders. After that, AT&T sent out a representative to verify that the project met or exceeded its standards," he adds.
After this verification, the customer received a certificate that warrantees the system for 15 years, providing both product and system assurance.
Bruce Nash is senior vice president, MIS/Technology Services, at The Robert Plan Corp., Uniondale, NY.