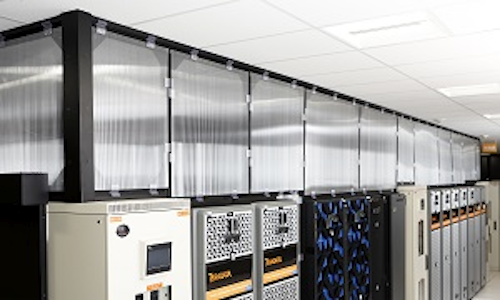 As the second largest managed health care company in the United States, Anthem Inc.'s primary and largest data center was experiencing growing pains typical of many legacy data centers—ensuring newer, higher-density equipment would have enough space, power and cooling—while keeping costs down. The company turned to Chatsworth Products (CPI) for a total service and product solution.
Located in Richmond, Virginia, the 1,000-cabinet data center was configured in traditional open air, hot/cold aisles and generated more than 82 percent of the electricity costs. The challenge was to make dramatic improvements in such a large, established data center.
"Capital One was building a modern data center nearby. Through a networking opportunity, I was able to take a tour and saw Chatsworth products everywhere," explains Dean Wagstaff, Director of Data Center Operation at Anthem. "They talked about CPI's capabilities, products—particularly the cabinet and PDU—engineering, and value-added services as well. An unbiased opinion from those responsible for the site carried a lot of credibility."
Wagstaff worked closely with Anixter, a distributor partner, evaluating products from several manufacturers. When the CPI team provided Computational Fluid Dynamics (CDF) models—a complimentary service of CPI— providing a visual illustration and considering the data center as whole, Anthem knew CPI was the clear winner.
The path to improvement began with a complete containment strategy at both the cabinet and aisle level, composed of CPI products that are now a standard specification for all Anthem data centers.
For airflow containment at the aisle level, the flexibility and onsite customization features of CPI's Build to Spec Kit (BTS) Hot Aisle Containment (HAC) provided an ideal solution for hot exhaust air generated by existing, multi-vendor cabinets. For new cabinet installations, Anthem's data centers now include CPI's GF-Series GlobalFrame® Gen 2 Cabinet with Vertical Exhaust Duct for cabinet-level containment, Monitored eConnect® Power Distribution Units (PDUs) for remote power management and several cable management accessories such as floor grommets.
Since implementation three years ago, Anthem has experienced significant improvements. "We will continue investing in air containment strategies, resulting in increased yearly savings, which are already outstanding. Overall, it has been a great investment." says Wagstaff.
To read the full story, download the full case study.
Posted by Brittany Mangan, Digital Content Specialist at 3/30/2018
Note: Conversation is encouraged and expected. However, moderation of comments is necessary to prevent spam, personal attacks, profanity, or off-topic commentary. Comments related to specific product support or customer service issues will be addressed separately rather than posted here. Please email techsupport@chatsworth.com for assistance with these matters.