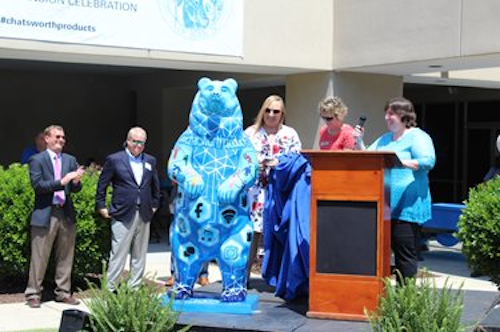 With the increase in global demand for higher networking speeds, the emergence of new technologies like 5G and artificial intelligence, and the rise of edge computing, Chatsworth Products (CPI) customers continue to require innovative IT infrastructure solutions that can meet the needs of our evolving tech landscape.


As a result, CPI employee owners at our U.S. East Coast facility in New Bern, N.C. welcomed colleagues, customers and local community leaders and media to a special ribbon-cutting event and luncheon celebrating the expansion of the New Bern manufacturing plant—along with the reveal of the newest member of our New Bern family—CPI's very own "Technology Bear."

The site expansion—made possible by state and local grants and expected to create 15 new jobs and attract $750,000 in private investment—drew the interest and television coverage of local ABC- and NBC-affiliate news stations, both of which spoke to CPI's New Bern Plant Manager, Marisa Game, who offered perspective on CPI's expanding footprint in the community, positive impact on the local economy, and excitement at calling the newest member of New Bern's locally famous New Bern Bears one of our own.

"CPI is extremely excited about this expansion. It's the next step in sustaining the global and national growth the company has experienced and will help us more efficiently provide customers with the high-quality product selections they deserve," said Game.

Be sure to watch each news story below and stay up-to-date with all that's happening in CPI's world through our events calendar.