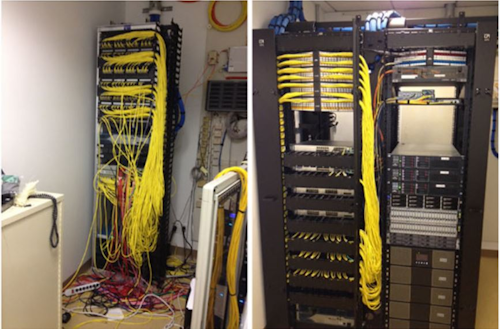 In a world where the use of and dependency on technology is increasing, effective cable management is more important than ever before.
As your network expands, Chatsworth Products (CPI) suggests you consider the following best practices in order to maintain a high level of professionalism and discipline from IT personnel handling cables.
Document
Documenting is one of the most critical tasks in effective cable management. Document the entire infrastructure including cable types, patching information, diagrams, and the number of cables—and keep the information readily available to any team member handling cables. Keep the document up-to-date. This task can be assigned to a particular team member. In addition, ensure guidelines for installing new cables, accessories and routing cables are included. Photographs can help to provide reference points.
Change Management
Develop standard procedures and protocol, and ensure they are being carried out. Adopting poor procedures is easy if technicians aren't committed to what has been set in place. As new racks and equipment are installed and the network expands, expectations should be clearly documented. Again, documentation should be readily available to all team members handling cable. It may include cable color for specific uses, separation of data and power and rack selection based on installed equipment.
Training
Every IT manager must recognize that training personnel is critical. This is especially true when it comes to effective cable management—the integrity of your network depends on it. As your networks expands, new equipment is installed and standards continue to evolve, ensuring personnel is up-to-date and following your process and protocols in every situation is critical. This is also key when onboarding new personnel.
Discipline
The most common of tasks requires a procedure. Every step must be considered to maintain organization and neatness. Shortcuts or quick-fixes are tempting—especially during an outage. They may have a marginal impact at the time, but if the quick-fix is applied repeatedly, the end-result can result in catastrophe. This could come in many forms. Without documentation, the costs of replacing systems or installing new may double—or worse. Excessively messy cables not only cause inefficiency of your personnel, they can cause downtime.
IT personnel must agree to make effective cable management a priority. It's essential to keeping your network running reliably and making it efficient to maintain.
To learn more about the pillars of effective cable management, view the presentation.
Posted by Brittany Mangan, Digital Content Specialist at 1/4/2018