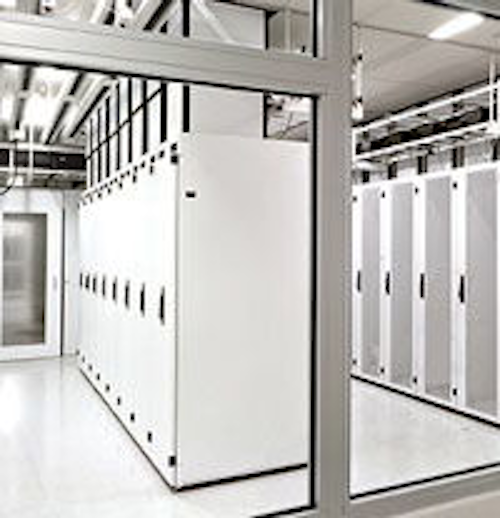 The expense and time associated with the deployment of intelligent rack power distribution units (PDUs) is a challenge many data center managers face.
Chatsworth Products' (CPI) eConnect® PDUs combine cabinet-level power management, environmental monitoring and electronic access control into one simple-to-use platform. eConnect also includes innovative capabilities, such as Secure Array® IP Consolidation and Click Secure Locking Outlets, that are designed to alleviate the challenges of deploying and using intelligent PDUs.
Secure Array IP® Consolidation
Secure Array IP Consolidation reduces costs and decreases installation time by allowing you to link up to 32 PDUs under a single IP address using standard Ethernet cables.
Adding a second IP address provides failover capability, which allows functioning PDUs to continue communicating if a PDU in the array loses connectivity.
Check out the Secure Array Savings Estimator to determine how much you can save by using the Secure Array Solution for a specific deployment.
Click Secure Locking Outlets
Click Secure Locking Outlets, which use patented Click Secure Technology, are available on all eConnect PDUs with IEC outlets - no need for proprietary power cords. This not only safeguards power connections, but also eliminates the cost of additional accessories.
Both Secure Array, with its ability to consolidate 32 IP addresses, and Click Secure Locking Outlets, can save customers up to $400 in deployment costs per PDU.
Pre-installation
Save additional time and money by having your eConnect PDUs preinstalled in CPI cabinets before leaving the manufacturing facility.This will ensure the best fit within your cabinet, save significant deployment time and minimize packaging waste.
Lead Times and Configurations
eConnect PDUs are available in over 350 standard configurations. With manufacturing in the United States, standard configurations can generally be shipped within a seven to ten day lead time. Free online tools, like our Power Selector, offer the ability to quickly and easily choose the most appropriate configuration based on functionality, form factor and electrical requirements. CPI also maintains an application engineering team that can quickly create customized solutions. Custom solutions are generally shipped within a 20 - 30 day time frame.
If you're considering intelligent PDUs and want to save valuable time and money, learn more by watching video below or by visiting the product page.
Watch the video here: http://www.chatsworth.com/blog/time-and-cost-restraints-making-deployment-a-challenge-consider-econnect-pdus/
Chatsworth Products' (CPI) eConnect® Power Distribution Units (PDUs) provide the ultimate solution for combining cabinet-level power management, environmental monitoring and electronic access control in multi-tenant and enterprise data centers.