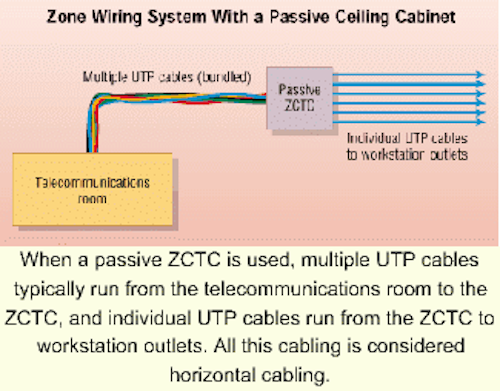 Bringing active equipment into the open office necessitates forethought and prompts standards activity.
The merits of bringing active networking equipment out of the telecommunications room and closer to system users have come to light recently, thanks in large part to the makers of products and technologies that enable such movement. Some vendors in the open-office or zone cabling arena have developed means by which users can extend the cabling backbone to a point in the system that has typically been part of the "horizontal" cabling.
This advancement represents a scenario that is common to professionals in the cabling industry: the rapidity of technological development outpaces the speed with which guidelines-and standards, in particular-address the technical issues involved.
The Telecommunications Industry Association (TIA-Arlington, VA) first addressed technical issues related to open-office cabling in its Telecommunica-tions System Bulletin TSB-75, and it plans to update some open-office specifications in its TIA/EIA-568B.1 document, due for publication later this year.
"Section 6 of the B.1 document will include open-office specifications," says Robert Faber, Jr., RCDD/LAN Specialist, global IT consulting manager with The Siemon Company (Watertown, CT). Faber presented this and other information at the "Members Only Technical Seminar," part of BICSI's (Tampa, FL) Winter Conference held in January.
Among the specifications that will be published with the B.1 document are:
The maximum allowable work-area cable will be 5m (16 ft), up from 3m. This change harmonizes the TIA standard with the 11801 standard from the International Organization for Standardization/ International Electrotechnical Commission (ISO/IEC-Geneva).
A multi-user telecommunications outlet assembly (MUTOA) cannot be located in ceiling spaces or any obstructed areas. And MUTOAs can only be mounted to system furniture if that furniture is permanently secured to the building structure.
No more than one consolidation point (CP) is allowed in a horizontal space.
A transition point is not allowed in the same horizontal cable run in which a CP appears.
Cable extending from a CP must be terminated to a single or multi-user telecommunications outlet.
In addition to these soon-to-be-finalized standards requirements, Faber says his company has set forth other recommendations for the design and installation of open-office systems. Among them are that a balanced twisted-pair CP be located a minimum of 15m away from a telecommunications room, and that a CP be located a minimum of 5m away from a user outlet. These recommendations are offered to ensure that the installed system will perform up to the full potential of the given category.
Moving the TR
As standards-makers review practices and performance with open-office cabling, defining appropriate specifications along the way, they are also now looking forward to the aforementioned movement of active networking equipment closer to the work area. Faber points out that the need for such specifications is real for some users today.
"Due to office constraints, and in particular the lack of adequate space to house a TR, it is very likely that some users are already taking this approach," he says. "The TIA's approach will be first to determine what is happening, technologically and in the field. To do this, the TIA will rely on input from furniture makers, connectivity makers, and users." A task group has been formed, he says, to study the issue.
"This group will try to design criteria to specify 'tiny TRs,' as they have become known," Faber says, referring to the idea that these network layouts establish miniature telecommunications rooms located in very close proximity to work areas in the open office environment.
Chances are the work of this task group ultimately will be published in a telecommunications systems bulletin (TSB), or possibly an addendum to an existing standard. "TSBs are informative in nature," Faber comments, "so the TIA may issue it as a TSB." Based on the processes through which such a document must go, it will probably be two or more years before it is finalized.
The task group faces several issues that are considerations today, and possibly others that have not yet emerged. Power supply is one such issue. Bringing power to the system components, protecting that power, and bonding/earthing the system are sure to keep the task group busy. "If these issues are not satisfied, invariably it will lead to active equipment problems," Faber notes.
Also, cabling channels in these setups are going to be short-perhaps only a few meters or less in some situations. Questions surround how cabling channels will operate at such short distances.
The fact that networking equipment will come out of the telecommunications room also brings up questions of ventilation. Active devices generate a significant amount of heat, and they will no longer reside in climate-controlled rooms, where temperatures are intentionally kept low. Of particular note also are uninterruptible power supplies, which also are significant heat generators. User safety issues also merit consideration. Specifically, will users be safe in an open office, reaching to plug and unplug devices?
So, there is much to ponder now that the prospect of extending the network backbone into the open office is becoming a reality. Over the coming months and years, expect to hear more about the TIA's activity in this area.
---
Bring networking equipment closer with active zone cabling
In the past few years, new telecommunications technology has given rise to higher-speed cabling, new ways to connect that cabling, and higher-speed network switching. These emerging technologies and improved levels of performance have created the need for a cabling approach called zone cabling. Advocates point out that this approach can provide users with higher networking performance; a rapid return on investment through cost-effective moves, adds, and changes (MACs); and increased flexibility when MACs are necessary.
Zone cabling is a method of distributing communications wiring to workstations within a limited area. Zone sizes can vary, but most zones include the area between four building columns. In most office environments, the zone contains six or eight workstations. Zone cabling employs feeder or backbone cables routed from the telecommunications room to a consolidation point within the zone, where they interconnect to individual cable runs that fan out to each workstation outlet. The outlet may be a standard, single-user outlet, or a multi-user telecommunications outlet assembly (MUTOA).
MACs, or reconfigurations of the office setup and cabling infrastructure, cause network downtime. By significantly decreasing the amount of downtime associated with changes, zone-cabling systems achieve cost-savings for the end user both in terms of the labor associated with MACs and the economic impact of system downtime.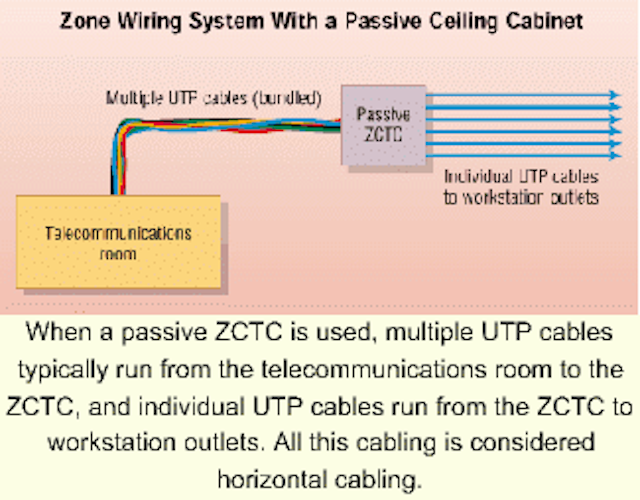 When a passive ZCTC is used, multiple UTP cables typically run from the telecommunications room to the ZCTC, and individual UTP cables run from the ZCTC to workstation outlets. All this cabling is considered horizontal cabling.
Click here to enlarge image
The original guidelines of the TIE/EIA-568A standard recommend direct, uninterrupted-run cabling from workstation outlets on a floor to a single wiring closet. TSB-75 expands the cabling options available to designers and system users by specifying additional connection schemes and topologies that are easily changed.
While the original structured cabling concept emphasized permanence, zone distribution is better suited for systems that change frequently. It provides a means of keeping most of the cabling permanent and undisturbed, while making it easier to move the rest of the cabling. Outlets can be relocated within a zone to accommodate a new office layout, but the cables to those outlets must be rerouted only from the zone consolidation point. The feeder cabling from the wiring closet to the consolidation point remains the same, and the office area in between is not disrupted.
Active zones
Zone cabling is not a brand new idea; it has been around for several years, since the publication of telecommunications systems bulletin TSB-75 by the TIA. But within the realm of the zone-cabling concept, some new ideas are emerging. Specifically, users who implement this approach now have the option of putting in place what are becoming known as "active zones." By including some networking equipment that is traditionally found in telecommunications rooms, active zones extend the performance and bandwidth of the fiber-optic backbone closer to the desktop.
Candidates for active zones
The ability to extend the fiber backbone closer to the desktop is an important consideration, because according to the TIA/EIA-568A standard, copper-cabling runs are limited to 90m. While the vast majority of workstations are well within 90m of their associated telecommunications rooms and, therefore, are not in danger of violating the 568-A distance limitations, there are many instances (particularly in educational institutions) where clusters of workstations exist farther than 90m away from a telecommunications room. These situations are prime candidates for active zones.
While consolidation points and MUTOAs can serve the needs of more traditional zone-cabling systems, users who wish to employ active zones require alternative intermediate distribution points. They need equipment that can effectively and safely house the active networking equipment that has traditionally been kept in the telecommunications room. Devices that Ameri-can Access Technologies calls zone cabling termination cabinets (ZCTCs) provide the technology platform for active zones that support a variety of communications applications.
A ZCTC is similar in function to a consolidation point or a MUTOA in that it provides connectivity closer to the system user, and simplifies MACs. The ZCTC typically has ports to service the voice and data requirements of a given zone, with media options that include unshielded twisted-pair, shielded and screened twisted-pair, and fiber-optic cables. But some ZCTC models also support the active zone design by housing a hub, switch, or other piece of equipment that marks the transition point between system backbone and what is commonly referred to as horizontal cabling.
These cabinets are available for mounting either in ceiling spaces or underneath raised floors. When ceiling-mount passive cabinets are used, the physical setup resembles that of other zone-cabling systems. Cable-typically UTP-runs from the telecommunications room to the cabinet, where it is terminated to the back of connecting hardware. Other UTP cables then fan out to the individual workstations within the zone.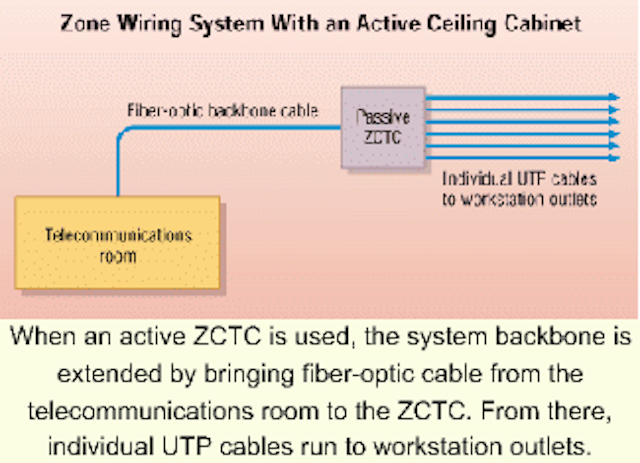 When an active ZCTC is used, the system backbone is extended by bringing fiber-optic cable from the telecommunications room to the ZCTC. From there, individual UTP cables run to workstation outlets.
Click here to enlarge image
When users employ ceiling-mount active cabinets, fiber-optic backbone cable runs from the telecommunications room to the cabinet, where it is terminated at the networking equipment housed in the active ZCTC. And just like the situation in many telecommunications rooms, the networking equipment is the transition point between fiber backbone and copper cabling to the workstation.
American Access Technologies' ZCTC models are alternating-current power-ready, and each includes a filtered fan that provides a minimum of 60 air changes per hour. These are important considerations for users who are considering bringing active equipment into areas of the office that traditionally have housed passive infrastructure exclusively.
Raised-floor systems
Active cabinets currently are available only as ceiling-mount systems, while the cabinets intended for use below raised floors are all passive. A 4-in-deep ZCTC is designed for raised floors of 6 inches or higher, and will accommodate up to two 48-port patch panels. It provides total rack capacity of eight units for combinations of patch panels and cable-management tools.
The 6-in-deep ZCTC can accommodate as many as four 48-port patch panels, and provides eight rack units of mounting space for panels and wire-management tools. It is designed for use underneath raised floors of 8 inches or higher.
And a 12-in-deep ZCTC offers 11 rack units of capacity. It can accommodate up to five 48-port patch panels, and is designed for use with 14-in or higher raised floors.
Each of these three raised-floor ZCTCs comes with fire-rated foam kits to ensure the products do not compromise a building's fire safety.
Whether they incorporate active or passive zones, zone-cabling systems can be time- and money-savers in many open-office environments. On the basis of several years experience, we have found that modular systems have an installed cost of 20 to 40% less than hard-wired systems. Also, all components of the system can be relocated and reused. Modular wiring offers the ability to reconfigure open office areas quickly and efficiently, using in-house facilities personnel, and reusing all existing components.
Editor's note: This article is based on a presentation given by Mr. Boyd at the "Members Only Technical Seminar" during BICSI's (Tampa, FL) Winter Conference in January 2001. Other information in this article comes from a "Frequently Asked Questions" document available from American Access Technologies.
Patrick McLaughlin is Chief Editor for Cabling Installtion & Maintenance.
Wil Boyd is vice president of American Access Technologies Inc. (Lake Mary, FL).