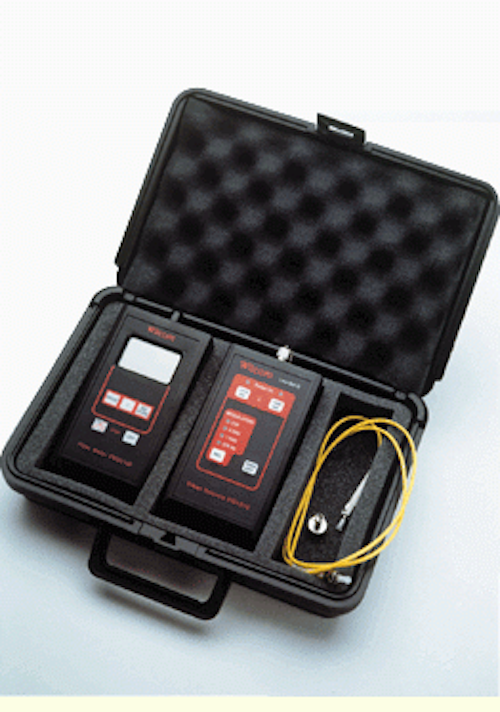 Arlyn S. Powell, Jr.
Fiber-optic test equipment has been in constant change over the last decade as it has sought its place in the premises/ campus marketplace. High-end (and expensive) optical time-domain reflectometers (OTDRs), the mainstay of long-haul telecommunications service providers, have been stripped down to appeal to a more cost-conscious contractor audience in the form of mini-OTDRs. Even more basic are optical-fiber identifiers and visual fault locators, the former using the OTDR principle to locate the distance to a fault in a fiber, and the latter depending on visible laser light to accomplish the same purpose.
But during all of this change, the baseline testing device for the premises or campus fiber-optic network has remained the optical-loss test set (OLTS). There is often confusion about the OLTS, because in actuality it consists of two separate devices: the optical light source and the optical-power meter.
Strictly speaking, an OLTS comprises both light source and power meter in the same unit, and two OLTSs are needed to test a long fiber run. However, according to Jim Hayes, president of Fotec Inc. (Medford, MA), a manufacturer of fiber-optic test equipment, "The industry has broken out of the 20-year mold of a single unit. The original concept was to test a short cable, but long-distance testing requires separate boxes."
To combat the higher cost of two separate OLTSs needed to test long fiber runs, some manufacturers today offer a single kit--the optical-loss test kit (OLTK)--that contains a separate light source and power meter.
Devices measure loss
Whether you purchase a separate light source and power meter, two OLTSs, or an OLTK, the procedure is the same. The light source is connected to one end of an optical fiber and the power meter to the other. A calibrated laser-light signal is sent down the fiber, and the power meter measures the difference between the intensity of the signal sent and the signal received. This difference is the optical loss, or attenuation, of the fiber and is the single most important indicator of the medium`s level of performance.
Although this process sounds simple (and it is simple in concept), reality is a bit more complicated. Optical fibers, for instance, come in two basic types--singlemode and multimode--and the signals they carry may be at one (or more) of several different wavelengths.
Walt Kalin, vice president of technology and marketing at Wilcom Inc. (Laconia, NH), a maker of these devices, advises installation contractors to shop wisely for OLTSs. "A general-purpose OLTS will work for most situations," he says. "This keeps contractors from having to buy separate singlemode and multimode kits as well as all the connector options." Wilcom, for instance, offers an OLTK with a dual-laser source, operating at either 850 or 1310 nanometers, so that either singlemode or multimode fiber can be tested.
Another consideration is the number of fiber-optic-connector types currently in use. FC, ST, and SC fiber-optic connectors are widely used, but there are more than a dozen less-popular devices in use. A whole new generation of small-form-factor fiber-optic connectors has been introduced within the last two years.
One tactic for beating the high cost of test equipment is to include as much capability as possible in a single unit. The most striking example of this tactic is the recent introduction of fiber-optic probes that attach to copper-wire local-area-network (LAN) testers.
"We are seeing a trend away from installers doing exclusively copper," says Scott Lindsay, marketing manager of Hewlett-Packard`s Scope LAN tester division (Marlboro, MA). "Today, they install fiber as well. Over 60% of our sales are combination copper/fiber testers." Other examples of LAN testers with fiber-optic capabilities are the FiberCat from Datacom Textron (Everett, WA) and the CertiFiber from Microtest (Phoenix).
Nortech Fibronic (Quebec City, QC, Canada) may be unique in offering fiber-testing capability on a digital multimeter (DMM). Says Nortech president Claude-Adrien Noel, "Our Miniature Optical Power Meter gives installers who need to test both copper and fiber an inexpensive and easy-to-use solution. The [device] connects to the COM and V inputs of any DMM for rapid measurement of optical loss."
Other considerations
There are a number of other considerations to keep in mind when looking at power meters and light sources. Reliability and ruggedness are, of course, important, as is ease of use. Accuracy is of paramount concern as well, and in this age of information, so is the need to document findings. Many testers have an RS-232 interface through which test results can be downloaded to a personal computer.
And the usual range of supporting equipment can be found with these testers--cable-preparation tools, adapt-ers for various connectors, tool and adapter holsters, batteries and power accessories, and cleaning consumables.
Of prime concern to cable-plant managers and cabling contractors alike, however, is price. There is at least a fourfold range in pricing among basic units--from about $700 to $3000--and the potential user should be sure to shop around.
"Some of these kits sell for thousands of dollars," says Peter Giannone of Meson Fiber Optics (Hallstead, PA), "and there can be a huge price differential between smaller and larger companies. The market is pretty clogged, and competition is fierce."F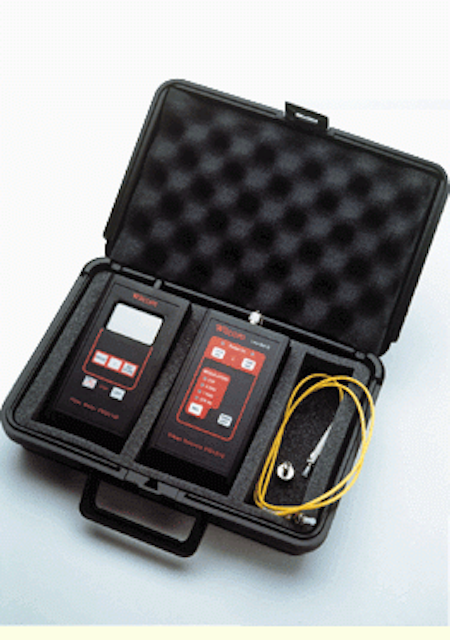 Click here to enlarge image
This optical-loss test set from Wilcom Inc. includes an optical-power meter, dual-laser source, reference cable, adapter cap, and case and can be used for singlemode applications.