The rise of data centers and other critical business installations have made choosing a connector more than just a matter of 'smaller is better.'
The umbrella term known as FTTx for bringing fiber to the curb, home, or office, has often been thought of in terms of bringing high-speed services primarily to residential customers-especially those in new housing developments or multi-dwelling units. Recently, however, the corporate world's inner workings-and the data center in particular-have also become prime targets for fiber deployment, impacting connectivity manufacturing trends, installation opportunities, and your connector decision-making.

The ModLink plug-and-play system from Molex Premise Networks is featured in the company's 10-Gigabit end-to-end fiber solution. The system includes pre-terminated fiber-optic trunk cables and patch cords, and supports IEEE 802.3 10GBase-SR/SW and 10GBase-LX4 protocols, as well as Fibre Channel 1200-M5E-SN1 and all legacy systems designed to run over 50-µm multimode fiber.
Click here to enlarge image
It's not that the residential market is no longer seen as lucrative, but for mega service providers, such as Verizon, the anticipated immediate high profitability of bringing fiber-to-the-business is too good to pass up. According to Sam Greenholtz, co-founder of research firm Telecom Pragmatics, and author of the recent report, Verizon's Charging Forward with FTTP: Will Credit Markets and Regulators Get in Its Way? (www.bia.com/TelecomReports.htm), "Just as in the old Ma Bell days when the higher margins from long-distance revenues subsidized the high costs of local service, Verizon appears to be counting on high profitability from FTTP to make up for expected shortfalls with FTTH installation."
Verizon, in fact, recently announced that it is planning aggressive fiber deployment to communities located up to 20 miles on either side of the Interstate 95 corridor along the U.S. east coast-and as Greenholtz points out, that's where "most of the large businesses in its territory tend to be located."
If the Verizon mission is a nationwide trend, the ramifications for installers in getting all that fiber connected to meet mission-critical business demands is clear: "To put as much fiber as possible in as small a space as possible, without sacrificing performance," says John Kamino, connectivity product manager for OFS (www.ofsoptics.com).
Time-savers to the rescue
Easier said than done? Perhaps not. Connectivity advances displayed in pre-connectorized systems, for example, can save you hours of time and cost per installation, and provide assurance that the system was tested to meet standards performance criteria before it left the factory. But even these state-of-the-art solutions have their downside if you don't carefully do your design homework first.
Meanwhile, the increasing trend toward small form-factor LC connectors in the data center and other high-density business installations, where connectors often must be close together, will require brushing up on preparation and termination requirements. Forthcoming updates to TIA and IEC fiber-optic standards concerning performance will also demand close attention as more fiber-to-the-business installation opportunities arise.
While simplex and duplex SC fiber connectors-the standard bearers for telecom and datacom applications-remain the most popular for low-density applications, and multifiber push-on (MPO) types are a leading choice for array or ribbon connections, Dave Harney, global product manager for Molex Premise Networks (www.molexpn.com), notes that "There is a clear migration to LC connectors displacing SC connectors," especially in data centers and virtual LANs where high-density, small-form-factor connectors are essential.
"Looking further ahead, active equipment and components will become more and more compact, so connector ports will have to get smaller as well," adds Ray Wertz, R&D, Fiber Instrument Sales (www.fis.com). "This will increase demand for compact connectors, perhaps even smaller than the small-form-factor styles that we are familiar with today."
Show me what you've got
While "smaller is better" has been a prevailing motivation for choosing a connector to meet high-density requirements, size matters-but not size alone. "Attention must still be centered on performance, including light loss and reflection for high-speed systems," urges Dave Cook, fiber interconnect manager for 3M's Communication Markets Division (www.3m.com/telecommunications). "This remains unchanged, from the advent of fiber-optic interconnection."
So while fiber connectivity may be moving toward the more demanding and critical corporate environment, the rules for connector selection remain constant: A connector's ability to support high levels of network performance as speeds and demands increase should be at the top of your list. Important but secondary considerations include intermateability with components from a variety of vendors, and ease of installation and maintenance.
High-density fiber-optic connectors, sums Angela May, manager of programs and plans for Corning Cable Systems Private Networks (www.corningcablesystems.com), should be "capable of high fiber counts in a compact, dense environment, be quick and easy to install, demonstrate superior performance with low losses, have factory-quality endface geometries, manage polarity easy, and be scalable."
High-density made easy
A data center's demands, and its mission-critical information, require an always-available network system. Downtime due to outages or component failure must be addressed quickly via moves, adds, and changes (MACs), or with rapid repairs and replacement.
To meet these uptime performance demands, several fiber-optic cabling and component manufacturers have recently introduced pre-connectorized or pre-terminated systems. The so-called "plug-and-play" systems typically consist of factory-ready patch cords and patch panels, enclosures, modules or cassettes, cable trunks, and harnesses. Most feature multi-fiber connectors designed to save time by letting you connect several fibers at once. When combined with small-form-factor LC connectors, these pre-connectorized systems can help save valuable data center floor space.
"Saving space is even more critical now with the exponential growth of data that needs to be stored and processed," explains Willard White III, technical manager/connectivity R&D at OFS (www.ofsoptics.com).
Tested in the factory for reliability and performance, a pre-connectorized system's components are designed to connect together quickly, reducing installation time. Pre-connectorized systems can also save installation time by "providing a good quality factory polish on the ferrules that have the continuity and loss verified by factory testing and qualification," says Rudy Montgelas, director of fiber systems at Hubbell-Premise Wiring (www.hubbell-premise.com). "They can also be used in field restoration applications where a quick field fix is required to bring a network back online in a short amount of time."
These pre-terminated products, while typically favored for larger, denser installations such as data centers, are also finding a broader appeal. "Many mid-sized installations have found that the [system's] adaptability and speed make it well suited to them," says Matt Brown, product manager FOA for CommScope (www.commscope.com). "Reconfiguring the physical layer-moving servers, or storage-is made remarkably easy."
Brown calls pre-connectorized assemblies "the new great thing in fiber-optic installations. Since they are tested in the factory, the components are known to be good before the installation begins. If the product is properly engineered, considerations like signal polarity will be transparent to the user."
Others in the connectivity industry agree that the combination of competition for installation costs and the need for simplified administration of mission-critical networks will only increase the popularity of pre-connectorized systems in the days to come. "With today's high labor costs, expect increased use of pre-installed pigtails within equipment racks and panels as a fast way to achieve quality terminations," says Wertz of FIS. "Simply fusion-splice the pigtails to the installed cable, and they are ready to go."
But there are caveats to pre-connectorized systems that also must be weighed. Without careful planning in the design stage, you can end up with either too much cable to store, or not enough cable to adequately link systems.
"Understanding the application and the layout of the system is critical," cautions Kamino of OFS. When designing, you need to plan "for the smallest practical number of connections, splices and disruptions, while maintaining the flexibility to support multiple network architectures."
If cable lengths for pre-connectorized systems are not measured accurately before ordering from the factory, either equipment will be too close to the distribution frame, or you'll be faced with having to store excess cable in an environment already short on space. So, be prepared "to engineer the installation and closely follow the plan in place at the time of the purchase of the assemblies," urges 3M's Cook. "The engineering time and effort should be considered in calculating the [installation] cost."
No matter how state-of-the-art a data center's equipment may be, there's no guarantee that it will perform as promised if the cabling system it runs on is inadequate. "The cabling system can be your weakest link, or it can be a predictable factory-built link," says Molex's Harney. "Just as few end users would consider building their own router and applications servers, the time has come [to] consider using a guaranteed performance pre-terminated system for the cabling infrastructure."
Standards and trends to watch
High strand count pre-connectorized fiber, says Hubbell's Montgelas, "is the natural alternative" to an entire pre-connectorized system. "The fiber delivers much higher bandwidth in a much smaller sheath, eliminating a tremendous amount of cable bulk that blocks airflow under the raised floor and in cabinets."
Accordingly, installers and data center managers should note that the TR-42 subcommittee that is revising and refining the ANSI/TIA/EIA-568 standards to eliminate duplication and organizing them by their "unique premises environments" (see Ask Donna, "568: The next generation," March 2006, pg. 8) is expected to reference detail component specifications for commercial design, generic cabling, and fiber component requirements (TIA 568-C.3). Included in that revision, says CommScope's Brown, will be updated information on the use of multi-fiber MPO connectors, which are becoming more common in enterprise installations.
Also looming, says Brown, is a pending revision to the IEC 61755-3-1 single fiber and 61755-3-3 multi-fiber connector standards: "These will be based on years of theoretical and empirical work by industry experts, and will predict optical performance based on the physical geometry of the connector."
Beyond standards, emerging fiber options, some of which are being seen as ideal for the high-density environment, will present new considerations for connectivity. The UK-made Fibercore 80-µm singlemode fiber, for example, noted for its ability to accommodate tight bends in equipment, will require special connectors. While the connectors for Fibercore are compatible with standard ports on active equipment, "the connector ferrules have smaller bore diameters to accommodate the narrower cladding diameter," says Wertz of FIS. "Expect growing use of this fiber."
As for general connectivity trends, expect to see the loss performance for SC, LC, and MPO to continue to improve, with the LC and MPO "leveraged for greater and greater density," says Brown of CommScope. "Higher-density MPO connectors, such as the 24- or 48- fiber, will become more common."
And regardless of where the fiber connectivity world heads, providing a "clean" installation can be one of the best ways to assure a high-density network performs to its maximum capability. "Cleanliness does not just refer to the absence of dust and dirt, but also to clean lines of installation so that routing and usage is clear and understood," says White of OFS. While the use of pre-connectorized products makes it easier for installers, he says, it does not alleviate the need for direct termination of individual connectors. "The latest polishing developments for the LC connector, for example, are critical for maintaining performance and speed of installation," notes White.
Brown of CommScope agrees: "Take the time to learn about the specific cleaning and handling requirements of high-density connectors…they will be around for a long time. "
---
What's new…
Here's a sampling of recent fiber-optic connectivity and tool introductions. For more information on connector companies and their products, check out the contact information list that accompanies this article.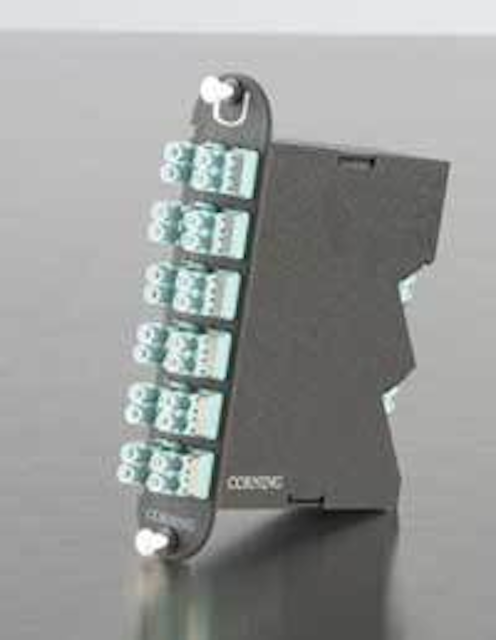 Click here to enlarge image
PRE-TERMINATED MODULE-The Plug & Play Universal System from Corning Cable Systems is a pre-terminated high-density fiber-optic cabling technology designed to streamline deployment of a fiber network infrastructure. The system features ribbon cabling and MTP connector-based trunking. Modules and harnesses are wired alike to simplify assembly, and to enable fast network MACs without polarity concerns that are typically associated with special polarity-compensating components. High fiber-count trunks can be routed to an intermediate distribution area where smaller fiber-count trunks are interconnected and distributed to zone, station, or cabinet areas. The system includes trunks, extender trunks, harnesses, modules, and patch cords.

Click here to enlarge image
FIBER CONNECTOR ADAPTERS-Pre-assembled Bobtail fiber-optic adapters from Fiber Instrument Sales are designed to reduce termination time by up to 90%. According to the manufacturer, the Bobtails can turn many standard fiber-optic connectors into quick-termination connectors for about half the price. Pre-polished adapters are also available.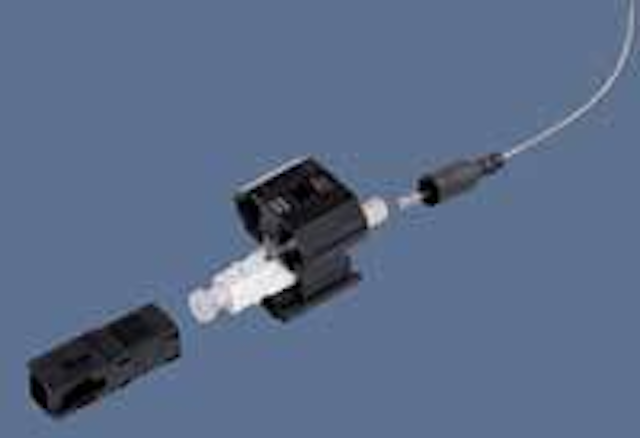 Click here to enlarge image
PRE-POLISHED CONNECTORS-2Click pre-polished connectors for singlemode and multimode fiber LAN and backbone applications, from Hubbell-Premise Wiring, incorporate a factory installed pre-polished fiber stub inside. SC and ST connectors are available with singlemode and 62.5-µm or 50-µm core multimode optical-fiber stubs. To assemble the connector, you strip and cleave the building fiber cable, insert the prepared fiber into the connector, then squeeze an integral wedge assembly. According to the company, assembly takes two minutes or less, and with no special tools or expendables required. A roll-up tool pouch containing necessary fiber preparation tools for multimode 2Click connector applications is also available, as are a separate ceramic blade cleaver for multimode fibers and precision diamond cleave tool for singlemode fibers. The 2Click system, says the company, is fully field-tested and meets all requirements of the TIA/EIA-568-B.3 industry specifications for performance and durability. A 25-year mission-critical warranty is included.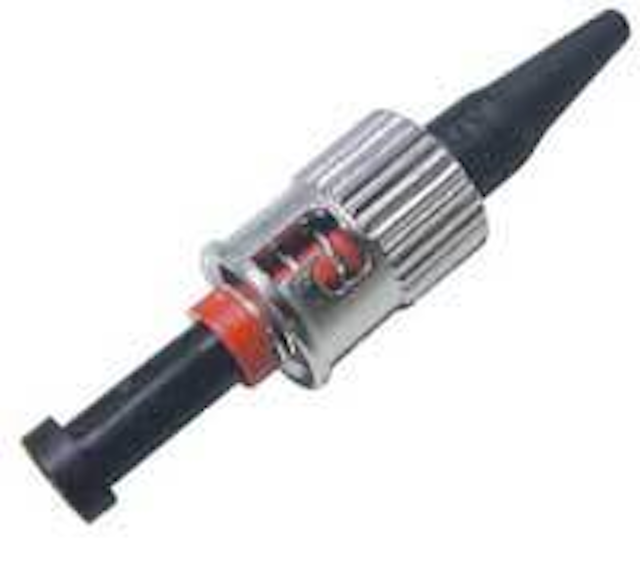 Click here to enlarge image
RoHS-COMPLIANT CONNECTORS-Xpress Termination LC, SC and ST RoHS-compliant fiber connectors, from Molex Premise Networks, are available in multimode and singlemode designs, and built for 900-µm buffered and cordage applications. The connectors feature a zirconia ferrule and have a typical insert loss of 0.3 dB. No electrical power is required for termination, and a two-part adhesive requires no mixing or applicator.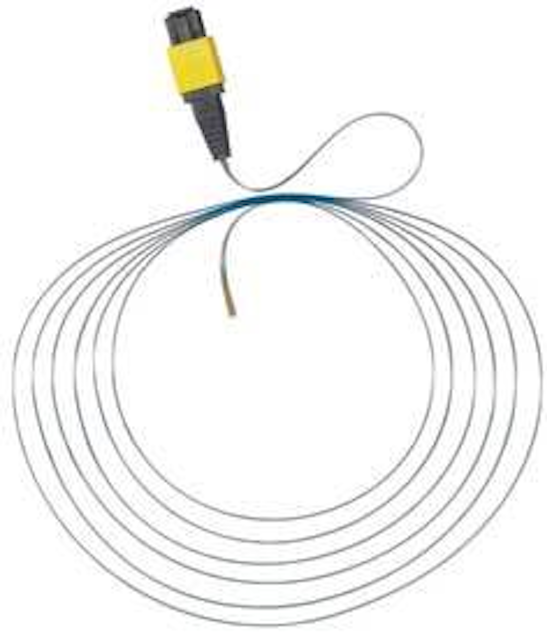 Click here to enlarge image
UNDER DEVELOPMENT-The Optical Connectivity Group at OFS says it is expending development efforts on connector improvements, and research for new connector designs. Recent developments include the reduction in time required for field-installed connectors. OFS says it is working with manufacturers of OSP cabinets to improve connector applications in the outside plant, especially as it relates to FTTx. In addition, the company is striving to make fiber more cost-effective in the data center and in fiber-to-the-desk applications.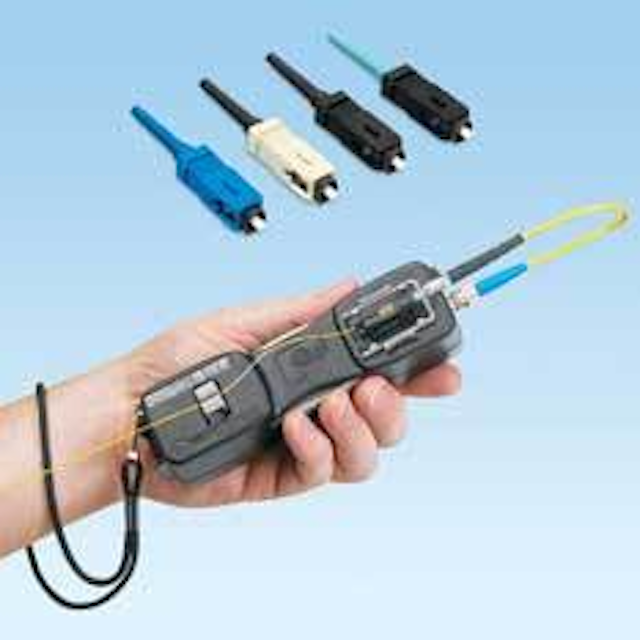 Click here to enlarge image
TERMINATION TOOL-The OptiCam termination tool from Panduit is designed to simplify terminations of OptiCam pre-polished connectors. It features an integrated visual fault locator for indication of proper termination after the cam step has been completed. According to the company, the tool and its connectors are designed to eliminate operator error and deliver yield rates approaching 100%.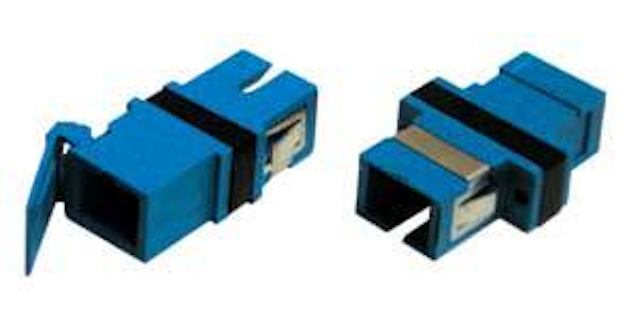 Click here to enlarge image
FIBER-TO-THE-DESK CONNECTIVITY-The SureConnect family of isolated fiber-optic union adapters, from Telescent LLC, feature a patent-pending technology that includes an integrated fiber stub designed to prevent direct contact between two connectorized fibers. The isolated union adapter is built to protect critical network terminations, including those originating from a wall plenum, patch panel, or as part of a fiber-optic media converter.
Fiber-optic connector manufacturers
Acton Corp.
Industry, CA
626-913-5888
www.acton.cc
ADC
Minneapolis, MN
952-938-8080
www.adc.com
AFL Telecommunications
Spartanburg, SC
864-433-0333
www.afltele.com
Allen Tel Products
Henderson, NV
702-855-5700
www.allentel.com
Alliance Fiber Optic Products
Sunnyvale, CA
408-736-6900
www.afop.com
Belden CDT
Networking Division
Fort Mill, SC
514-822-2345
www.beldenibdn.com
CommScope
Hickory, NC
828-459-5000
www.uniprisesolutions.com
Corning Cable Systems
Hickory, NC
800-743-2671
www.corningcablesystems.com
Diamond USA
Chelmsford, MA
978-256-6544
www.diamond-fo.com
Evera Communications
Mississauga, Ontario
905-712-9923
www.everacomm.com
Fiber Connections Inc.
Schomberg, Ontario
800-353-1127
www.fiberc.com
Fiber Instrument Sales
Oriskany, NY
315-736-2206
www.fiberinstrumentsales.com
Fiber Optic Network Solutions (FONS)
Marlborough, MA
508-303-9352
www.fons.com
Fiber Plus International
Milford, PA
570-296-5124
www.fiberplus.com
Fujikura Europe Ltd.
Surrey, UK
+44 0 208 240 2027
www.fujikura.co.uk
Gruber Industries
Phoenix, AZ
602-863-2655
www.gruber.com
HellermannTyton
Milwaukee, WI
800-822-4352
www.hellermann.tyton.com
Hubbell Premise Wiring
Stonington, CT
860-535-8326
www.hubbell-premise.com
ICC
Ceritos, CA
562-356-3111
www.icc.com
KITCO Fiber Optics
Virginia Beach, VA
757-518-9100
www.kitcofo.com
L-com Inc.
N. Andover, MA
800-349-5266
www.l-com.com
Leviton Manufacturing Co.
Bothell, WA
425-486-2222
www.levitonvoicedata.com
Molex
Downers Grove, IL
630-512-8787
www.molex.com/fiber
Molex Premise Networks
Lisle, IL
866-733-6659
www.molexpn.com
OFS
Norcross, GA
770-798-4000
www.ofsoptics.com
Ortronics/Legrand
New London, CT
860-445-3900
www.ortronics.com
OZ Optics Ltd.
Ottawa, Ontario
613-831-0981
www.ozoptics.com
Panduit Corp.
Tinley Park, IL
800-777-3300
www.panduit.com
Princetel Inc.
Lawrenceville, NJ
609-895-9890
www.princetel.com
Seiko Instruments USA
Torrance, CA
310-517-8113
www.siifiber.com
The Siemon Company
Watertown, CT
860-945-4200
www.siemon.com
Stratos International Inc.
Chicago, IL
708-867-9600
www.stratoslightwave.com
Suttle
Hector, MN
800-852-8662
www.suttleonline.com
SYSTIMAX Solutions
Richardson, TX
800-344-0223
www.systimax.com
Telescent LLC
Santa Monica, CA
310-694-8218
www.telescent.com
3M Communication Markets Division
Austin, TX
800-426-8688
www.3m.com/telecommunications
Tri-Net Technology
Walnut, CA
909-598-8818
www.trinetusa.com
TRT Business Network Solutions
Costa Mesa, CA
714-564-7777
www.trtinfo.com
Tyco Electronics/AMP Netconnect
Harrisburg, PA
800-553-0936
www.ampnetconnect.com
US Conec Ltd.
Hickory, NC
828-267-6323
www.usconec.com
Woodhead Industries
Northbrook, IL
847-272-7990
www.woodhead.com