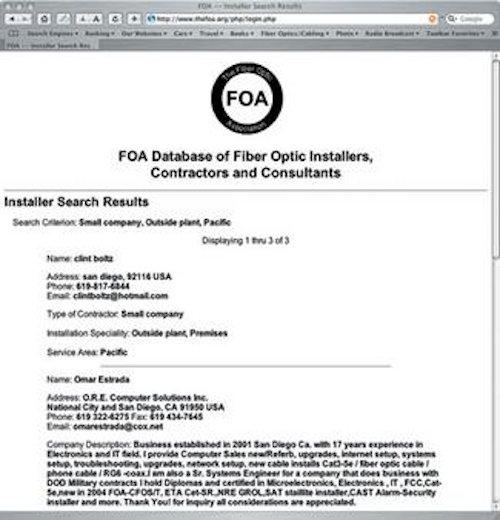 The Fiber Optic Association's new database of contractors is designed to help persuade enterprise end users that optical fiber is the way to go, and that they can easily find contractors who can install it.
"It's something the FOA is doing to help the industry and encourage the use of fiber optics, and to provide the kind of service we believe will enhance the use of fiber in all spaces," says Jim Hayes, president of the association.
The FOA(www.thefoa.org), a nonprofit educational organization chartered to promote optical fiber through education, certification and standards, recently established the online database of FOA-certified technicians who are available for installation and consulting on optical-fiber jobs, as well as for employment.
Hayes says the FOA's database will help connect enterprise end users with contractors that they know are properly trained in optical-fiber installation techniques. The database is strictly for Fiber Optic Association Certified Fiber Optic technicians (CFOTs). "This will ensure that end users get trained people who are certified," says Hayes.
Users will be able to search the FOA database for an optical-fiber installer, contractor, or consultant by specialty-including telecom, CATV, LAN, security, or others-for work anywhere in the world. Hayes says more than 16,000 contractors have been certified by the FOA. All current FOA CFOTs have been notified about the new database and are invited to list their services on it, and many are signing on now.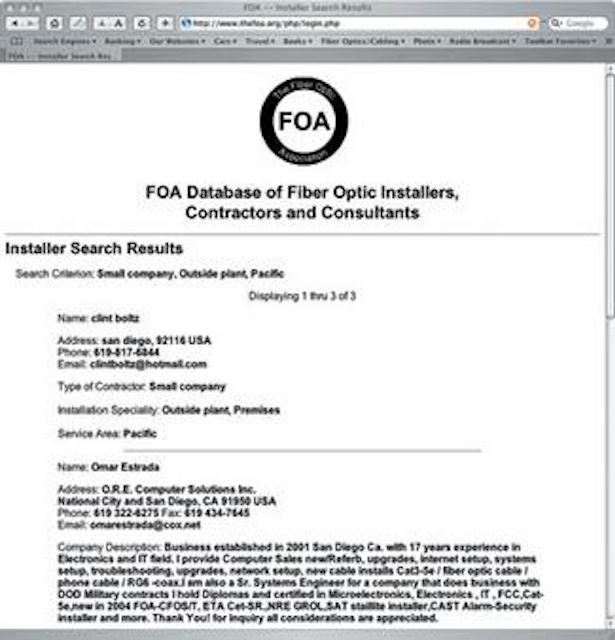 The FOA recently created the online database of FOA-certified technicians who are available for installation and consulting on optical-fiber jobs, as well as employment.
Click here to enlarge image
Contractors who have CFOTs will be allowed to register and upload their information onto the database for free. Users who wish to search on it can likewise do so for free. Hayes says interest in the database is growing: "It's got this groundswell of activity right now; the fact is, that in order to make fiber optics more accessible to end users, they like to have some degree of confidence."
This isn't the first time that the FOA has built a database. During the early 2000s, the association established a database that contained potential jobs for contractors. But the project was less than successful, since the database required constant upkeep as jobs became filled or no longer existed.
"There was a time back before the bust, we were getting a lot of people that were sending us jobs," says Hayes. "We'd post them on our Web site, but the problem with that is that they were transient. Jobs are one-shot deals."
Hayes says the better tactic was to provide a place where contractors could post their capabilities. "It's much easier to do it that way," he says.
The association studied the database idea for two years, and hired consultants to help put it together. It spent eight months developing the project, finally creating a traditional, no-frills platform that the FOA believes can be easily searched. The association is now in the process of loading information into the database and asking constituents to register.
Hayes says many potential users of optical fiber are reluctant to make the move unless they can find a certified installer. By creating an online database where FOA CFOTs can list their services, Hayes says, the FOA is simplifying the task of finding a reliable installer or consultant.
-Brian Milligan