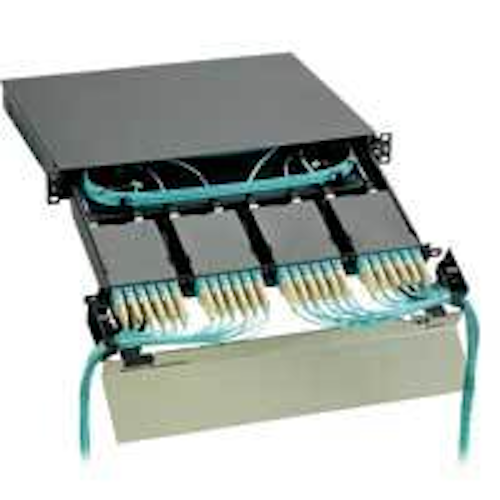 The job isn't necessarily over when the appropriate price/performance assessment is made.
For observers of the communications industry, it is hard to ignore that the fiber-optic market is back in a big way. The comeback is being fueled predominantly by service providers' fiber-to-the-premises efforts, with SBC and Verizon laying fiber ever deeper into their networks, and demanding products as well as skilled labor to do so.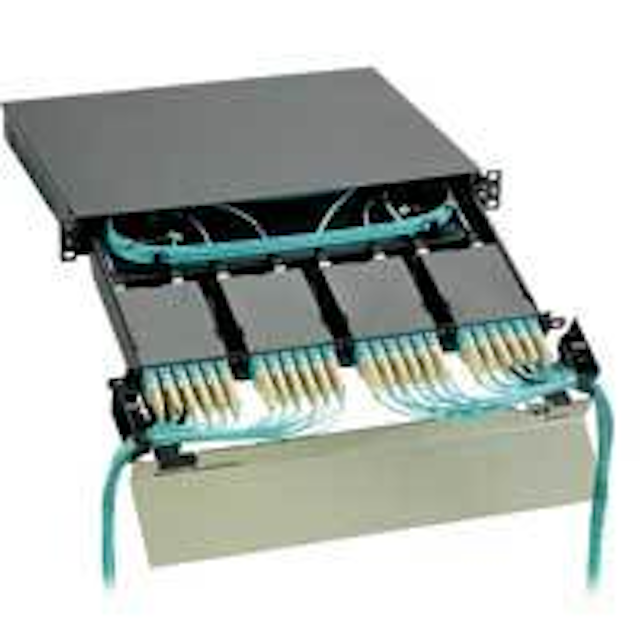 Fiber adapters are a key component of Panduit's Opticom Quicknet fiber-optic cabling system, a pre-terminated solution that enables quick plug-in network deployment of up to 96 fiber connections in a single rack space.
Click here to enlarge image
Statistics from the TIA's recently released 2006 Telecommunications Market Review and Forecast indicate the United States telecommunications industry will grow at a projected nine percent compound annual growth rate from 2006 through 2009, including a projected 10.2 percent growth rate this year. The market will climb from last year's $856.9 billion to $1.2 trillion in 2009. Certainly the service providers' fiber-to-the-premises efforts are a significant driver of that growth.
"The statistics in our new report reveal the telecom industry is expanding once again," says Matthew J. Flanigan, TIA's president. "The U.S. market is back on an upward path, and the international markets are growing even faster." Total communications spending outside the U.S. reached $1.8 trillion last year, up 11.4 percent over 2004.
Heavy traffic, steady growth
"2004 was not a fluke year," adds Arthur Gruen of Wilkofsky Gruen Associates, and one of the report's principal authors. "The U.S. market is in a period of sustained growth."
In a statement announcing the report's availability, the TIA stated, "Increased spending on fiber-optic cable [was] the principal driver of the rebound. Rising traffic in the network is fueling the demand for fiber. Although not regaining its prior high levels, fiber revenue in 2006 will climb to more than half that of 2000 and will be a catalyst for growth rather than for decline over the next four years."
The resurgence in activity surrounding fiber-optic cabling is not restricted to the public network/outside plant arena. While the Institute of Electrical and Electronics Engineers (IEEE; www.ieee.org) will publish the 10GBase-T copper-based 10-Gigabit Ethernet standard this summer, the fiber-optic versions of 10-GbE have been on the market for more than three years. In that time, fiber has been the only option for enterprise end users with the highest throughput needs, and fiber-optic cabling has served those users in ultra-high-speed environments, such as data centers.
Several technical and business issues have marked the fiber-optic industry over the past few years, including the aforementioned fiber-to-the-premises projects and the development of laser-optimized 50-micron (µm) multimode fiber, which is a medium aimed specifically at short-wavelength transmission of 10-GbE data.
In that time, the marketplace has heard little, if anything, about some of the fundamental elements of optical connectivity. By and large, the products and technology enabling optical connections have remained stable over the past several years, but their importance has arguably taken on an increasingly significant role.
Demanding perfection
In Gigabit and especially 10-Gigabit optical-transmission environments, the tolerance for signal attenuation (also called loss) is minimal, mandating that connections be close to perfect. Fiber-optic adapters, or mating adapters, as they are frequently called, are a critical part of optical connectivity. Today, maybe more than ever, their performance, and by extension their maintenance, should not be overlooked or underestimated.
Mating adapters are used to join either similar or dissimilar male optical interfaces. Their basic and essential function is to align the two plugs so the signal travels from one into the other with as little loss as possible. Paul Kopera, product line manager for Panduit (www.panduit.com), explains the importance of such alignment in optical connectivity as opposed to copper: "In copper cable, the electrical charge is carried on the outside of the wires. With optical fiber, the signal travels on the inside, within the fiber core."
When copper cable is terminated, most often, the wire is punched down on a tine-like receptacle, which displaces the wire's insulation and makes contact with the copper conductor. Because the signal travels on the outside of the conductor, the physical contact between the conductor and the tine is the most important factor in successful transmission.
In contrast, fiber-optic transmission requires the more-precise alignment of two optical fibers, which is achieved by precisely aligning the ferrules in which the fibers reside. In essence, that ferrule alignment is the mating adapter's job.
"The majority of fiber-optic connectors in place today have a 2.5-millimeter (mm) ferrule, which typically is made of ceramic material," explains Jim Hayes, a fiber-industry graybeard who serves as president of The Fiber Optic Association (www.thefoa.org) and runs his own businesses-including VDV Works and the VDV Academy (www.jimhayes.com). "Regardless of the interface type, whether it is ST, SC, FC, FDDI, or Escon, all connectors in the 2.5-mm ferrule family are basically intermateable through the use of mating adapters," says Hayes.
Use your sleeve
An element called by any of several names, including sleeve, split sleeve, and bushing, is the part of the mating adapter that holds the ferrule in place. This sleeve, which resembles a cylinder that is split down the side, has an inside diameter slightly less than the 2.5-mm ferrule size. The slit allows the sleeve to have "give," and it expands when the ferrule is inserted into it. A sleeve can accommodate ferrules of slightly different diameter.
"The mating adapter is the third element in determining the loss of a connector pair," Hayes remarks. "The first element is how well the connector is polished, and second is the ferrule's geometric concentricity. Next is the mating adapter's performance. The sleeves are very important to the alignment process."
Sleeves are available in three materials: glass-filled plastic, phosphorous/bronze (most often called simply "metal"), and ceramic. Of the adapters that are made and sold for multimode fiber today, most are metal, although some manufacturers recommend ceramic sleeves for adapters that will be used with higher-performance multimode fiber, like laser-optimized 50-µm. Ceramic ferrules are the priciest of the three, are used most often in singlemode applications, and are regarded as the best performing.
Glass-filled plastic adapters appear to have fallen out of favor because they do not provide the performance that's attained via the other materials. "A ceramic ferrule will scrape a little bit of plastic off the inside of the sleeve," explains Hayes. "That creates two problems. First, it creates dust and plastic shavings, which can cover the end of the connector. And second, after multiple insertions, a ridge builds up in the center of the sleeve around the endface." He says this phenomenon can be compared to a snow shovel or plow dragging along a snow-covered driveway and piling up snow at the end of it. "After a while, it starts to push the connectors apart, and causes higher loss."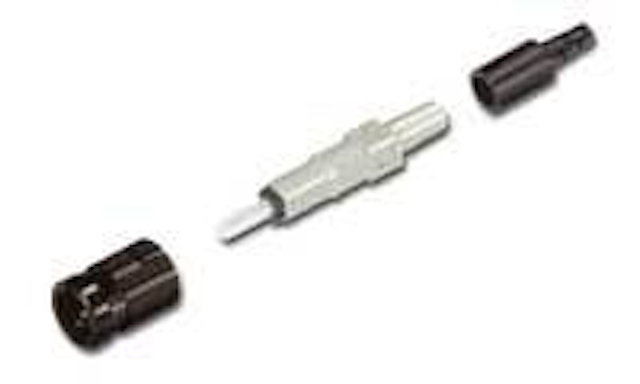 Click here to enlarge image
Even though those pitfalls mean glass-filled plastic adapters are less popular today, all in that style that were deployed in the past remain in the installed base of fiber-optic systems, and should be cause for attention from users who own them.
FOCIS-friendly?
When choosing among the different types of mating adapters available, the sleeve material is among the most important. Perhaps more important, is that the adapter needs to comply with a Fiber Optic Connector Intermateability Standard (FOCIS). The Telecommunications Industry Association (TIA; www.tiaonline.org) publishes FOCIS documents, which are component standards spelling out fiber-optic connectors' mechanical dimensions. The standards ensure that the same type of connectors from different manufacturers will be intermateable. Selecting mating adapters that comply with specific FOCIS documents ensures that the connection will, in fact, perform at the two connectors' common level of performance.
Here, there, and everywhere
While they are not the highest-profile pieces of a fiber-optic communications system, mating adapters are important because of the role they play in determining a fiber circuit's total loss-and, they are just about everywhere. "Adapters are pervasive in the structured cabling environment," says Panduit's Kopera. "They are used in patch panels, wall outlets, cross-connects and interconnects-wherever you need to connect optical fibers."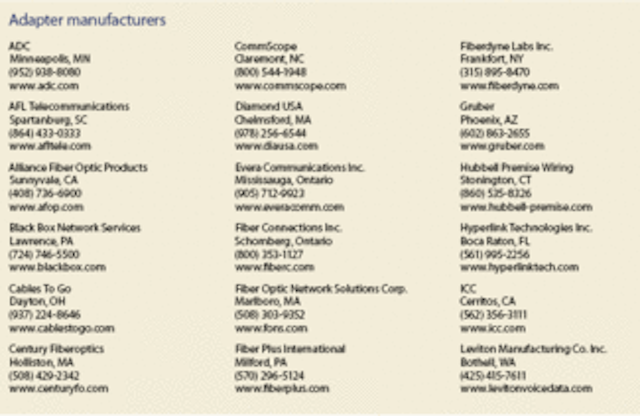 Click here to enlarge image
The hybrid adapter, a subcategory of adapters that mate dissimilar interfaces, are not as popular as those that mate similar interfaces. "They are found in environments in which an optical switch has an interface that is different from the interface used throughout the cabling plant," he explains. Even then, he says, users frequently opt for a hybrid patch cord rather than a hybrid adapter.
Manufacturers have tried, largely unsuccessfully, to produce hybrid adapters that would mate connectors with different ferrule sizes (i.e., 2.5-mm ferrule connectors, such as ST, SC and the like with small-form-factor connectors, including the LC, MT-RJ, and others). In cases in which a standard size and small-form-factor interface coexist, the hybrid patch cord is almost universally used.
Increasing density of fiber connections is one industry trend that is resulting in more mating-adapter use. The trend has given rise to the growing deployment of MT ferrules in connectors, such as the MTP or MPO (see related article on page 12 of this issue).
The use of these multi-fiber connectors has prompted the development of connectivity products that incorporate mating adapters to allow each terminated fiber to be routed individually to a network switch. An example is Panduit's Opticom QuickNet system, which includes patch cords, rack-mount fiber enclosures, and pre-terminated MTP cassettes, in which reside mating adapters.
Products like these are particularly appropriate in data-center environments. The combination of multiple fibers and pre-terminated connectors serve the needs of a data center, which most often includes voluminous high-speed connections that have zero tolerance for downtime.
Keeping it clean
Regardless of the environment in which mating adapters are found, their maintenance is important. In addition to the shavings that can result from insertions into glass-filled plastic adapters, common elements such as everyday dust can wreak havoc on an optical connection.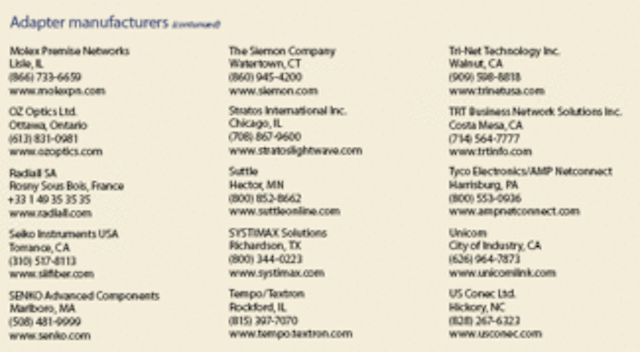 Click here to enlarge image
"They need to be kept clean, but cleaning them can be problematic itself," says Hayes. In addition to common good practices like keeping dustcaps on adapters when they are not in use, users should be careful about what maintenance steps they do, and do not, take.
"Canned air is not necessarily a good cleaner," Hayes continues. "It's not actually 'air,' it's really a highly volatile fluid compressed in a can. If you're going to use it to clean fiber connectors, spray it for a few seconds until you can see there is no more fluid coming out of the can."
A better method, he says, is to use cleaners made especially for optical connectors, which contain a high grade of isopropyl alcohol and are available as wipes or swabs.
It is quite difficult, Hayes advises, to blow dust out of an adapter with a connector in it. If you suspect the presence of dust or dirt, open the adapter, take the connector out, clean it, and put the connector back in. Obviously, the connection will not be 'live' during the cleaning process.
With data rates growing in the enterprise, and fiber-optic cabling systems seeing demand renewed across many markets, the performance of optical connections is once again a front-and-center topic. The rarely thought-about mating adapter, whether in place for years or installed anew, plays an important role in determining that performance.
And users of fiber-optic systems play the most important role of all by selecting the materials that best suit their purposes, then maintaining that equipment to ensure performance remains consistent.
PATRICK McLAUGHLIN is chief editor of Cabling Installation & Maintenance.