Small-form-factor solutions ready for prime time
Fiber-optic connectors pave the way for high- performance networking applications
Oct 1st, 2000
Fiber-optic connectors pave the way for high-performance networking applications.
Louise Bryant, John Kalusa, Artie Berne, and Gregg Cockroft / LC Alliance
As Internet applications and next-generation multimedia require more bandwidth to the desktop, small-form-factor (SFF) optical-fiber connectors are ready to break into prime-time networking applications. A footprint comparable to that of an 8-pin modular jack has led to greater market acceptance for optical-fiber-based networking, and last November, SFF connectors were approved by the Telecommunications Industry Association/Electronic Industries Alliance (TIA/EIA-Arlington, VA) for use in fiber-to-the-desk applications.
Greater market acceptance has been reflected in the industry's sales expectations. According to Fleck Research (Santa Ana, CA), last year, SFF connectors represented 1.9% of a $1.2 billion North American market for connectors, couplers, adapters, and cabling-assembly shipments. The research firm expects that figure to grow to 17.7% of a $1.3 billion market during the next five years. With such an increase in volume, it won't be long before SFF connector pricing drops even lower than it is today.
Ever-increasing bandwidth
SFF connectors also offer other significant benefits, making them ideal for high-density premises-wiring applications. New applications are constantly being introduced to desktops all over the world. Teleconferencing is being supplemented with videoconferencing. E-commerce is becoming a standard for business transactions. Companies are revamping their infrastructure to accommodate better multimedia communications. Interactive training is being adopted as a more efficient and less expensive option for new employees.
The LC connector is receiving new interest in premises cabling because its low loss means more interconnections in the link, while a recently introduced no-epoxy version means fast application.
Click here to enlarge image
As these new applications are implemented, the demand for bandwidth to the desktop and in the backbone is unprecedented. Gigabit solutions are commonly installed in the network backbone. Speeds of about 100 Mbits/sec are common to the desktop, with demand growing for even higher bandwidth. This increased demand for higher speeds to the desktop has encouraged many network managers to take a closer look at fiber technology.

"Contrary to traditional bias, fiber is not at all difficult to install," says Jim Dawson, data systems engineer at SBC Datacomm (Dallas). "It takes a lot of handling and abuse before it breaks down. In fact, even in outside-plant projects, fiber usually maintains functionality even when it shouldn't. And it's becoming easier to install connectors with new technologies such as anaerobic epoxies."
Accordingly, many new or retrofit buildings are including a mix of copper and fiber, both for built-in redundancy and futureproofing. The result is more equipment-including cables and systems-being squeezed into the same area, or even smaller areas. SFF connectors and transceivers help to reduce the size of panels and systems while providing the reliability and robustness of traditional fiber solutions.
Benefits of SFF
The most immediate benefit of SFF connectors is the smaller footprint compared to the traditional ST and SC fiber connectors. With SFF connectors, systems manufacturers can achieve port densities comparable to those of copper on switches, hubs, routers, and patch panels.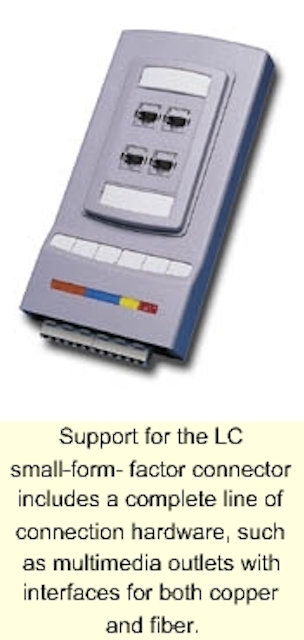 Support for the LC small-form- factor connector includes a complete line of connection hardware, such as multimedia outlets with interfaces for both copper and fiber.
Click here to enlarge image
Their smaller footprint is why SFF systems were adopted at Baylor Hospital (Dallas) upon its renovation in 1998. The project, which comprised 28 different buildings on the hospital campus, included nearly 8,000 new drops, a private branch exchange (PBX) system, and a fiber backbone for data communications. Throughout the campus, 57 wiring closets were added, but the spaces allocated for the data equipment and the PBX were smaller than for normal copper and fiber installations. As a result, all fiber terminations on the campus were done with LC connectors to maximize the use of available rack space.

"We found that we didn't have the space we usually do to implement the traditional fiber installation," says Dawson. "Additionally, hospital officials wanted to use state-of-the-art technology for the retrofit. Our installation provides up to ATM [Asynchronous Transfer Mode] speeds down to the wiring closet, which is required for high-bandwidth applications used throughout the hospital, such as video imaging for X-rays and MRIs. We completed 2,592 terminations in 12 216-port termination panels installed in three equipment racks, and still have 30% to 40% room for growth in those frames."
Reduction in space translates directly into cost savings for the site, and for the Baylor Hospital project, Dawson found that the implementation cost alone was comparable to that for other copper-based backbone applications.
The Roberto C. Goizueta Business School at Emory University (Atlanta) found similar success. As the school was being built, LC connectors were just becoming available and were specified for all backbone and some horizontal wiring in the five-floor building. Twenty-four fiber pairs are run to each floor, with Category 5 and a duplex fiber cable run into every office.
"We saw it as a very low-risk adoption," states Barbara Maaskant, Goizueta's executive director of information services. "We experienced significant financial and space savings compared to ST or SC solutions. We're getting double the capacity, and are achieving about one less rack in each of our wiring closets as a result. It has left us with plenty of room for future growth."
SFF connectors can also be much easier to use than their standard-sized counterparts. Many of the SFF connectors available today are imitating the ease of use of the copper-based 8-pin modular jack. Some are polarized to ensure transmit and receive fibers are always properly oriented during installation. Others, including the LC connector, have audible clicks and color-coding to ensure full and proper installation. Epoxy and no-epoxy versions of these connectors are now also available.
"Installing ST or SC connectors in the wiring closet brings with it a high probability of damaging something else at the time of installation," says Emory's Maaskant. "The wall termination offered by SFF connectors like the LC is much better, and we've found our connections to be more robust as a result."
Some differentiation between SFF connectors can be found in performance. Certain SFF transceivers incorporated into systems using the SFF interface may offer higher performance levels than others. There is also a difference in the way fibers are spaced within an SFF connector. While many of these connectors are approximately the same size, some connectors place the fibers as close as 750 microns. This close placement can make it more difficult to isolate the two transmission paths inside fiber-optic transceivers, resulting in higher design costs when trying to ensure communications integrity. It can also complicate mounting the connector to cable.
Connector performance also has a significant impact on network link performance. LC connectors offer extremely low loss, with a 0.1-dB mean and 0.1-dB standard deviation, giving network designers great flexibility in designing crossconnects and interconnects throughout their fiber network.
Singlemode and multimode applications
SFF connectors available today support both singlemode and multimode applications. Singlemode applications, however, increase performance demands on connectors. In addition, next-generation multimode fiber, which can support 10-Gbit/sec Ethernet in premises applications, is also becoming increasingly important to new installations. There is also a shift in the industry from 62.5/125- to 50/125-micron multimode fiber, which also increases bandwidth. This means performance demand for premises cabling and the connectors used in these applications is more stringent than ever before.
Some new SFF connector technologies eliminate the traditional ferrule to achieve lower-cost multimode systems. These designs, however, become more complex when applied to singlemode connectors, due to high-precision alignment required for acceptable singlemode performance.
It is becoming increasingly important to implement an infrastructure that performs well under singlemode and multimode operations. Singlemode fiber is increasingly being used in the backbone and from building to building, and will be used for many 10-Gbit/sec systems as they become available. Many installers are even deploying singlemode cable that remains dark until required, in an effort to further futureproof the network.
Because of the stringent demands of singlemode designs, many SFF device manufacturers are finding it difficult to design for multimode, then migrate the design to singlemode and still maintain high performance. The LC connector, however, was designed to support both singlemode and multimode applications.
Internet changes everything
In the past, optical fiber was synonymous with futureproofing. Growing use of multimedia and the Internet has changed that. The demand for high-performance networks has brought about the realization that generic fiber links are no longer sufficient, and high-performance fiber and connectors are required for today's applications. Reliability, robustness, and high performance have become the key words of the era, with extended life of a technology being an added benefit.
Louise Bryant is product marketing manager at Avaya Communication (Norcross, GA); John Kalusa is marketing manager at STRATOS Lightwave Inc. (formerly Methode Fiber Products-Chicago); Artie Berne is North American sales manager at Luminent Inc. (Chatsworth, CA); and Gregg Cockroft is senior applications engineer at ExceLight Communications (Durham, NC). For more information on the LC Alliance, visit www.lcalliance.com.