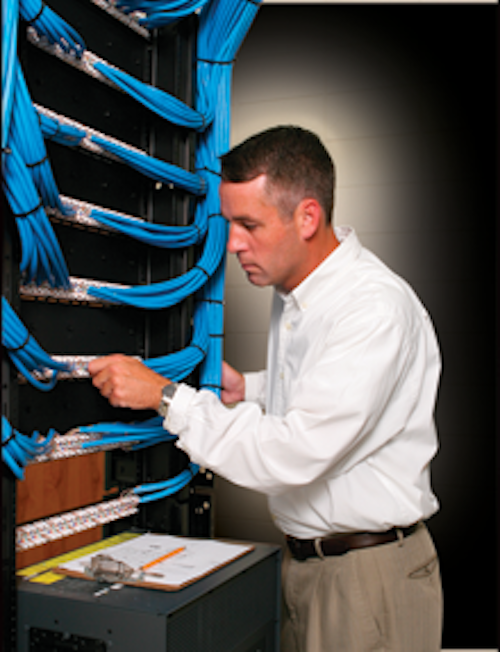 Rural Georgia school district acquires E-rate funds to implement the most advanced UTP cabling available.
by Michael O'Connor
Encompassing 686 square miles and slightly more than 22,000 residents, Emanuel County includes Swainsboro and seven surrounding communities located in east-central Georgia, 90 miles west of Savannah. Here in this rural area, a county school district believes a strong educational program in each of its eight schools is the foundation for a thriving and progressive community.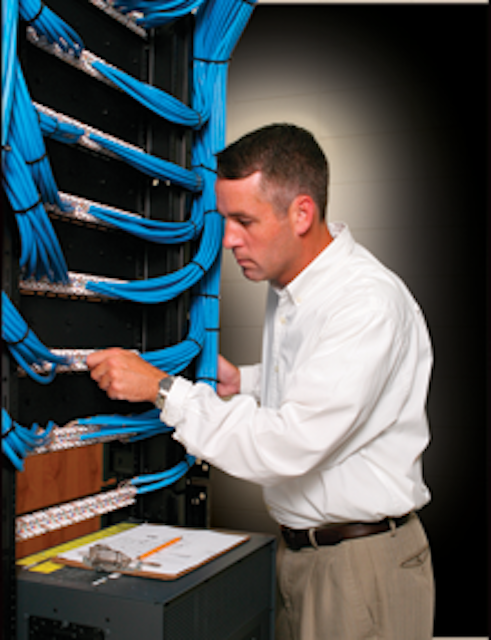 Stacey Barber, director of technology for the Emanuel County School District, examines a connection that was part of the district's recent $2.8-million network upgrade.
Click here to enlarge image
Even more unexpected is the district's forward-thinking approach as it embarks on the installation of a new district-wide network capable of supporting 10 Gigabit Ethernet (10GbE) and today's most advanced network technologies.
Years in the making
Originally implemented in the mid 1990s, the network serving Emanuel County's schools included a mix of Category 4, Category 5, fiber, leased T-1 circuits, and 10-Mbit/sec switches that by 2004 no longer served the needs of students and faculty.
"Every time we needed more connectivity, we would add another low-end switch," says Jerry Stefansen, former director of technology who stayed on as part-time project consultant for the district, following retirement in 2005. "We ended up with too much cabling and daisy-chaining that eventually became a huge wiring nightmare. We were also having constant repairs and requests for higher-speed applications."
In fall 2004, Butch Frye, superintendent for the district, challenged the schools to move forward and replace the network instead of just fixing what was already in place. Armed with nearly a $500,000 commitment from the community through an approved local option sales tax, the school district embarked on the task of planning the network and applying for the remaining 83% of funds through the federal government's Schools and Libraries Program, commonly known as E-Rate. (See sidebar, "What is E-Rate?," page 20.)
"In the E-Rate application process, we included everything from switches to cabling to telephony, but we did not call for a specific type of cabling or vendor at that time," explains Stacey Barber, the district's current director of technology. "We simply stated that we wanted the very latest in copper and fiber technology to carry us forward at least another 10 years and support the advanced applications we desired."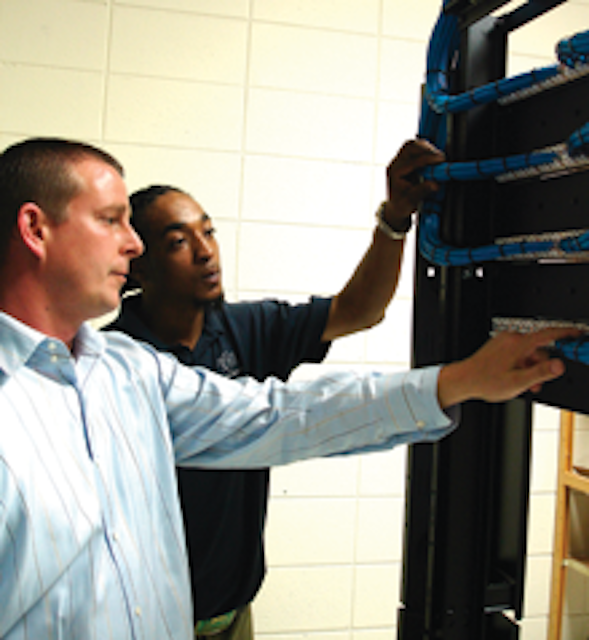 Systems & Solutions Inc.'s Avery Hinson, RCDD, and Arvin Weaver, lead technician, check some of the 2,400 Augmented Category 6 connections meant to support 10-Gigabit Ethernet transmission.
Click here to enlarge image
The technology plan for Emanuel School District was approved and open for bid through E-Rate. When Atlanta-based Systems & Solutions, Inc. (SSI; www.systemsandsolutions. net) bid on the project, the district felt their response was the most creative and comprehensive.
Applying for E-Rate funds can be a lengthy process, which for Emanuel County School District meant its share of paperwork. "We started planning in late 2004 and submitted our application in February 2006," says Barber. "It was another eight months before we were officially approved for E-Rate funds." The final budget for the project ended up at nearly $2.8 million, with E-Rate providing approximately $2.3 million. The project then moved forward with an expected completion before the start of the 2007-2008 academic year, three years following the superintendent's initial request.
Choosing first-class solutions
By the time the project was approved for funding through E-Rate, technology had evolved significantly. Voice over IP (VoIP), Power over Ethernet (PoE), and 10-Gigabit network speeds had become a reality. As the project progressed, SSI suggested the possibility of selecting an Augmented Category 6 (Category 6A) unshielded twisted-pair (UTP) cable capable of supporting 10GbE over a 100-meter channel per the ratified IEEE 802.3an 10GBase-T standard and TIA 568-B.2-10 draft standard.
Looking toward the future, Emanuel School District agreed. "We examined three Category 6A solutions on the market," says Avery Hinson, RCDD, director of communications with SSI. "To be fair, I had the vendors send both cable and connectivity. Given the alien-crosstalk concerns of 10-Gig UTP, we looked at separation between pairs in the cable. The three vendors' cables really weren't that different, but the differences in connectivity were more obvious."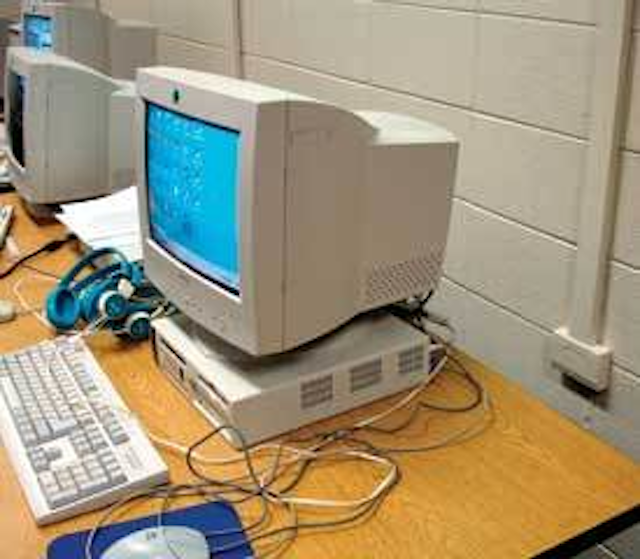 From 19 telecommunications rooms, more than 500,000 feet of Augmented Category 6 cable provide connections within seven schools in classrooms, administrative locations, and computer labs (including the one shown here).
Click here to enlarge image
SSI and the school district ultimately selected Hubbell Premise Wiring's NextSpeed Ascent 10GbE UTP solution, backed by a 25-year warranty that covers applications designated to run over a Category 6A cabling infrastructure. The NextSpeed Ascent solution includes copper components designed with advanced modeling, engineering, and manufacturing processes to provide low-level alien crosstalk (ANEXT) connectivity.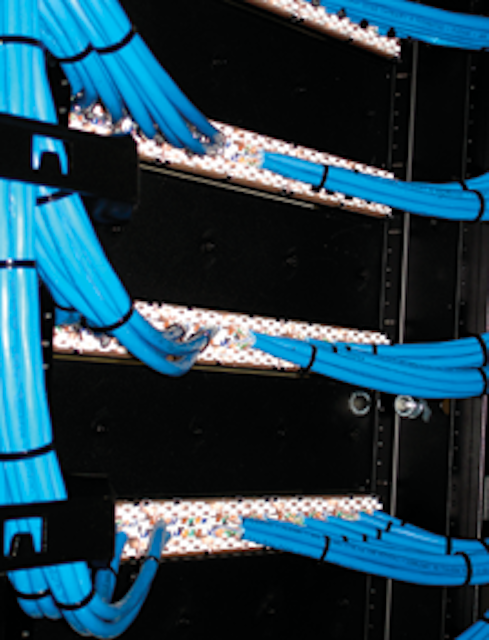 Hubbell's NextSpeed Ascent 10GbE Augmented Category 6 unshielded twisted-pair system features a coated rear adapter for shielding, staggered insulation-displacement connection towers to offset pairs and ports, separation between upper and lower IDCs, and reversed color code to reduce alien crosstalk.
Click here to enlarge image
Connectivity components feature a coated rear adapter for shielding, staggered insulation-displacement connection (IDC) towers to offset pairs and ports, separation between upper and lower IDCs, and a reversed color code to further reduce ANEXT.
"Nobody went to the extent that Hubbell had in trying to eliminate alien crosstalk in connectivity; the staggering of the connections is ingenious, and the robust jacks have more separation than the others we looked at," says Hinson. "That, combined with the guarantee that if installed correctly we would get 10-Gig performance, ultimately led to our decision."
SSI also suggested the Hubbell system because of the district's plans to move to VoIP and PoE applications, including PoE-enabled wireless access points (WAPs). "The heavier copper of the Category 6A cable allows it to transmit and support more power," explains Hinson. "That means that the school will be able to take advantage of future PoE applications without having to replace any cable." The NextSpeed Ascent solution exceeds the current IEEE 802.3af PoE standard that specifies a maximum load power of 15.4 watts; it supports a load power of at least 30 watts, which is in line with the future 802.3at PoE Plus standard in development.
"We don't know what's going to happen in two years, but we want to be prepared for any situation," says Barber. "Already, the school board is pushing for wireless and smart board applications in every classroom. We eventually want to get as much throughput to the desktop as possible, and we don't want our cabling to be like a PC that is obsolete in 12 to 18 months."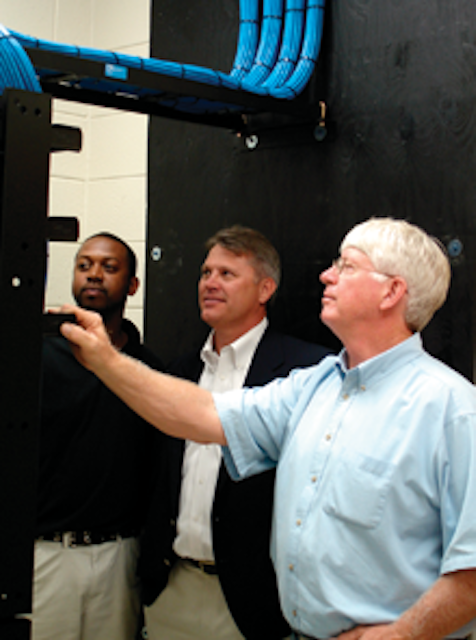 Jerry Stefansen, consultant for the school district, shows Systems & Solutions Inc.'s chief executive officer Ruston Russell and lead technician Demetrius Morgan the back of an Augmented Category 6 patch panel.
Click here to enlarge image
Emanuel School District educates 4,500 students spread out over eight schools: Swainsboro primary, elementary, middle, and high schools; Twin City Elementary; Emanuel County Institute in Twin City; Adrian School of Performing Arts (K-8); and Emanuel County Preschool Center. The cabling project includes seven of the schools, with the Twin City and Adrian locations connected through T-1 circuits. The four main Swainsboro schools that house 85% of the students are located along a single tract of land and are each connected to the main network operations center via 12 strands of singlemode fiber.
Smart thinking, fast learning
"The Emanuel County Preschool Center was not included in this project because they have a federal Head Start program, and existing federal programs are excluded from E-Rate funds," explains Barber. "We will eventually build a new preschool, and the cabling will be part of that separate project. The new school will connect to our system through a T-1 circuit."
From 19 telecommunications rooms (TRs), more than 500,000 feet of NextSpeed Ascent Category 6A cable is used to provide a total of 2,400 Category 6A connections spread out among the seven schools in classrooms, computer labs, and administrative locations. Instead of implementing a main crossconnect in each school, the 19 TRs are each home run back to the main network operations center that contains all the core switches. A satellite operations center provides redundancy should the main operations center go down.
"We needed to cut down on 'feet' time," says Barber. "Having all the TRs in each school home run back to one location eliminates all the middle connectivity and enables us to manage the schools from one location."
Cabling began first at Swainsboro elementary and primary schools, which are the newest facilities with the most available space for TRs. The larger size Category 6A cable presented some initial obstacles. "It was challenging for our technicians at first, but they've learned a lot throughout the process and are now easily working with the larger cable," says Hinson. "We ended up having to design our pathways to accommodate the larger cable, breaking it up into separate bundles where it enters the rack instead of using one large bundle.
"Thankfully, Hubbell has provided excellent support," adds Hinson. "Our local Hubbell representative, Tony Campbell, came to the job site to make sure everything was being installed correctly. We had some testing issues, and Tony got us a new tester. Hubbell really followed through to ensure that we succeeded on this project."
Cindy Howland, account manager for Graybar (www.graybar.com), provided all Hubbell cabling and connectivity components for the project. Hubbell also provided a 10-Gig installation practices guide for its system, which includes such suggestions as using surface-mount boxes for extra space and maintaining proper bend radius.
Rural, yet technologically advanced
System installation was completed in June, and the summer months have been spent installing servers and Cisco switches, connecting everything together, and testing the new district-wide network. In the process, the school district kept its existing network up and running to avoid downtime and to provide a seamless changeover to the new network.
The result of the project is a district-wide network capable of supporting 10-GbE speeds, PoE, VoIP, wireless, and the most advanced teaching technologies available. "Our teachers come back from conferences all fired up to try new teaching methods and technologies; we don't want to prevent them from being progressive just because we don't have the infrastructure to support it," says Barber.
"Now, with an up-to-date, reliable network," he adds, "we can provide the resources necessary for students to learn and teachers to teach."
Barber concludes, "Our district has always been at the forefront of technology with very forward-thinking superintendents. We're in a very rural area, and our students can't go on a lot of field trips. Through this new 10 Gig network, we can use Internet and videoconferencing capabilities to expose them to the outside world-just as if we were located in any major U.S. city."
MICHAEL O'CONNOR is a technical marketing director for Hubbell Premise Wiring, Inc. (www.hubbell-premise.com), a subsidiary of Hubbell Inc. He is an active member of the TIA, IEEE, BICSI, and CSI.
---

What is E-Rate?
Under the direction of the Federal Communications Commission, the Universal Service Administrative Company (USAC) administers the Schools and Libraries Program of the Universal Service Fund, commonly known as "E-Rate." The E-Rate fund provides discounts to assist most U.S. schools and libraries in obtaining affordable telecommunications services.
Funding, ranging from 20 to 90%, depends on the level of poverty and urban/rural status of the specific population being served. It covers four categories: telecommunications services; Internet access; internal connections; and basic maintenance of internal connections.
To apply for E-Rate funds, applicants must first prepare a technology plan to demonstrate clear goals, a professional development strategy, needs assessment, required budget, and evaluation process. Once the plan is approved, applicants complete a Form 470 to describe the specific products, services, and functions being requested.
"Instead of a formal bidding process like you have in the commercial marketplace, the E-Rate Form 470 becomes a worldwide RFP [request for proposal] that anyone can read and respond to," says Jerry Stefansen, former director of technology and part-time project consultant for Emanuel County School District. "For our recent project, we put absolutely everything we needed on that form. We had several companies bid on either part or all of the project, and we evaluated each response as E-Rate requires us to do."
Once the applicant selects a service provider or contractor, that applicant must complete Form 471 Services Ordered and Certification Form, which is the actual request for funding. The process then enters a Program Integrity Assurance (PIA) review, which includes proof of funds for non-discounted portions of the budget, questions and clarifications, verification of certifications and statements, and other requirements.
"We had to answer several questions, which required a lot of time and research," says Stefansen. "They scrutinize every aspect of a project and ask the right questions. Since first applying for E-Rate funds nearly a decade ago, I've seen a huge improvement in the review process and in their understanding of the technology. Having E-Rate put their stamp of approval on a project means that it's a good project."
Once the Form 471 is approved, applicants and service providers submit further forms to indicate that services have begun and to receive payment. More information is available by visiting www.usac.org and clicking on Schools and Libraries.-MO