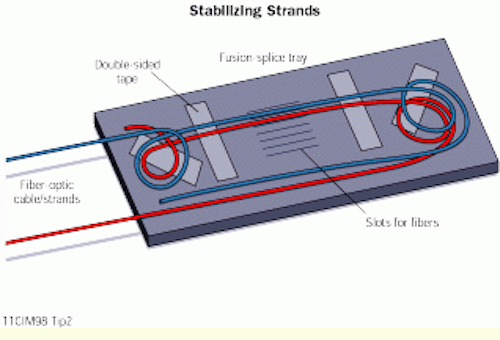 Mario Messina,
E-J Electric
Problem
When fusion splicing optical fibers, installers often cannot stabilize the fiber strands inside the splice tray. Unstable fibers are annoying because they get in the way when installers are splicing other fibers.
Solution
Place double-sided tape (tape with adhesive on both sides) near the slots that will house the fused fibers. The tape will keep each fiber strand from moving.
Procedure
1) Cut four strips of double-sided tape to 2-inch lengths.
2) Place one strip of tape at each end of the slots designed to hold the splices. Then place the other two strips diagonally, one near each of the first two strips.
3) When you are preparing to fuse the first fiber, coil the slack you will need and adhere the coil to the diagonally placed tape on the left side of the tray.
4) Once you have fused the first fiber, lay it on the two strips of tape to the left of the slot, then into the slot, then on the two strips of tape to the right of the slot.
5) Continue this for each subsequent fused fiber.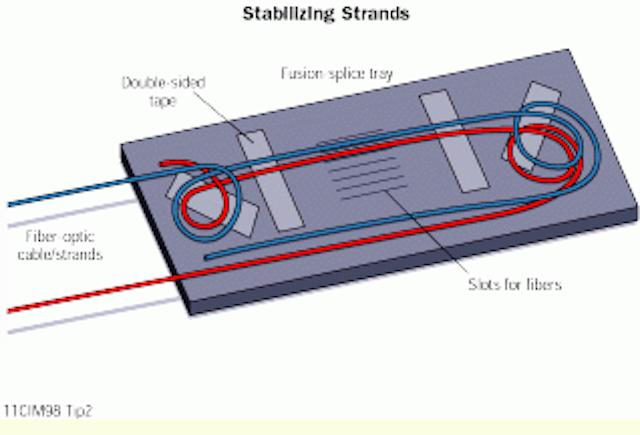 Click here to enlarge image
The diagonally placed strips of tape will hold the coiled fibers while the tape immediately to the left and right of the tray`s slots will keep the fiber aligned and stable.
Mario Messina is an electrician associated with E-J Electric in Teaneck, NJ, and a member of ibew Local Union #3. This tip was submitted for the Cabling Installer Tips` Contest at Cabling Installation Expo `98, held in October in Atlanta, GA.