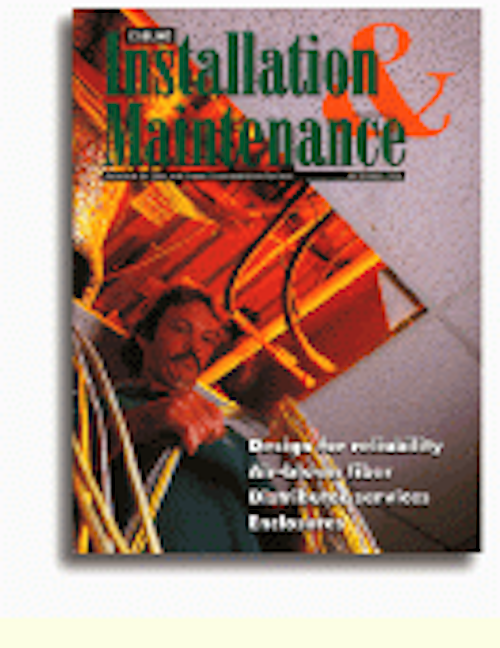 Arlyn S. Powell, Jr.
The magazine`s second year saw a number of significant changes. Monthly publication began in January, along with the popular "Ask Donna" question-and-answer column. In the summer, the first Cabling Installer Tips` section appeared.
During 1994, the set of themes introduced the previous year was broadened to include power management and conditioning, safety, training, firestopping, wireless technology, and campus outside-plant installations. An installation at Powersoft Corp. (Bedford, MA), completed by Cablenet Systems (Woburn, MA), introduced readers to air-blown optical fiber (abf) and spurred a debate on this proprietary technology. In September, the first Stargazer`s Review, in which industry pundits were asked to make (and defend) predictions about advances in cabling technology over the next year, was published.
Indoor/outdoor cable, composite cable, and 8-pin modular connectors also received significant attention, but if 1994 were to be characterized by a single technology, that technology would be the Category 5 local area network (lan) cable tester. More than half a dozen articles heralded the first appearance of these now-widespread testers, explaining how they worked and how to use them.
Memorable stories were contributed by Russell B. Oliver, registered communications distribution designer (rcdd), then of Comlink (Auburn, MA) and now of WilTel, and Paul Kreager of Kreager Associates (Pullman, WA). Oliver, then head of bicsi`s registration committee, tried to thoughtfully answer the question: "Can we certify cabling systems?" Kreager proved to be a virtual Nostradamus by predicting that Category 5, abbreviated Cat 5 by most industry insiders, would soon be superseded by what he called "Dog 6."
Kreager concluded, "What is not clear at this point is whether or not Category 5 or Dog 6 copper might mark the practical upper limit of bandwidth capability for the medium." With today`s introductions of enhanced Category 5, Category 6, and even Category 7 copper-cabling products well-advanced, that question, at least, has been answered. Would anyone today make book on Category 7`s being the end of the line for copper cabling? I suspect not. And so the fiber-versus-copper debate, still raging today, first found its way into the pages of Cabling Installation & Maintenance.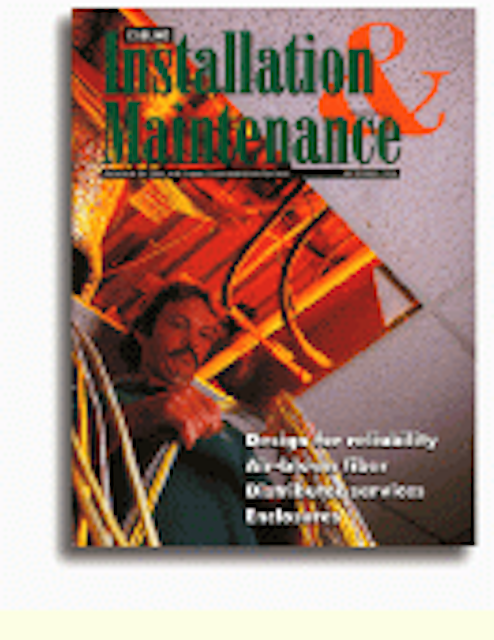 Click here to enlarge image
Jon Davis of Merrimack Valley Communications (Nashua, NH) pulls Category 5 cable above a suspended ceiling during Cabling Installation & Maintenance`s move to new quarters. This photo appeared on the cover of the September 1994 issue.
1994 in a nutshell
Memorable thoughts
"To meet the needs of the market, the cable industry must educate itself about pcss [personal communications systems] and plan for wireless products and services in its designs."--Thomas K. Crowe, Irwin, Campbell & Crowe
"When restoring the area following excavation, the minimum that should be achieved is to return the landscape to its original state."--Robert Jensen, then of Bellcore, now of dbi
"What is needed is a new approach to grounding that provides a single grounding infrastructure for all telecommunications systems in a building."--Debra Rathgeber Ryon, Flack and Kurtz Consulting Engineers
"The problem with disaster plans is that the disaster never happens according to the plan."--Michael Combs, Scope Communications Inc.
Candidates for the CI&M Hall of Fame
"Common problems in a lan cabling system and how to fix them"--Bob Hoagland, Wavetek Corp.
"A checklist for customer-owned outside-plant cabling"--Robert Jensen, then of Bellcore, now of dbi
"Keeping unshielded twisted-pair cabling standards-compliant"--Robert Y. Faber, Jr., and Valerie Smith, The Siemon Co.
"Choosing an outlet connector for utp cabling" --John A. Siemon, The Siemon Co.
Historical oddities
"Do we need Category 4 cable?"--a boxed item published in the February 1994 "Ask Donna" column
Category 4 was stillborn as a cabling option. It never got off the ground.--Ed.
"The copper industry should focus all its energies on figuring out how to get the maximum bandwidth out of the installed base of copper, which is Category 3." --D`Arcy Roche, then of Raylan Corp., now of amp Inc.
Two years later, Category 3 was essentially dead as a medium for new installations.--Ed.