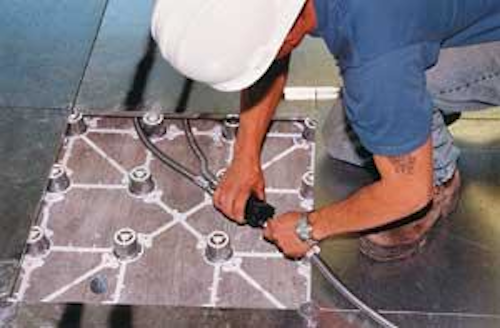 Routing cables in today's flexible, modular office furniture can include everything from a raised flooring system to zone consolidation points.
Keeping up with open-office churn has long been a challenge for IT and facility managers, with employee workspaces often being reorganized to support projects, restructuring, growth, or downsizing. As modular furniture partitions are moved, added, and changed to accommodate the churn, so too is the network cabling system.
While there is no longer a demand for proprietary in-furniture systems (see sidebar, "In-furniture's fits, starts, and future,"), companies must still route cables to reach every cubicle workstation.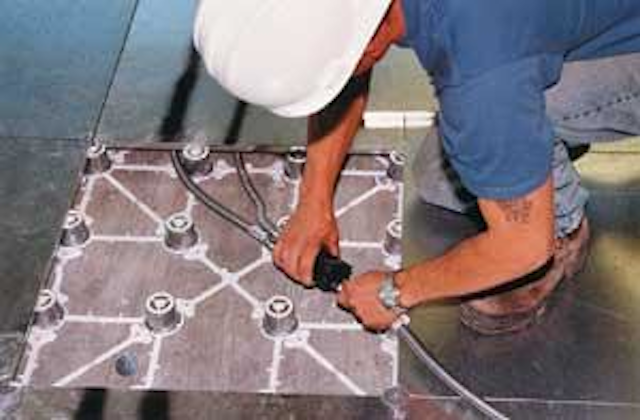 Haworth's award-winning Pre-terminated Zone provides an integrated voice/data/building control infrastructure solution for both raised-access floors and furniture applications.
Click here to enlarge image
"The responsibility to provide proper pathways and solutions for routing cabling into modular furniture has pretty much fallen to the furniture manufacturers," says Damon DeBenedictis, account manager for ADC, and former product manager of the Krone/Haworth DataThing (www.adc.com). "It doesn't matter if it's zone or home-run, it's an issue that still needs to be addressed."
It's in the furniture
And today, most modular furniture manufacturers are integrating technology into their products, providing raised floor systems, zone consolidation points, pathways, and faceplates that aesthetically coordinate with furniture panels for a clean, seamless look.
"Pathways and connections for routing electrical and data is an inherent design of all of our furniture systems," says Ken Myroon, product manager of technology for furniture maker Haworth. "Capacity and proper bend radius are of the utmost importance. If data and power enter a pod system of 6 or 8 workspaces at one end, we ensure there is proper space to accommodate the cables and deliver power and data to each workspace."
Haworth provides customers with as-built telecommunications drawings that determine cable routing based on furniture placement, number of drops per workstation, and zone and TC location.
The company also offers a raised floor cable management system and a pre-terminated zone cabling system. The pre-terminated system, which earned a silver award for workplace technology in the 2004 "Best of NeoCon" competition, is a plug-and-play teechnology using pre-terminated cables that can be run at the top, at beltline level, or in floor raceways.
Although still offering capabilities from its Krone (ADC)/DataThing modular system, Haworth has moved away from proprietary designs. "In some cases, companies prefer to stay with the connectivity they already have in house, and that's their decision," says Myroon. "Any cabling system will fit into our furniture because everything is based on standard cabling components."
Haworth's technology design group, Myroon says, stays abreast of cabling trends and TIA/EIA standards activity in attempts to ensure that its furniture systems significantly outlast the cabling system lifecycle of 10 to 15 years.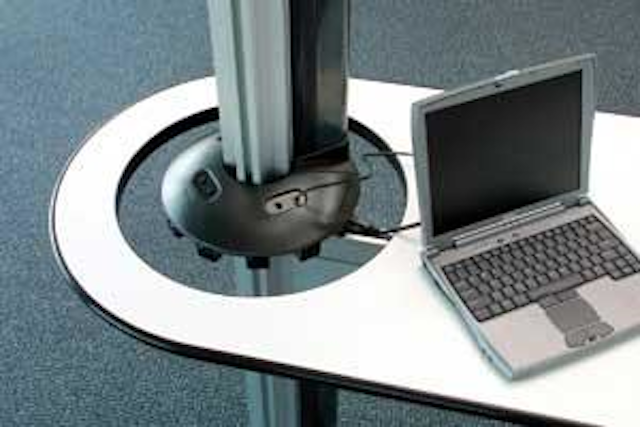 Steelcase's Post & Beam system includes access hubs where workers can pull up mobile tables to access power and data.
Click here to enlarge image
Steelcase (www.steelcase.com) has also been at the forefront of technology with representation in TIA/EIA. "When the network topology is affecting the office environment, and it has the potential to impact our vast product lines, we get involved," says Kevin Stanley, product manager for the company's Pathways Architectural Solutions. "We start with a standards-based approach, and then look at functionality. It's not the other way around."
According to Stanley, the office environment is experiencing a movement towards more collaborative work efforts where workstations are becoming smaller to enable larger common spaces. From a cabling perspective, that means delivering communications connections to spaces other than furniture panels. "Our Post and Beam product line transforms technology to architectural-based products rather than furniture panels for maximum flexibility," says Stanley. "The cabling is routed in the supporting posts and beams, entering either from a raised floor or ceiling location." Steelcase's Post & Beam product line includes specially designed access hubs that function like hitching posts where workers can pull up mobile tables to access power and data.
Part of the mix
Cabling and connectivity vendors offer modular furniture adapters and racks that mount in major modular furniture, but product offerings are limited:
• Chatsworth Products Inc. (www.chatsworth.com) offers modular furniture racks designed for use with Herman Miller Ethospace system furniture. These racks are selected to match wall panel size and include multiple 1U deep 19-inch rack-mount spaces.
• The Siemon Company's (www.siemon.com) MAX modular furniture adapters enable installation of up to four modular jacks into communication outlet openings on furniture systems. "The MAX modular adapters mount into openings on furniture from Steelcase, HON Industries, Haworth, Kimball, and DRG," the company says.
• ADC's 600 Furniture Outlets fit into Herman Miller Action Office Series 2 and Ethospace base openings, and are also available in Steelcase, HON, and TIA-569 styles. Furniture outlet openings, panel thickness, and raceway clearance can vary, and it's important to consult furniture manufacturers for actual specifications to determine compatibility. "We offer zone solutions and modules, but the IT managers and furniture manufacturers have to deal with routing the cable to each cubicle," says DeBenedictis.
Seizing an opportunity
So, what do companies do when the modular furniture systems are outdated and simply don't offer proper routing for data communications cabling? In 2003, following the economic downturn, Panduit (www.panduit.com) seized an opportunity with their Pan-Way Office Furniture Raceway System for routing cables on modular furniture.
After many "dot.coms" went belly up, the market experienced an influx of used modular furniture. With budgets for new high-end furniture systems harder to come by, some companies needing to add or upgrade modular furniture manage with what they already have or choose to implement refurbished systems. Some companies today still make use of modular furniture systems from as far back as the 1970s, which were designed long before Category-rated cable and the associated bend radius concerns.
"The refurbished modular furniture industry has taken off," says Randy Woods, raceway systems manager at Panduit. "While a brand new cubicle can cost upwards of $4,000, a refurbished system for the same space could be as low as $1,500." Woods says that the driving force behind introducing the Pan-Way Office Furniture Raceway System was "sales of refurbished furniture and the vast amounts of the existing outdated installed base. Our solution is an alternative to make-shift cable runs on older furniture systems and purchasing new furniture to accommodate cabling infrastructure upgrades."
The Pan-Way Office Furniture Raceway system is a universal non-metallic system consisting of the necessary components to enter, route, and terminate on the furniture while providing cable protection and meeting associated industry standards. With an adhesive backing, the raceway system attaches to the top of the furniture panels with a top cap width between 1.88 and 2.3-inches, and can be removed without causing damage to the furniture panels.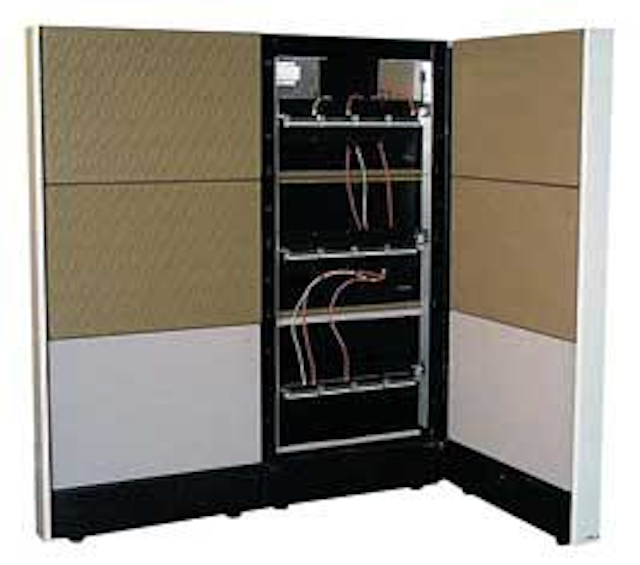 Chatsworth Products Inc.'s modular furniture rack with multiple 1U deep 19-inch rack-mount spaces is designed for use with Herman Miller Ethospace system furniture.
Click here to enlarge image
"One of the key features customers wanted was the ability to have the computer connections at desk level to avoid dirty floors, the possibility for damage by workers or cleaning crews, and having to crawl under desks to service the connections," says Woods. "We've designed our system in such a way that you can branch off at the corner where two, three, or four cubicles come together. The fittings allow the cabling to spill down and terminate in the corner of a workstation." The Pan-Way Office Furniture Raceway system is also designed to work with any vendor's cabling and connectivity solution.
IT managers rest assured
For installations requiring the purchase of new furniture systems, installers and IT managers can rest assured that most leading furniture manufacturers are focusing on technology. "As we move towards flexible work environments, we have to provide more flexible products," says Steelcase's Stanley. "If we don't, the cost of recabling becomes too high and companies end up moving people instead of spaces-and that's not good for worker collaboration and morale."
---
In-furniture's fits, starts, and future
In the late 1990s, several modular furniture manufacturers and cabling vendors teamed up to offer unique in-furniture cabling systems aimed at easing cabling MACs during office churn. You may remember some of these. Krone (now ADC) teamed up with furniture manufacturer Haworth to offer the DataThing modular system. The Siemon Company teamed up with DRG International to offer the MACsys zone office system. Similar alliances and products popped up throughout the industry, and in-furniture cabling was the hot topic of the day, covered in several issues of Cabling Installation & Maintenance between 1995 and 2001.
But times change.
"During the cabling infrastructure build-up of the '90s, there was no easy way to simultaneously upgrade the furniture and network cabling in the open-office environment," says Randy Woods, raceway systems division manager, Panduit (www.panduit.com). "The solutions launched by some cabling and furniture manufacturer alliances were innovative but expensive. When the economy took a downturn, budgets were cut, and funding for the costly in-furniture cabling solutions didn't exist."
Damon DeBenedictis, account manager for ADC and former product manag er of the Krone/Haworth Data Thing (www.adc.com), says, "We joint-ventured with Haworth to offer the DataThing because we envisioned a scenario where both the modular furniture and the cablin g could be broken down, moved, and simply put back together. When the economy dropped, it ended up being cost-prohibitive, and we discontinued the offering."
Many in-furniture cabling systems of the past were proprietary designs that limited users in their choice of furniture and cabling, and some systems never even made it to market. "DataThing was an excellent design, but the IT industry didn't warm up to it the way we had hoped they would," says Ken Myroon, Haworth's product manager of technology (www.haworth.com). "It was not comprised of the standard components that IT people were used to."
Several past designs were based on a zone-cabling concept, which at the time was still uncharted territory for many IT managers, even though it had been incorporated into TIA/EIA standards. "Most IT managers prefer home-run cabling even though it does not provide the flexibility of zone cabling," says ADC's DeBenedictis. "Home-run cabling is what they're used to, and it makes them feel more in control of their network."
The industry will no longer be calling for proprietary in-furniture cabling systems like those that emerged from the cabling and furniture manufacturer alliances of the 1990s. "Times were different then; there was more money to be spent and people wanted the latest and greatest technology, even in their furniture," says ADC's DeBenedictis. "With the emergence of wireless, I can't imagine that we'll ever see those types of systems come to fruition again."
Panduit's Woods agrees: "As budgets increase, I don't believe we'll ever be where we were in the late '90s when people were implementing expensive office furniture. We're seeing more refurbishers enter the market, and our goal is to offer a solution that addresses cabling upgrades within existing outdated modular furniture."
Myroon, however, maintains that Haworth has always been committed to technology, and says the company sees no need to retrofit its older systems with a separate raceway. The market for new furniture systems, he adds, is back on the rise. "The 2004 market size for new systems was $10.3 billion, while the refurbished market remains much smaller," says Myroon.-BZ
BETSY ZIOBRON is a freelance writer covering the cabling industry and a regular contributor to Cabling Installation & Maintenance. She can be reached at: bziobron@comcast.net