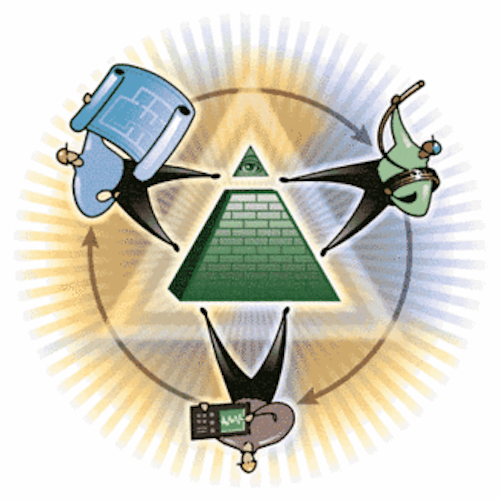 It's important to know the benefits as well as the caution flags when considering a vendor's comprehensive warranty coverage.
Cabling and connectivity vendors hold up certified installer programs as a way to ensure proper installation and testing to TIA/EIA standards, and to provide comprehensive warranty coverage. At the same time, these programs create a network of installers that operate as resellers of the vendors' systems, and these installers often must meet a variety of requirements to become and remain certified for a given system.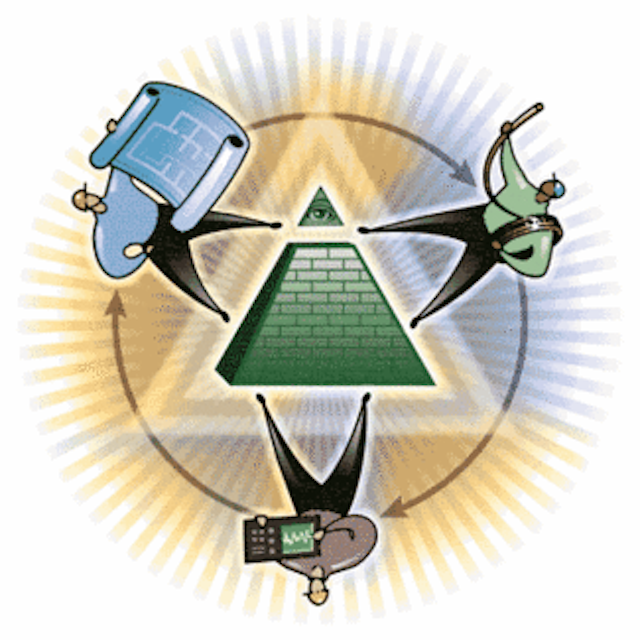 With the "almighty dollar" looming, whether in the background or foreground, the triangular relationship among system vendor, installation contractor, and end user is a balancing act. In theory, certified-contractor programs are meant to benefit each party.
Click here to enlarge image
Most believe that certified installer programs play an important role in the business marketplace, helping end users ensure a quality installation. But some critics are concerned that these programs are a marketing mechanism for vendors to get their products specified, and that they create a "Catch 22" scenario for installers; the vendors refuse to warrant systems unless installed by a certified installer.
As with every issue, there are at least two sides to this one.
Underlying motive
Certified installer programs vary from vendor to vendor, but despite the differences, all cabling and connectivity vendors insist that the underlying motive of these programs is to ensure a quality installation for the end user.
"In the world of LAN installation, three things can go wrong: A bad connector, bad cable, or a bad installation," says Leviton Voice & Data Division (www.levitonvoicedata.com)marketing manager, Bill Slater. "Through stringent quality assurance, manufacturers have eliminated as many points of defect as possible. The wild card is the installation."
Slater adds, "Because installers encounter different variables at every turn, they need to be trained to properly install products in a variety of situations. If a rookie installer improperly installs our products, the end user suffers."
But Bob Eskew, RCDD, and president of ASD (www.asd-usa.com), a nationwide provider of voice and data network design and deployment, is one who believes that the real reason for certified installer programs is for manufacturers to get their system specified and keep their products from becoming commodity. "The main reason behind the standard is interoperability, and products that meet the standard and are third-party tested are no different from one another. Yet vendors only warrant their end-to-end or partnered systems to avoid becoming a commodity," claims Eskew.
Moreover, he says, installer certification does not ensure a quality installation. "When these programs were launched in the 1990s, vendors suddenly became more competent to determine the technical qualifications of an installer than a third-party organization like BICSI," says Eskey. "That's equivalent to a brick manufacturer saying that just because they fire the bricks in the oven, they are more knowledgeable than the company that designs the wall and more competent than the bricklayer."
Required training
To become and stay certified, installers must meet specific training requirements. Most vendors require installers to pass an initial training course with occasional updates and renewal exams; typically, these training courses are at the expense of the installer.
"We hold several certifications, and the training is not at all the same from vendor to vendor," says Robb Jones, RCDD, account manager and designer for System Tech, Inc. (www.systechinc.com), an installation company serving Idaho, Oregon, Washington, Montana, Wyoming, Utah, and Nevada. "Some training is an absolute waste of time, consisting of just a PowerPoint presentation on the basics. But there are a couple of manufacturers offering extremely helpful training that is applicable to our jobs."
Warren Davies, manager of the Belden IBDN Certified System Vendor program (www.beldenibdn.com), says the training required to obtain and keep Belden IBDN CSV status is not insignificant. "It's definitely not a pizza-box lunch-and-learn program," he states. "We require a contractor to take a series of courses that are modular in format. Our CSVs must complete what represents five days of training-two days of installation, two days of design, and one day of project management and other topics."
Davies continues, "Contractors in our CSV program are pretty well established. We don't want to teach them what they already know, and we're sensitive to that." He adds that Belden's CSVs are "required to refresh training on an as-required basis." Davies notes that events such as workforce turnover and new-technology introductions can require additional training.
"With the diversity of contractors across the nation comes different backgrounds and various levels of expertise, and this makes it difficult to make everybody happy," says Leviton's Slater. "When you consider the contractor that's been in the business for several years with a solid reputation, it's an affront to make them go through some regimented 'Cabling 101' course. But a manufacturer has to start somewhere with a training program, and if you assume that the installer knows too much, then you open yourself up to the possibility of contractors making errors."
Steven Elmore, RCDD, applications engineer for CommScope (www.commscope.com), says there's much more to his company's Uniprise system training than just standards. "We teach theory and hands-on practice in our class, because it's one thing to tell an installer to not exceed the bend radius, but to explain why is a totally different issue," says Elmore. "A BICSI-trained installer can probably terminate any vendor's jack, but there are subtle design differences from vendor to vendor, and to get the maximum performance out of a specific product, installers need to understand that product."
Elmore also points out that many training programs are evaluated and certified by BICSI to offer continuing education credits (CECs), like the Uniprise training that offers enough CECs for BICSI installers to recertify.
"My employees value the training," says Tom Moore, managing partner of Winston-Salem, NC-based NetUnlimited Cabling Solutions (www.netunlimited.com). "It makes them feel like they are bettering themselves and that we care about them. Even if they don't learn all that much, to the guys who are making $10 or $15 per hour, it means a lot to get sent away for training."
Volume commitments
Some vendors' certification programs require volume commitments for which installers must purchase a certain amount of product each year to maintain their certification. There are typically different levels of volume commitments, many of which determine an installer's product pricing, rebates, and incentives.
But in today's economy, meeting volume commitments is not always easy.
"It's always difficult to meet volume commitments," says Jones of System Tech. "When the economy wasn't doing well, there were a couple of years where no one met their commitments levels. That's when the vendors had to make a choice whether they drop everybody's certification or lower the volume commitments. We've had vendors drop us because we weren't meeting our numbers, but it doesn't happen often, and we don't feel pressured to meet our numbers."
Jones admits that when you're the contractor doing the most business in a certain area, it's rare that vendors will drop your certification. He also says that volume commitments can influence which product to bid with in an open-spec situation. "When the product is not specified, there's a lot of strategy that goes into selecting product, and we definitely look at our volume commitments," says Jones. "It might be that we're only $50K away from meeting our numbers or earning some major incentive. We want to meet our numbers because we want to support our vendors as much as we want them to support us."
While having several certifications can provide more opportunities, it also means that purchased product is spread out over several vendors. With only four key certifications, Robin Yates, managing partner of NetUnlimited Cabling Solutions, says he has no problem meeting volume commitments. "If you try to get every certification, you're not going to be able to afford to do them all well-you won't be able to send all your people for training and you water down the opportunities," he says. "We're typically meeting our commitments half way through the year, which allows us to take advantage of the higher-tier rebates, co-op money, and incentives. The manufacturers' reps are also more loyal to you and willing to make you aware of projects."
Eskew, however, strongly disagrees with the volume commitment requirement of some vendors. "In 2001, at the height of the poor economy, we had one vendor pull our certification," says Eskew. "So, just because we couldn't meet their sales goal for a specific area in a certain year, they decided we were no longer competent to install their product. I don't see how a sales goal equates to technical competency."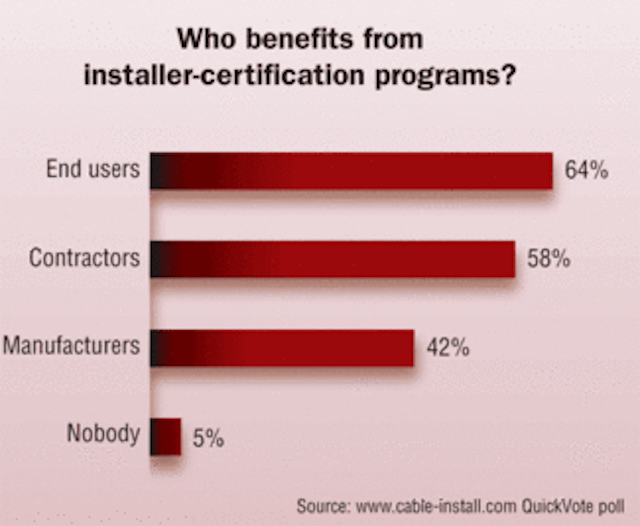 In an online poll, nearly two-thirds of Cabling Installation & Maintenance's audience opined that end users benefit from installer-certification programs, while 58% believe that contractors benefit. Less than half believe that manufacturers benefit from these arrangements, and a small minority see no beneficiaries.
Click here to enlarge image
But not all vendors have volume commitments, and not all vendors pressure their certified contractors to meet those commitments. For example, Leviton Voice & Data doesn't have any volume commitments, and CommScope offers a separate installer program with volume commitments while their basic certification program remains commitment-free.
Belden's Davies says for his company, volume commitments are not the final word: "One metric used to evaluate contractors is annual volume purchase. It is one of several metrics, and certainly not the only one. Annual volume purchase is bilateral. We have discussions with our contractors that include targets, and certain activities are taken together to achieve those volumes. To manage the channel properly and to avoid conflict, we want to have a metric in place. But there is a clear understanding on both sides. We commit resources to that contractor to achieve the desired result."
Keeping it exclusive
Most installers prefer certification programs to remain exclusive for reduced competition in their area. "When a vendor's certification program is kept exclusive, it levels the playing field in a hard-spec situation, and we see that as a major advantage," says Jones of System Tech. "The larger contractors all have similar pricing, overhead, and labor rates, so it comes down to who is going to discount their labor the most or who can get creative with installation."
Installers who are not certified for a particular product in a hard-spec situation may find themselves at a disadvantage. In this scenario, however, most installers simply try to change the mind of the end user or open up the bid to include an equivalent product.
"We're finding a lot more end users specifying specific products because when they open the door to several, they get contractors willing to install systems for the cheapest price, and the quality of work goes down," says Jones. "When there's a project that calls for a system we're not certified to install, our strategy is to talk to the customer and either change their mind or see if we can provide an equal solution. It's rare that we lose bids because we're not certified, but it has happened."
NetUnlimited's Moore adds, "We try to align ourselves with vendors who are serious about who they sign on, because it's a huge disadvantage when a vendor certifies a small contractor in your area just because of a specific project or other external pressures. If that happens, you have a contractor with low overhead who's willing to drop their profit margin, and it's no longer worth our time to bid on jobs for that vendor."
While keeping certification exclusive can make it difficult for smaller vendors to break into the business, most installers and vendors believe that's the way it should be. "When a new, uncertified contractor bids on a job, it's a slap in the face to our existing partners to certify that new installer," says Leviton's Slater. "We don't want any installer to not be able to install our products, but to move them to the head of the line for a particular job isn't good business for any of us. It's true in any walk of life that the 'newbies' need to pay their dues. New contractors should start with small jobs that don't require a warranty or certified installer status and then build up their experience and credibility."
Moore says that it took more than a year of proving themselves and courting the more exclusive Corning Cable Systems before NetUnlimited became certified. "Certification programs are definitely a disadvantage for smaller contractors, and they need to be," says Moore. "We've been there, and we had to earn it. You have to just plug away and get certifications from less exclusive vendors to prove yourself before you can play with the big boys."
When it comes to keeping certifications exclusive, CommScope relies on its district and regional managers to recommend contractors for certification. "Our field staff knows which contractors can meet our standards, and we rely on their judgment," says Elmore. "We selectively certify in specific regions and areas."
The motive behind exclusivity arrangements is for a vendor to strategically reach, without overreaching, a given geographical area. It's one of several considerations for a vendor to make when enlisting certified contractors, says Belden's Davies. He underscores the notion that these arrangements are meant to be-and when executed correctly really can be-mutually beneficial for the two parties. "The first step we take when enlisting a CSV is to look for information on the contractor's business, including a track record, customer base, and financial health," says Davies. "Then there is due diligence on both sides."
Davies continues, "Once the mutual examination is complete, if we go ahead, the next step is to complete a CSV agreement. The purpose of the agreement is primarily to define rules and responsibilities. CSV installations are covered including labor, so it must be clear who is responsible for what, including system design and installation."
The training requirements, commented upon earlier in this article, are also stipulated in the agreement, Davies says.
Playing 'the game'?
Overall, most vendors and installers deem certified installer programs beneficial for the marketplace, but Askew counters, "Behind closed doors, my vendors say, 'Come on now, Bob. Just play the game.' We have to play the game, because there are customers out there who request the certified installer status, even though they don't understand it."
Since certified installer programs began, Eskew continues, "I've realized no increase in business. On projects that we are introduced to as a result of our certified status, we have the lowest win rate. That's because the end user assumes that if you're certified, you're just the same as the certified installer who opened his business last week."
Jones of System Tech Inc. admits that getting caught up in the political game can be a disadvantage, "but I still believe the advantages outweigh the disadvantages. When you get caught up in the emotional feeling of playing the game of vendors wanting to be your sole provider and trying to get you to commit to them, it can be draining. [But] with the certification status, the customer is going to get a quality installation that looks good and performs well."
Despite the "Catch 22" of installers having to be certified to offer a system warranty, CommScope's Elmore believes that certified installer programs are necessary due to the ever-changing nature of industry standards and technology.
"This industry changes on a day-to-day basis, and to succeed, installers must keep up with their training," says Elmore. "This was proven when we went from Category 5 to 5e to 6. It seemed that almost anybody could install Category 5 and make it pass the test, but Category 5e and 6 became much more exclusive. As we move to Augmented Category 6, there will be even more installation issues that vary from vendor to vendor, and the only way installers are going to get properly trained is to become certified for the product they're installing."
BETSY ZIOBRON is a freelance writer covering the cabling industry, and a frequent contributor to Cabling Installation & Maintenance. She can be reached at: bziobron@comcast.net. CI&M chief editor Patrick McLaughlin also contributed to this article.