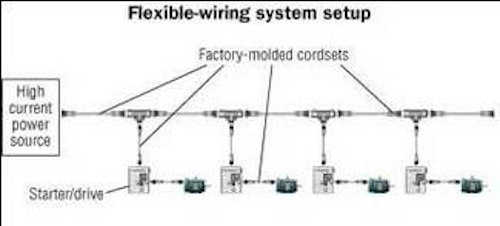 Standard-compliant prewired solutions provide conduit-free installation for industrial power distribution and motor control.
Designers, builders, and remanufacturers of complex industrial machinery and plant automation systems are constantly seeking new ways to reduce costs, increase efficiency, and speed-up delivery and commissioning of new equipment, or to hasten the maintenance and repair operations (MRO) of existing equipment and systems. One trend gaining momentum is the evolution of industrial machine electrical wiring from fixed "hard-wired" systems to more flexible "soft-wired" systems.
In these wiring solutions, hard wiring is replaced with a modular system of quick-connect, overmolded connectors featuring crush-resistant cables that do not require the tools and labor associated with traditional conduit or raceway installations. Soft-wired solutions provide higher value over traditional hard-wired solutions by delivering a host of operational and bottom-line business advantages.
NFPA-79 changes pave the way
In 2002, revisions to the National Fire Protection Association's NFPA-79 resulted in alternative solutions for electrical wiring on an industrial machine. These changes were made in an attempt to harmonize NFPA-79 with its European counterpart, IEC-60204-1. Now, manufacturers and industrial system designers have an opportunity to significantly reduce their machine-wiring costs without sacrificing the safety of the equipment or its users.
NFPA-79 is the Electrical Standard for Industrial Machinery that establishes standards for electrical and electronic elements used in industrial machinery operating at 600V or less, and is cooperated with the National Electrical Code (NEC). The NEC references NFPA-79 for details on industrial machine wiring. The 2002 NFPA-79 code revisions have led to the development of more flexible and modular wiring solutions to provide power distribution and control within and among machines.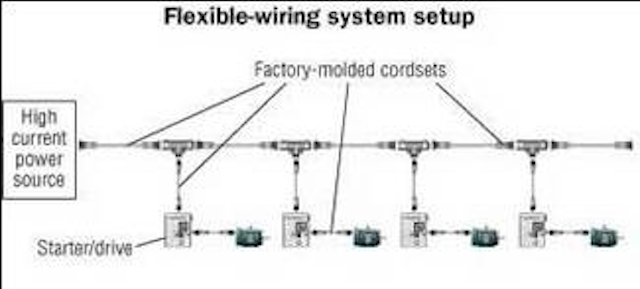 A modular, flexible, code-compliant machine wiring system can be configured to provide distributed motor control for industrial machinery and automation systems.
Click here to enlarge image
The NFPA-79 standard applies to wiring within the machines, as well as the wiring used to link groups of machines working together in a coordinated manner. Examples include machine tools, injection-molding machines, woodworking equipment, assembly cells, conveyors and other material-handling components, packing systems, processing equipment, sequenced printing operations, motor and drive applications, and inspection and testing machines.
Woodhead Industries' Brad Power line of factory-molded feeder circuit and branch circuit cordsets are NFPA-79-2002-compliant.
Click here to enlarge image
Whatever the application, a modular quick-connect industrial machinery cabling infrastructure can deliver immediate and measurable benefits that result in lower installation and maintenance costs, faster commissioning, optimal flexibility, and reduced total cost of ownership.
For industrial machinery original equipment manufacturers (OEMs), machine tool builders and rebuilders, and designers or integrators of manufacturing automation and control systems, specifying and installing a high-quality, code-compliant soft-wiring system provides high performance and reliability, combined with reduced operational costs and downtime. Because the systems are easier to install and are engineered for fast, on-site connection without specialized tools, there is less need to deploy highly skilled labor, and there is less troubleshooting required during equipment installation and planned maintenance downtime.
Similar benefits accrue for plant, manufacturing, and material-handling engineers who configure machine-placement and plant-floor systems. Initially, the flexible wiring systems provide faster and easier configuration, installation, and synchronization. And as time goes on, the system's inherent modularity and scalability allow for expansion or rapid reconfiguration of plant-floor equipment as the business grows or requirements change.
Flexible vs. hard conduit wiring
The definition of hard or traditional wiring systems is any methodology that requires tools for wire routing and termination, and is completely implemented at the jobsite. This approach requires highly skilled labor; namely, a licensed electrician. Typically, since every plant floor configuration is different, hard-wiring systems take more time to install and are also more costly to install, troubleshoot, debug, maintain, and upgrade. Many hours may be required for a licensed electrical contractor to evaluate the plant-floor design and draw up a detailed plan for distributing power from the main source to industrial machines or groups of machines. This adds up to significant time and labor expenses for the end user. In addition, the quality of each installment is totally dependent on the skill level and methodologies of the licensed installer.
On the other hand, a flexible machine-wiring installation, which uses modular, factory-molded quick-connect components, makes installation quality and repeatability more controllable and scalable, virtually eliminating wiring errors. This is an important factor, especially when more than one machine is involved. Flexible-wiring installation is also highly configurable and offers the shortest possible installation time. No wire pulling is necessary and installation can be performed by a mechanical field-service technician. No electrical licensing is required because no termination splicing is required. Over time, flexible-wiring systems are also easier to maintain and upgrade, and are more easily reconfigured (should that be called for).
For industrial machinery end users, as well as the internal or external contractor/installer organizations that serve them, the most significant differences between the two types of machine-wiring systems are time-to-commissioning and installation-cost savings. With flexible-wiring systems, the wiring topology is designed before delivery by a machine design engineer. The engineer will typically provide the wiring specifications, types and number of tees, drops, and connectors required to power the particular machine or group of machines. The design engineer may also select or assist in selecting the soft-wiring system vendor.
Once delivered, all that remains to commission the machinery is for the installer or contractor technicians to follow the blueprint to quickly connect the proper wiring components to each other and to the designated control panels. A licensed electrician may only be required when the machinery is connected to the main power supply. Thus, machine-commissioning time is much faster while labor costs are dramatically reduced.
From a purely financial perspective, companies implementing flexible-wiring architectures for machine design, setup, and coordination can realize multiple benefits and rapid return on investment. For machine builders, reduced manufacturing costs and shorter time-to-market are key benefits, leading to higher profit margins and throughput. System designers and plant engineers will save time and money through faster commissioning and lower installation costs at startup, as well as easier maintenance down the road. The result is lower total cost of ownership over the entire life of the machines or synchronized automation system.
Anatomy of a flexible system
Under the revised NFPA-79 standard (Section 13.6.1), conductors cannot be smaller than 14 AWG; however, 16 and 18 AWG may be used under certain clearly defined circumstances. This opens the door to greater flexibility for branch circuits. In regard to connectors, the code states that "conductors and cables shall be run from terminal to terminal without splices or joints," and "factory-applied connectors molded onto cables shall be permitted" and are not considered splices (Sections 14.1.2.1 and 14.1.2.2).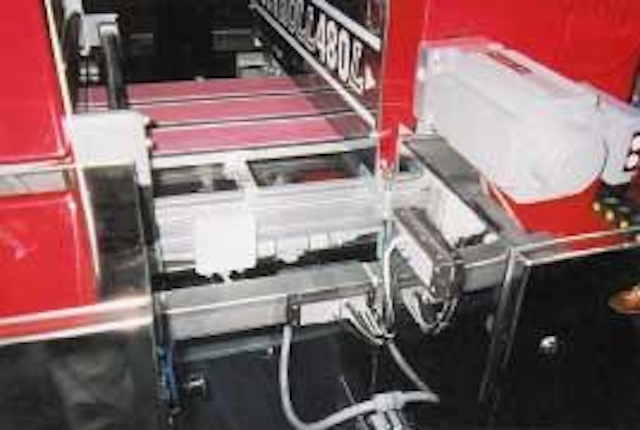 Woodhead's Brad Power flexible wiring system provides distributed power for motor control within an industrial printing press.
Click here to enlarge image
These connectors, properly rated, are suitable for line voltage, communications, and low-voltage applications. In regard to exposed cable, the standard previously required conductors and their connectors external to the control panel to be totally enclosed in raceways or conduits. Under today's standard, cables may run exposed along the structure of the equipment or system, or within the machine's chassis, so long as they are installed to closely follow the surface and structure of the machinery (Section 14.1.4.1).
In a typical flexible wiring system, components will include:
• Molded trunk/feeder cordsets designed for feeder circuits up to 30A, 600V AC/DC;
• Molded drop/branch cordsets designed for branch circuits up to 15A, 600V AC/DC;
• Tees, receptacles, reducing adapters, and other accessories.
With quick-connect components, users can design and assemble a flexible and reliable trunk-and-drop wiring topology for use in feeder and branch circuits of a single machine, or design an entire system capable of being scaled to distribute and control power to a number of coordinated machines or an entire manufacturing cell. Because they are factory-molded to exacting specifications, the prewired connectors are well-suited for use in harsh industrial environments.
In device and motor-control applications, flexible wiring may be used in several ways, including cordsets from control cabinet to the disconnect switch, single or double-ended cables from the disconnect switch to the motor, or hybrid power and control signal cables. In distributed motor-control applications, flexible wiring may also be deployed, including trunk cordsets and receptacles at the control cabinet, tees for taps or drops to drives or remote control subpanels, drop cables to drives, and single- or double-ended cables from the distributed drive to motors.
In implementing flexible-wiring systems, as with all electrical systems, safety is paramount. It is critical to ensure that all of the system components are sourced from a reliable vendor and that they are UL-listed and properly rated for the designated load and application. In selecting a connected power-distribution system, look for dual-rated STOOW and TC/Open Wiring-rated cordsets that provide industrial ratings of NEMA 6P an IP67. (STOOW is an Underwriters Laboratories classification meaning the system includes hard-service flexible cord with thermoplastic insulation, in which both the jacket and the conductor insulation are oil-resistant, and the assembly is also moisture and sunlight resistant.) In addition, the system should have built-in anti-vibration features to prevent coupling nuts from loosening in machinery that is subject to high vibration.
When configuring and installing the systems, make certain that only code-compliant wiring methods and practices are employed.
A world of applications
What kinds of companies are leading the trend toward implementing NFPA-79 code-compliant soft-wiring systems to power and control their industrial machinery? Here are several examples that illustrate the diversity and scope of potential applications for flexible-wiring solutions:
• A large government contractor achieved labor savings of 85 to 90% by soft-wiring portions of its client's automated parcel handling system. On one project, 1,000 manhours were slashed to 106. On another, 400 manhours were reduced to 48.
• An automotive chassis-carriage finishing plant used 889 motor connection points to synchronize its paint booth finishing operations.
• A poultry processing plant experienced significant routine MRO time savings by connecting 140 of its machine motors for fast, easy changeout.
• An automotive supplier reduced installation time of its brake-assembly welding and inspection line from three days to one day.
• A beverage bottling plant replaced hard conduit runs from a centralized motor-control cabinet with flexible cordsets to 30 motors in a case-washing system.
• A government contractor plans to use flexible wiring and receptacles to daisy-chain power distribution of subpanels along its parcel handling machines.
Additional applications could include automotive parts conveyor systems, automated warehouse and distribution systems, airport baggage-handling systems, parcel sorting and distribution lines, packaging of dry goods, synchronized processing equipment (such as is used in baking ovens), and process-cleaning equipment. Semiconductor manufacturers could use a soft-wiring approach for steps involved in wafer fabrication, plasma etching, and thermal ionization.
In the two years since the NFPA-79 standard was revised, many forward-looking companies have turned to flexible wiring architectures for power distribution and motor control. As evidence mounts that the technology is delivering dramatic time savings and cost reductions, as well as more reliable performance and optimal flexibility in day-to-day operations, the acceptance and adoption of soft-wiring topologies for a myriad of applications continues to grow.
KEVIN GALLAGHERis global marketing manager at Woodhead Industries (www.woodhead.com), a provider of network and electrical infrastructure products for industrial environments. He can be reached at kevin.gallagher@woodhead.com