Customer feedback prompts change in 10GBase-LRM standard
Link length minimum raised to 300 meters, now in line with U.S. and ISO structured cabling standards.
Mar 1st, 2005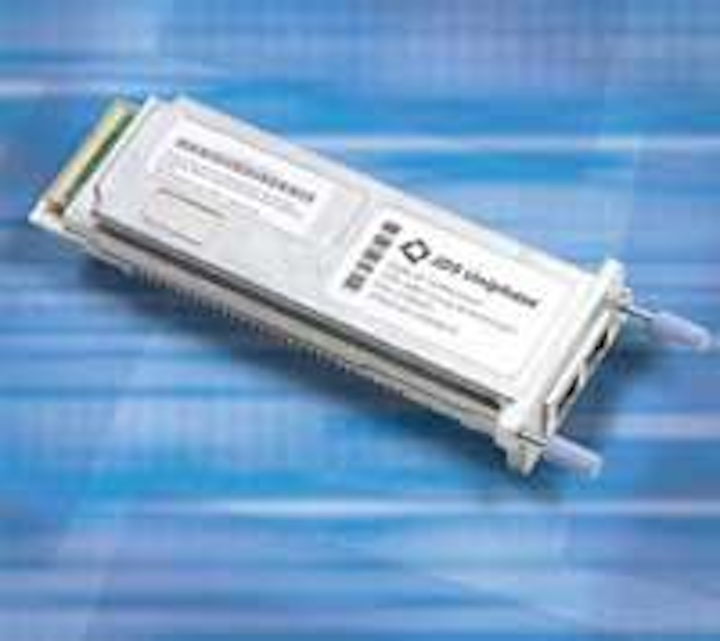 Link length minimum raised to 300 meters, now in line with U.S. and ISO structured cabling standards.
At its most recent meeting in San Antonio, TX, in November, the IEEE 802.3aq Task Force, responsible for developing an electronic dispersion compensation (EDC)-based mechanism for upgrading Gigabit Ethernet (GbE) multimode-fiber (MMF) links to 10-GbE, voted to change the link-length minimum from the previously agreed upon 220 meters to 300 meters.
10 Gbit transceivers, such as the JDS Uniphase XPAK/X2, are seen as key for multimode fiber backbone applications, where enterprise users are increasingly seeking to upgrade their networks to tap into the higher bandwidth and greater efficiency of 10-Gbit technology.
Click here to enlarge image
The alteration ostensibly seems relatively minor. Before the November meeting, the 10GBase-LRM standard specified "300 meters on selected MMF," recalls Mike Lawton, strategic marketing manager for Agilent Technologies' Fiber Optic Product Division (Palo Alto, CA). That same line within the standard now reads, "300 meters on legacy 62.5-µm MMF." Yet, as minor as it may appear, the impact of this change promises to be significant.
"The fact that EDC now supports 300 meters is critical because it now represents the high-volume, high-revenue part of the market," contends Daryl Inniss, program director of the Optical Components/Communications Semiconductor Program at RHK (San Francisco). According to the market research firm, 10-Gbit/sec transceivers for 300 meters on legacy MMF represent the largest revenue opportunity for component suppliers. Inniss predicts fivefold revenue growth in this segment between 2005 and '08.
Driving this growth is the bottleneck that currently exists in many enterprise networks. "Today, almost every PC ships with 10/100 gig," notes Abhijit Phanse, president and CEO of Scintera Networks (San Jose, CA). "There's gigabit to your PC, but there are 48 ports connecting to a switch and probably many switches connected to a router at the backbone, and it's choking at 1 gig. There's a huge requirement in the enterprise to upgrade to 10 gig at the backbone so that people can start utilizing the bandwidth that goes to PCs and effectively increase the efficiency of the network."
MMF is the largest installed fiber base in the vertical riser, and while it works fine for GbE transmission, with 10-GbE, it suffers from modal dispersion that can limit transmission distance. The alternatives, including pulling new fiber or using a WDM-based approach, are pricey for the enterprise network, which is "a high-volume, low-cost opportunity," says Phanse.
The WDM-based approach, dubbed the 10GBase-LX4, has already been standardized, and first generation products are now available, but four sets of lasers and receivers are required. (That said, manufacturers of LX4 transceivers believe their offerings will be more price-competitive with LRM devices than some suspect.)
The IEEE 802.3aq Task Force was created to develop a cost-effective alternative, and recent advancements in silicon have led to the viability of the EDC-based LRM solution. The task force had originally settled on the 220-meter link length because it is the minimum distance supported by the GbE standard that the LRM is designed to replace.
According to Lawton, system vendors and end users like Cisco Systems, Extreme, 3Com, and Huawei were concerned that another 10-Gbit/sec physical media definition (PMD) would create confusion in the marketplace. "What we were doing with LRM is presenting another short-reach solution with a different reach requirement from the existing VCSEL-based solution, which goes 26 meters, and the LX4-based solution, which goes 300 meters," he explains. "Our customers wanted to see the LRM align with the LX4 in terms of performance so they could make choices between the technologies without fundamentally changing their specifications."
Bruce Tolley, product-line manager for Cisco's Gigabit Systems Business Group and former chair of the IEEE 802.3aq Task Force, agrees that a 300-meter link length makes the most sense. "The structured cabling standards, both in the United States and the international ISO 11801, have set 300 meters as the standard for building premises cabling," he says. "Runs of MMF should be able to go 300 meters, and people are supposed to be designing buildings that way."
The system vendors may trumpet the benefits of a 300-meter specification, but how will the new link-length requirement affect the EDC IC vendors? According to Inniss, the new specification places additional burdens on the EDC vendors, which may elongate the time it takes for multiple vendors to deliver robust "final" offerings to the marketplace.
"This extra distance means [the EDC vendors] need more margin; they need better performance to meet this new requirement," he contends. "This may mean another spin, another turn, another development cycle-in which case, the LX4 solution may have a longer time in the market that initially projected."
Inniss believes that both the serial LRM and parallel LX4 method will play a role in the market. There is revenue to be made from each, he says, but the timing is different. "We projected that it would be two years, that by 2007, the EDC solution will come in and start to compete almost one-to-one with the LX4," offers Inniss. "So, that means the LX4 had a product lifecycle of, say, three years. Maybe it will be four years now; maybe it will go up to 2008, because it will take the EDC maybe another year to be fully developed and qualified for suppliers to ramp to meet the volumes."
For their part, the EDC vendors maintain that the bar has always been 300 m, whether specified by the standard or not. "Even if the spec [remained] at 220 meters, every feasibility study that was done as part of the IEEE, every set of data that has been presented was done at 300 meters," explains Phanse. "This does not push back commercial availability at all. This is just in some ways formalizing the 300-meter requirement."
Unanimous support
Up and down the food chain, 300 meters seems to be the desired link length. According to Phanse, the 60 vendors that compose the IEEE 802.3aq Working Group voted unanimously to increase the minimum link length. "The fiber vendors, the system vendors, the module vendors, and the IC vendors all got together and said, 'This is the right thing to do,' " he reports.
John Trail, director of product management at Big Bear Networks (Sunnyvale, CA), admits that 300 meters is "a tough bar to cross." He discloses that Big Bear is readying an EDC device for its transceivers that already meets the specification. "This is going to be a very exciting space for us over the next year or so," he says.
It's too early yet to choose a clear winner in the space, though the market is certainly crowded with contenders. In-house developments such as those by Big Bear and independent suppliers such as Scintera will compete with the likes of Phyworks, AMCC, Quake Technologies, and ClariPHY Communications.
If the IEEE 802.3aq Task Force is correct, there won't be any shortage of end users, either. Cisco, for example, is publicly touting its LX4-based product, but Tolley reports the company is "in conversations with suppliers of LRM technology." Cisco is currently shipping LX4 in a XENPAK but will likely look at LRM for an XFP form factor. "XFP is intrinsically a serial interface, whereas the LX2 and XENPAK have parallel interfaces," he says.
Transceiver manufacturer Agilent is even more bullish on the LRM standard. "I'm not saying Agilent doesn't have other things that support LX4," says Lawton, "but we believe it is really essentially about timing. LX4 is here today, but if we look to the future, if we look at trying to drive costs down, we think adding an IC in a single-channel approach should ultimately lead to the lowest-cost solution."
MEGHAN FULLER is senior news editor for Lightwave, a PennWell ATD publication. She can be reached at: meghanf@pennwell.com