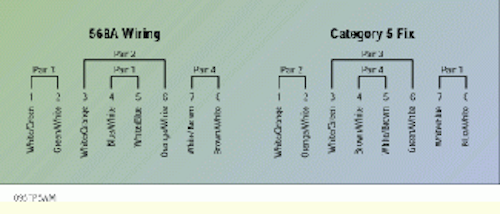 Sam Parthemer
Datalink Solutions Inc.
Problem
Sometimes when testing Category 5 cabling, you may have a problem with a cable termination that fails near-end crosstalk on pairs 4,5 and 3,6, while pairs 1,2 and 7,8 pass. Pairs 4,5 and 3,6 are the toughest pairs to pass near-end crosstalk because they are the two center pairs on the RJ-45 jack. Pairs 1,2 and 7,8 on the outside of the jack are less susceptible to near-end crosstalk problems.
Solution
The termination practices for Category 5 are different from those of other unshielded twisted-pair cabling, and non-compliance can cause near-end crosstalk failures to occur more frequently. Defective Category 5 jacks and panels have occasionally caused failures, as has defective Category 5 cable. However, here is one way to detect and correct the most common Category 5 cabling problem.
Procedure
1) Recalibrate your tester and always have a working reference cable.
2) Test again. If the cable passes, you probably had a poor connection with your test cables. If it fails, go to the next step.
3) Check your terminations. There should be no more than 0.5 inch of exposed twisted-pair cable on 110 terminations (panels and jacks). If there is more, reterminate.
4) If your tester can read the resistance of the cable between pairs, check pairs 4,5 and 3,6 versus 1,2 and 7,8. They should be within a few ohms of each other. If your meter does not read ohms, go to step 9.
5) On the meter, if 4,5 and 3,6 pairs read much fewer ohms than the other pairs, you have a poor connection. Reterminate both cable ends.
6) Test the termination again. If it still fails near-end crosstalk and the ohm readings for pairs 4,5 and 3,6 are less than those for the other pairs, replace the jack and retest.
7) If it still fails near-end crosstalk, terminate the cable onto a different port on the panel and retest.
8) If it passes, you may have a faulty patch-panel port. If it fails, your panel and jacks are probably not the problem.
9) Sometimes (in approximately 5 out of 2000 cases) the cable may not be 100% Category 5, and some pairs are better than others. If you have completed all the above testing and still have a failure, the cable or the installation of the cable is the cause.
But before you rip out the cable, try this quick and effective method to make the cable installation pass Category 5 near-end crosstalk on all pairs.
10) Remove pairs 1 and 2 (blue/orange T568A wiring pattern), and pairs 3 and 4 (green/brown) from the panel and the jack at the workstation. Terminate both ends of the cable in reverse order so that it is paired 1,2 (white/orange) 3,6 (white/green) 4,5 (white/brown) and 7,8 (white/blue). You now have the two failing pairs wired on the outside of the jacks (1,2/7,8) and the two passing pairs on the inside of the jacks. Do this at both ends of the cable.
11) Retest the cable. In most cases, it will now pass all near-end crosstalk and related Category 5 tests. By putting the best pairs in the hardest-to-pass jack location, and the worst pairs in the easiest-to-pass jack location, there is a good chance that the cable at that location will now pass.
12) If it still fails, replace that cable segment. Make sure that you document this wiring fix in your testing documentation.
Sam Parthemer is project manager at Datalink Solutions Inc., San Diego, CA.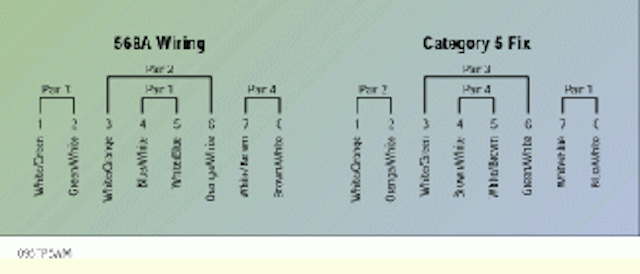 Click here to enlarge image
Instead of the standard T568A wiring sequence, terminate both ends of the cable in reverse order (step 10).