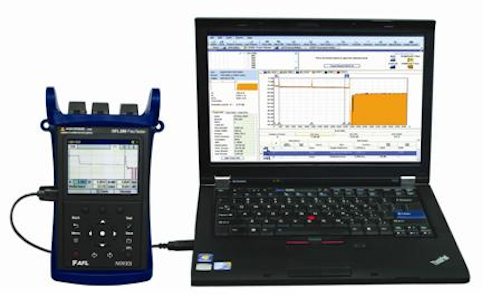 The Noyes Trace Results Manager (TRM) reporting software package from AFL now supports IEEE 802.3ae 10-Gbit Ethernet fiber certification. The software package now also integrates with AFL's OFL280 FlexTester and OFL250 OTDR testers. "Fiber certification for 10-GbE enables users to test fiber results based on industry standards and then create professional, comprehensive reports," AFL said when announcing the new capability. The company added that this newest version of TRM permits technicians to carry out the following tasks.
Quickly view results
Generate acceptance reports
Analyze OTDR traces, loss or certification results
Batch edited OTDR traces uploaded from a number of AFL fiber-test products
TRM software is designed to analyze OTDR, OLTS and OPM results. It also allows integration of fiber-inspection images from the DFS1 FiberScope into customized reports.
Ganesh Nakhawa, product line manager at AFL's test and inspection division, commented, "Bandwidth-intensive applications such as video-on-demand, music downloads, telepresence and cloud-based services are driving the need for additional capacity in telecom, broadband and enterprise networks. 10-GbE technology comes with tighter optical budgets and the need to thoroughly test fiber infrastructure to new industry standards. Our newest version of TRM software offers quick and easy 10-GbE certification and ensures successful deployment of mission-critical services."
The new software is free of charge to users of Noyes OTDR, OLTS and OPM products.