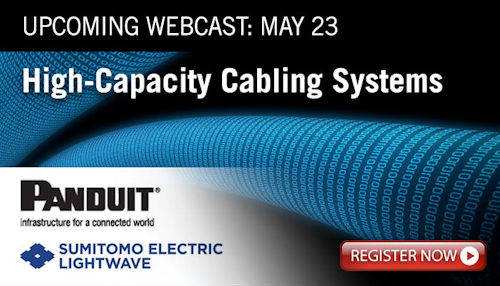 Applications that demand both bandwidth intensity and large numbers of connections—like data center interconnect and emerging 5G backhaul—have given rise to the installation of extremely high-fiber-count cables. Cables containing optical fibers numbering in the multiple thousands are available and being deployed regularly. For the installers, technicians, and other professionals working with these cables, as well as for the ultimate owners of the installed fiber-optic systems, these high-fiber-count cables are new territory and require new learning. This webcast seminar, produced by Cabling Installation & Maintenance, looks beyond just the high fiber counts in these cables, to also discuss the practical implications of terminating the individual fibers and managing the installed cable plant.
Presentation: Cable Support Devices and Systems
Without proper support and protection, cable can be damaged, impacting network performance. On a cabinet or rack common systems help to route, support and protect cabling, preserving cable performance. This presentation will cover the essentials of what type of cable management systems are common, what you should look for in horizontal and vertical cable managers, and some unexpected benefits of cable management.
Presentation: Termination Options for High-Capacity Cabling
The growing appetite and demand for fiber has led to the introduction of multiple high-capacity cabling options. When choosing the right option for your environment and application, you must consider more than simply which cable has what fiber count. Often, high-capacity cables are incompatible with legacy management and termination offerings—making it critical to look beyond the cable itself to ensure you're getting the right components that are part of an end-to-end solution. This presentation will explore the options available and provide guidance on navigating to the appropriate high-capacity cabling offering for your needs.
Join us for this webcast sponsored by Panduit and Sumitomo Electric Lightwave.
Register/View