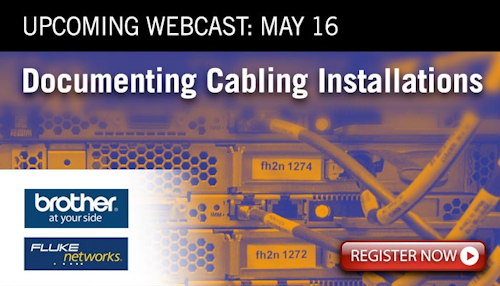 The ability to manage an installed cabling system relies heavily on the extent to which that system is documented. Whether the task is troubleshooting, moves/adds/changes, or any other event that requires a technician to locate and work with cables, accurate and easy-to-understand documentation of the cabling circuits ensures efficiency and eliminates wasted time. In this webcast seminar, experts from Brother Mobile Solutions and Fluke Networks explore best practices and modern technologies that keep cabling systems documented and easy to manage.
Presentation: Labeling Options and Approaches
The ANSI/TIA-606-C standard specifies systems and schemes for the administration of telecommunications infrastructure. Cabling installers and technicians have several options—procedurally and technologically—to document cabling systems in accordance with the 606-C standard. This presentation explains the standard's essential elements, then further describes the techniques and the tools that can be used to drive efficiencies in the labeling process. Taken from the experiences of cabling technicians in the field, this presentation explores ways to minimize or eliminate the pain points in the labeling, documentation, and administration process.
Presentation: Troubleshooting Technologies and Techniques
Sometimes the first and largest obstacle to troubleshooting a faulty cabling circuit is physically identifying one or both ends of the cable. An undocumented or poorly documented patching system in a telecom room can sharply increase the time, cost, and aggravation associated with a troubleshooting call. This presentation explains techniques that can be taken during the troubleshooting process to overcome shortfalls in cabling documentation. The presentation includes a discussion of some capabilities that have been built into troubleshooting tools to identify and test cables in dense, crowded, and potentially poorly documented environments.
Register/View