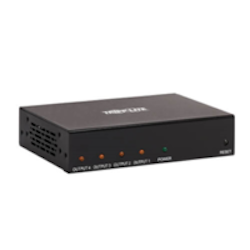 Tripp Lite
Tripp Lite has introduced HDMI splitters that the manufacturer says "give users the ability to take advantage of true 4K resolution on a newer 4K display, while still using other existing or less-costly screens displaying lower resolutions within the same installation."
As noted by the company, "most other HDMI splitters default each display to the lowest common resolution of all connected displays. In contrast, these new solutions support multi-resolution output, so that 4K content is displayed at the maximum output supported by each television, monitor or projector."
"With one of these new splitters, the user gains a cost-effective means to install one or more televisions that support High Dynamic Range (HDR) for true 4K content, while controlling the overall costs of the installation by adding other displays that support 1080p resolutions," says David Posner, Tripp Lite's Director of Product Marketing, Connectivity.
The new multi-resolution splitters are geared for applications where content from one 4K source is shown simultaneously on two or more displays of different resolutions, such as in bars and restaurants, hotels, auditoriums, churches, schools and trade show venues.
Tripp Lite says the multi-resolution output splitters support HDR resolutions up to 4096 x 2160 at 60 Hz for crystal-clear true 4K video. They also support the latest HDMI standards, including 4:4:4 chroma subsampling and 36-bit Deep Color. A wide range of audio formats are supported as well, including DTS-HD, Dolby TrueHD, Dolby Digital Plus and LPCM 7.1-channel surround sound.
Tripp Lite's Posner adds, "The ability to mix-and-match different display standards means that dazzling 4K video won't be choked back to 1080p on an HDR television that may serve as the centerpiece of a larger installation."
Available in 2-port and 4-port models, the new units extend signals up to 30 ft. (15 ft. from source to splitter and 15 ft. from splitter to display) and meet HDMI 2.0 and HDCP 2.2 standards. Learn more.