Amherst's optical-fiber Hot Stripper now with Ripley.
Leviton Manufacturing Company (www.leviton.com) has acquired OnQ Technologies, Inc., a supplier of structured wiring and home networking technology.
Apr 1st, 2003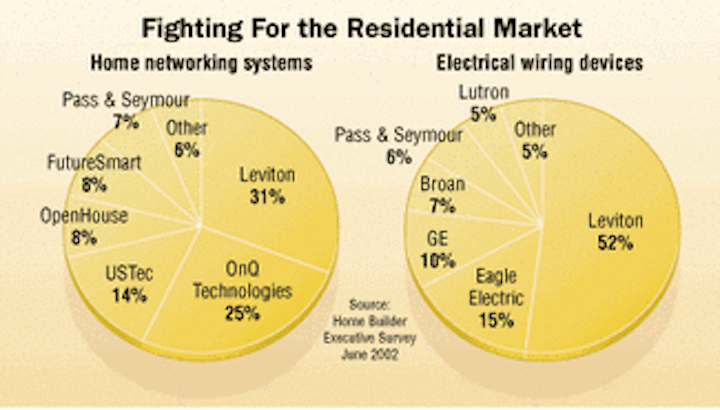 Leviton Manufacturing Company (www.leviton.com) has acquired OnQ Technologies, Inc., a supplier of structured wiring and home networking technology.
The company made the acquisition to bolster its position as a supplier of home networking and residential products. It plans to use its new position to solidify its grasp on the residential market.
OnQ is being joined with Leviton Integrated Networks, the company's existing structured wiring division, to create Leviton OnQ Inc.
Leviton manufactures wiring devices. With a combined market share of nearly 50%, Leviton representatives say the new division is poised to become the dominant supplier in the growing structured-wiring market. Doug Fikse, current president of OnQ Technologies, has been named president of the new wholly owned subsidiary, Leviton OnQ.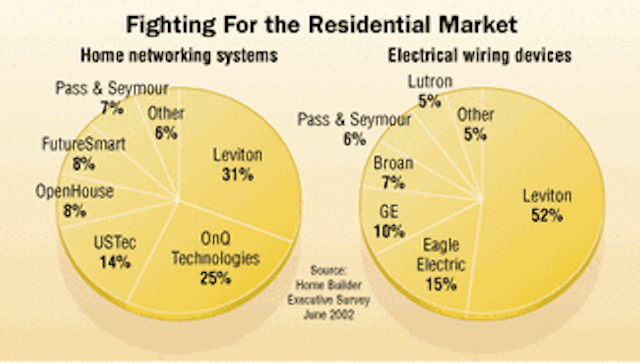 Among leading home builders, Leviton products have been a dominant choice for electrical wiring devices. The recent acquisition of OnQ Technologies now gives Leviton leadership in home networking systems.
Click here to enlarge image
null
Structured-wiring systems provide the physical backbone for residential voice and data networks, including high-speed Internet distribution, whole-house audio and video systems, security systems, lighting controls and home automation applications. The market for structured wiring systems is expected to exceed $500 million by 2004, according to research by Parks Associates (www.parksassociates.com), a consulting firm that studies emerging residential technologies and services.
Ian Hendler, director of corporate channel development for Leviton OnQ, based in Harrisburg PA, says growth in structured cabling for the residential market is expected to be "quite good" this year.
Leviton believes it has at least 52% of this market. But it wants to have more. Hendler says the market could bring Leviton OnQ $144 million for structured cabling sales for new construction projects. This includes single and multi-family homes, which will require cabling, plates and electronics to power home automation. Hendler says Leviton OnQ predicts that by 2004, this market could bring the company $168 million.
"We want to bring the tools to the contractor/distributor base to drive this technology in homes up a notch or two, not only to penetrate the existing technology used in homes today, but also to increase the percentage of homes being built with structured wiring," says Hendler. "We want that to reach 100%, to increase the amount of technology penetration in all homes."
For now, Leviton and OnQ will run in parallel, existing relationships with channel partners remaining in place. The company recently completed its first set of meetings on product integration. Hendler says the companies must address product line overlap. This rationalization process could take six to eight months, and he believes the new operation will be at full throttle by the end of the fourth quarter.
"We find our capabilities are very complementary, with strengths on both sides of the equation," says Hendler. "It will make us a very powerful entity, and we need to rationalize the market space."
Hendler says the acquisition is designed to combine key strengths from both organizations. He describes Leviton as being the "poster child" for vertical integration. Leviton has strong relationships with builders, electrical contractors, distributors, home centers and retail chains. It also has global manufacturing facilities.
He says OnQ has similar relationships with security, audio/video and other low-voltage partners.
"We've done well in the structured wiring side. What we are not especially strong in is the low-voltage security installer, the AV specialist out there," says Hendler. "OnQ on their side have done extremely well. What this acquisition is about is bringing the synergies between the two companies together," says Hendler.