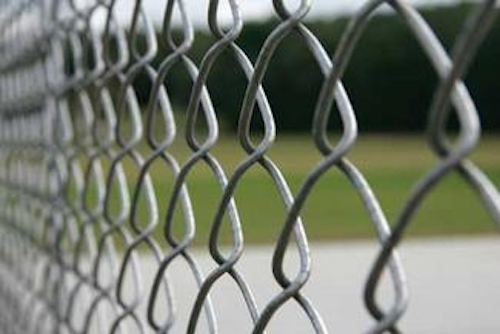 Systems that employ optical circuits to detect intrusion are finding deployment in highly sensitive applications.
by Patrick McLaughlin
You might not find a more-primitive security system than the chain-link fence. Long before the concepts of phishing and network hacking could be fathomed—well before the invention of Ethernet, in fact—these trusted protection devices prevented unwanted visitors from treading on selected parcels of real estate. Over the years more technologically advanced methods of perimeter protection evolved, including video surveillance and "seeing eye"-typeintrusion detection, each with its own communications infrastructure, and much of that infrastructure consisting of wiring.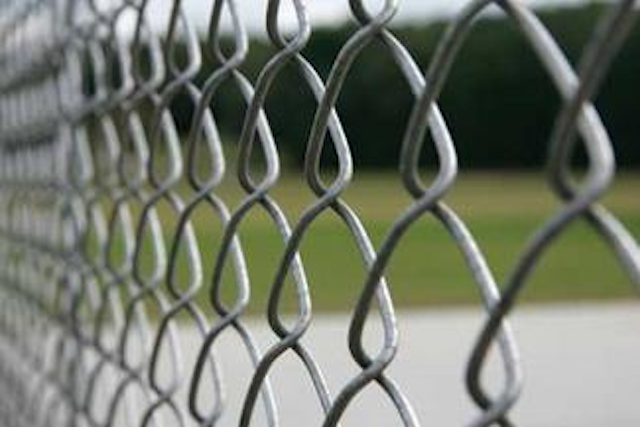 A traditional fence like this one can become a more-modern security system when it teams up with a fiber-optic security system for intrusion detection.
Click here to enlarge image
Yet fences did not go the way of the abacus or typewriter in the face of emerging technology. They are still omnipresent as protection systems. And today, many highly sensitive entities are choosing not to replace their fences with cabled security systems, but rather choosing to add cabling—fiber-optic cabling in particular—to their existing perimeter security systems to gain the advantages of modern intrusion detection.
Two such systems, the Fiber Defender from Fiber SenSys (www.fibersensys.com) and Fiber Fence from Fiber Instrument Sales (FIS; www.fiber-fence.com), turn optical fiber's bend sensitivity into a primary security asset.
Fiber's bend sensitivity
"The optical fiber is used as the sensing element,"explains Fiber SenSys' Joshua Gardner. "There is a unique phenomenon that occurs in multimode optical fiber, called intermodal mixing. Any movement of the optical fiber, even microscopic movements such as vibrations,changes the way that light is propagated down the core of the fiber. Any movement of the optical fiber causes a change in what is called the speckle pattern. Our detector registers a change in the speckle pattern.
"We employ a sophisticated digital-signal processor [DSP] that runs many algorithms to determine if a signal is an intruder or environmental background noise, such as wind. There are several calibration parameters that tune the DSP to respond correctly to the sensor's unique application."
Fiber Defender is used in several applications, Gardner states, including chain-link fences, wrought-iron fences, and walltops. It can also be buried in gravel. "Our SecurLAN application employs an optical-fiber sensor cable inside of data conduit to detect cable tampering or tapping. A new application is our FiberMat sensor that is used in the track bed of light rail and subway stations to detect unauthorized access or the deposit of small packages."
FIS' Fiber Fence activates alarms and shows breach locations using optical technology and mechanicaldevices called MouseTrips. The devices are installed atintervals around a perimeter and detect movement of the sensing fiber or disturbance of the fence to which it isattached. Its laser-based control unit injects light into the fiber-optic cable, and the MouseTrip sensors are triggered by any cuts to or tugs on the cable. When triggered, the MouseTrip reduceslight flow through the circuit, which the control unit detects.
"FiberFence is designed to beimplemented on an existing fence line, and to go around walls and gates," says FIS' William Batchelor, trainer and product manager for security products. "Our FiberFence includes non-electrical mechanical sensors—the MouseTrips—that are spaced every-so-many-feet apart from one another. Fiber-optic sensing cable is run through the MouseTrips. A spring-loaded plunger insidethe MouseTrip is triggered when anybody disturbs the fence bytugging, climbing, or cutting. The plunger trip creates amicrobend in the fiber, which creates loss of light."
Batchelor continues, "The system's control unit is constantly searching for a range of light being sent from the control unit, traveling around the system, and arriving back at the control unit. If there is a loss, an alarm is activated."
The second phase of FiberFence's operation, Batchelorexplains, is the activation of an optical time-domain reflectometer (OTDR), which traces the fiber and locates the point of loss. The loss point flashes on a screen, alerting personnelof the location of the intrusion. FiberFence can tie intoother security systems, including video-surveillancecameras, which can zoom in on the intrusion location.
The system has been deployed in military facilities, nuclear-power facilities, factories, storage yards, chemical plants, and hazardous-waste facilities.
Unique characteristics
As fiber-based "bolt-on"-type systems, these product lines differ from more-traditional intrusion-detection systems in several ways. "Many intrusion-detection systems use a copper cable to achieve their function," says Fiber SenSys' Gardner. "Examples of these would be leaky coax and piezoelectric sensors. Any sensor that uses copper cable will have a weakness to electromagnetic interference, radio-frequency interference, and lightning. The presence of metal or standing water in a leaky coax system will create detection problems."
Gardner adds, "Some other intrusion-detection systems use microwave, passive infrared, or beam sensors. These systems typically get a lot of nuisance alarms in heavy wind, rain, or snow. Fiber-optic sensors employ only silicon glass around the perimeter, which is not susceptible to EMI, RFI, or lightning. It is not conductive to electricity and will not spark or arc. That makes it an ideal medium in facilities. such as electrical switch yards, chemical storage, and explosive-material storage."
Gardner adds that Fiber SenSys systems have been successfully deployed in military/Department of Defense facilities and with DoD contractors. Other verticals that have taken to the system include petrochem, corrections, airports, executive residences, and transportation markets.
FIS' Batchelor similarly lauds the benefits of Fiber Fence:"Fiber-optic cable cannot be breached without detection," which is frequently cited as a reason fiber-based LAN structuredcabling systems are considered more secure than copper-based systems. That breach-detection ability is the verybasis of the Fiber Fence and Fiber Defender perimeter-security systems.
Optical familiarity
Because Fiber Fence and Fiber SenSys use optical tech-nology and include cable as a primary element, installers of these systems should have cable-installation experience as well as knowledge of fiber theory and fiber-cabling performance. "Optical termination is required," Gardner notes. "A goodunderstanding of the tuning and calibration of the FiberDefender is needed to ensure reliable and accurate intrusion detection." Fiber SenSys offers a training class at itsHillsboro, OR headquarters that covers all elements needed to install and maintain the system's equipment.
FIS' Batchelor agrees that background in fiber-opticinstallation is helpful: "Mounting the MouseTrips requiresjust two screws, so that is not an issue. But when it comes toinstalling around a gate, the sensing fiber runs to a splicebox, then runs over the gate to another splice box on theother side. Having knowledge of fiber optics and the ability fusion splice is helpful."
Fiber Instrument Sales offers hands-on live training with its distributor and installation-contractor customers. FIS personnel accompany new customers on initial installations, ensuring they achieve a comfort level with the system. Batchelor offers a case-in-point about two of Fiber Fence's earliest installers. One was an electrical-contracting company that had little fiber-optic installation experience; the other was acontracting company that handled fiber-optic installations exclusively. Both became certified installers of Fiber Fence with relative ease, he says, after just a few training classes.
Fiber Defender and Fiber Fence sometimes compete head-to-head, and other times. one system is recognizably more appropriate for an environment than the other. In a nutshell, Fiber Fence is offered at a lower price point and provides shorter distance capabilities than Fiber Defender.
While those two systems from U.S.-based organizations have served fenceline security needs for years, the Australian company Future Fibre Technologies (FFT; www.fft.com/au) provides a similar, optical, fence-based system that has been deployed worldwide, including North America The company recently opened a European headquarters and, before that, expanded its existing U.S. presence when it opened an East Coast office.
FFT says its Secure Fence system can protect systems as long as 50 miles inperimeter, and locate intrusions to 25 yards. The company lists the U.S.Navy and Army, and the Department of Homeland Security among itsclientele.
Despite their differences, these three systems are similar in that they have turned optical fiber's bend sensitivity into an advantage in the realm of security and safety.
Patrick McLaughlin is chief editor of Cabling Installation & Maintenance.