How to break in to high-end security
Cabling professionals have a lot to offer to this growing installation opportunity, but skills in IP-based connectivity are a must.
Jun 1st, 2004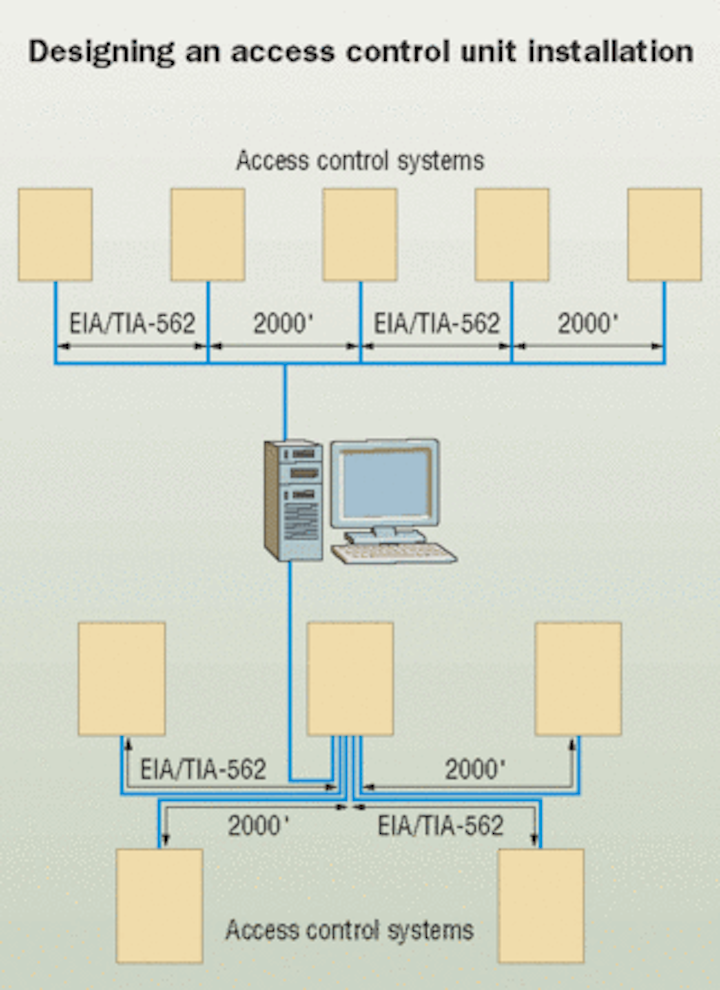 As cabling contractors try to define their roles in the security installation arena, they find themselves choosing hardware and methods in an industry that is in a state of flux.
It's an arena where security solutions are becoming increasingly sophisticated, featuring IP-based hardware like access control, CCTV and security alarms. The industry is moving even more toward these IP-based solutions as end users seek the ease and comfort of running applications through their computers, attempting to string security solutions across multiple buildings. End users are seeking high-speed Ethernet networks that will work with increasingly intelligent, IP-based cameras that can track movement and set off warning signals if there is suspicious activity.
"When it comes to distribution, detection and observation, if you have an IP camera, you can take that stream of images and send it to anybody on a network," says Steven Williams, founder of WirelessGuys.com (Ventura, CA), which installs wireless networks.
On the theshold of something big
As the industry transforms, cabling contractors are trying to figure out where they fit into the installation work. The opportunity is there, and it comes when installers or manufacturers for security hardware need someone to install the networks that they run on.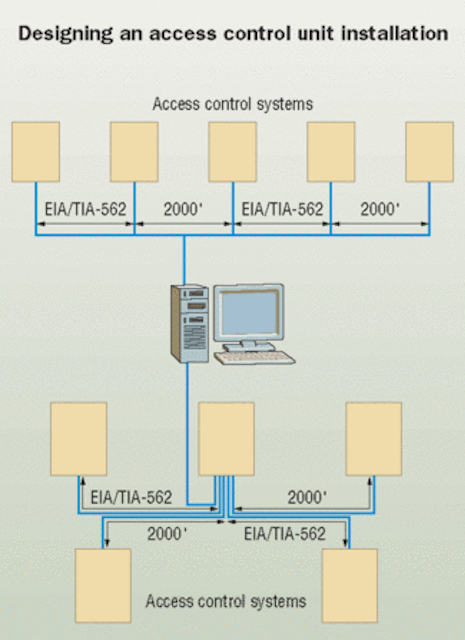 This IP-based access control system made by Keyscan requires hardware installation skills as well as knowledge of the type of cable the system requires.
Click here to enlarge image
"We are on the threshold of the rebirth of an industry," says Pete Lockhart, vice president of new technology at Anixter, Inc. (Glenview, IL; www.anixter.com). "Network routing (of security information) is coming of age. Once we get the technology smooshed into a data network, it will allow other things to happen fast and make it more mainstream."
Still, high-end security installations pose many challenges for cabling contractors:
When and how to install security hardware while using an existing cabling infrastructure, as opposed to pulling in new cable;
What type of camera will fit a particular end user's security needs;
How to effectively help an end user record digital video images and what to do with them after they have been recorded;
How to properly conduct a security site survey, and design a network that will work with the needed security hardware.
Multiple building challenges
Contractors should benefit from the trend of enterprise end users migrating toward IP-based networks. Their input is becoming a key ingredient as end users increasingly seek out IP-based security solutions.
Contractors who are breaking into this area of installation say an Ethernet or IP network is proving to be an attractive and cost-effective way of installing a solution that ties in multiple buildings. The systems require a structured cabling backbone, which could include coaxial cable pulled to the closet, with security devices such as IP-based cameras or access-control technology fitted onto the other end of the cabled network.
Karl Griffith, director of reseller markets for Graybar (St. Louis, MO; www.graybar.com), says while it is true that communications contractors are now having the chance to leverage their expertise when installing security notification systems, they need to prove to manufacturers and end users that they are familiar with security hardware.
"IP will be the transport mechanism that will be widely used in the security notifications and interconnecting buildings," says Griffith. "My vision is that commercial buildings will be dominated by it in the future, and contractors must have the expertise to build that IP network."
Today's security hardware is increasingly intelligent, providing digital processing, motion control, and the ability to pump an analog signal down through a coaxial cable, converting it to Ethernet and transporting it back to a wiring closet where it is turned into a video image and put on a server. The installations, particularly ones that involve multiple buildings, can be lucrative. Williams, for example, recently helped set up a security system in a 15-building complex. He and his crew installed 25 cameras, each cabled for 1-Mbit bandwidth. The hardware was connected to a point-to-point wireless solution.
"We used structured cabling to connect all of the cameras together, put an antenna on the roof, and from building No. 15, brought the signal from the cameras back to the headquarters at building No.1," says Williams.
End users' appetite for security solutions seems to be ever-growing. The Dufferin-Peel Catholic District School Board in Mississauga, Ontario, for example, is in the process of installing an access-control system in the different schools throughout its system. About 60 schools have card access systems made by Keyscan Inc. (Pickering, ON; www.keyscan.ca). The access-control system will be used by the schools' 7,000 staff members. Ontario contractor Vision Dynamics Technologies Inc. installed both the hardware and the plenum-rated Category 5e cable. The job required about 1,000 feet of cable for a two-door system.
Officials for the 137-school system decided to go with the access-control solution five years ago, part of its ongoing effort to make the schools safer. At present, there are 1,000 networked CCTV cameras in the schools, with more being installed. These cameras, along with security alarms and the new access-control solution, are all IP-based.
"Our objective is to get all of the schools on a card access system and eliminate managing keys," says Minaz Jivraj, school safety and security officer for the Dufferin-Peel Catholic District school board. "We need this safe school environment, and we strongly believe that good management of our facilities will ensure that student behavior is in check."
"Now every camera is a Web-based camera," says Dave Brown, division manager for cabling installer Royal Electric (Sacramento, CA; www.royalelect.com). "Three years ago, there were only one or two manufacturers who had that, but now everyone has cameras being converted to a video-to-IP-based format. We're right in the beginning of a change in security when it comes to IP."
But the hardware exists in a highly-fragmented and confusing market, with thousands of suppliers, each of whom seem to be adhering to their own standards. For example, Lockhart says he sees a lack of specifications for the quality of coaxial cable needed to hook up IP-based cameras.
"I saw 120 manufacturers for DVR (digital video recorder) equipment, each having their own front end, user interface and a way to store the data and put it on a network and then retrieve it," says Lockhart.
"The hard part is understanding the technology behind the systems that hang on the end of the wire that they install," says Griffith.
Installer's work
Manufacturers say that cabling professionals have a great opportunity to install these high-end solutions. But they also caution that cabling professionals need to be on top of their skills, especially when it comes to multiple buildings.
"They need to know how to hook these devices up, and what categories or types of wire to pull to the panel," says John Megarry, director of marketing for Keyscan Inc.
For starters, Williams says cabling contractors need to learn how to conduct security site surveys. This involves walking the perimeter of a group of buildings, often with security personnel, to identify coverage areas.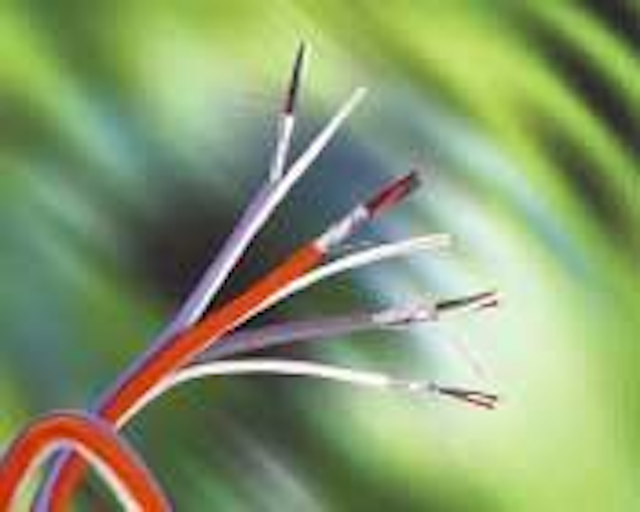 Belden Cable's Banana Peel cable, used to connect IP-based access control solutions, is designed to help contractors cut down on set-up time.
Click here to enlarge image
"They (security personnel) point out where the weak points are, and point out areas of need," says Williams. "We put in the Category 5 cable or coaxial coming out of the back of the camera down to the encoder."
To install a surveillance system across multiple buildings, installers should choose an all-inclusive, centrally-located point for their network and powered connections. From here, they can install cable that will deploy, for example, surveillance cameras on different buildings while using a central hub solution that can supply power to them.
"That would be the most economical way of addressing multiple buildings with multiple surveillance cameras," says Kevin Secino, product manager for cabling component manufacturer Red Hawk/CDT (Milpitas, CA; www.red-hawk.com).
After taking a site tour, the contractor should be able to recommend that the end user make due with a color or black and white camera, use a day/night camera, or choose a camera that uses infrared illumination or other possibilities. "Only experience will tell you, and customers are looking for that experience," says Joseph Essma, director of low voltage solutions for Accu-Tech Corp. (Atlanta, GA; www.accu-tech.com).
Not just any camera will do
But choosing the camera is not enough. While IP-based cameras are making rapid growth in the industry, methods of recording the digital video images that they capture are lagging. Contractors need to help end users choose effective methods for retrieving the recorded material. Essma observes this is proving to be one of the unexpected problems of security-camera installations. "The contractor has to know this," he says.
Even then, the variables in a security installation can be many. Contractors need to know how to think on their feet. ComTel Systems Corp. (Tampa, FL; www.comtelsystems.com), for example, is now installing a 31-camera project that will cover eight buildings at the University of South Florida in Tampa. But instead of going with an IP-based system, the contractors suggested that the university use analog video cameras. This choice would enable the contractors to utilize the university's existing copper and optical-fiber network, bringing video back to the main hub through the longhaul network. That decision enabled the contractors to keep the cost to $46,000.
"It's a good example of the things we get involved in," says Essma. "They (the university) didn't want to re-pull cable, but they have the existing infrastructure of copper and fiber, and we try to use their resources to keep the costs down."
Brian Milligan is senior associate editor for Cabling Installation & Maintenance.