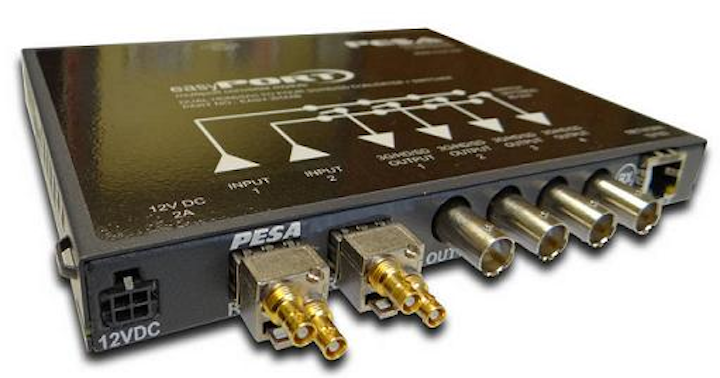 PESA (Huntsville, AL), a U.S.-based custom design and manufacturing company specializing professional audio-video signal distribution, has introduced four new easyPORT analog/digital multi-point utility converter/switchers that support up to four inputs. The company says the compact throw-down boxes are ideal for temporary or permanent solutions to integrate legacy analog equipment into a facility's digital workflow.

The EASY-4ADX4B and EASY-4ADX4F deliver 10-bit conversion of composite analog video to SDI. Both accept NTSC/PAL composite inputs and feature 4x oversampling. The EASY-4BX4DA and EASY-4FX4DA allow SDI video to be converted to analog video in NTSC/PAL, with fiber or coax SDI inputs. A built-in utility switch allows full crosspoint switching for all inputs.

"There are an abundant number of analog video products still in use, and our new easyPORT modules offer a unique and cost-effective way to integrate that analog gear into digital distribution systems," comments Dan Holland, PESA's vice president of product marketing. "Whether you need coax or fiber connectivity, easyPORT makes it a simple operation to effectively provide analog-to-digital or digital-to-analog conversion or switching."

PESA asserts that its easyPORT modules offer significant size and power advantages over standard single-port converters, with added port options and built-in switching capabilities. For back-room installations where rack space is a premium, PESA offers a 1 RU power distribution tray that holds up to four easyPORT modules with a shared power source to reduce clutter.
Set-up for the new devices is fast and easy because each easyPORT module includes USB and Ethernet connections. Once PESA's CATTRAX software is installed on a PC or laptop, the GUI can be used for setup, switching, or diagnostics. Learn more here.