HDMI-over-Gigabit IP extender multicasts digital AV signals
New extender from NTI operates with one or more receivers up to 333 feet away over a 1000-BaseT Gigabit network, connected via Category 5e/6/7 cabling.
Mar 25th, 2014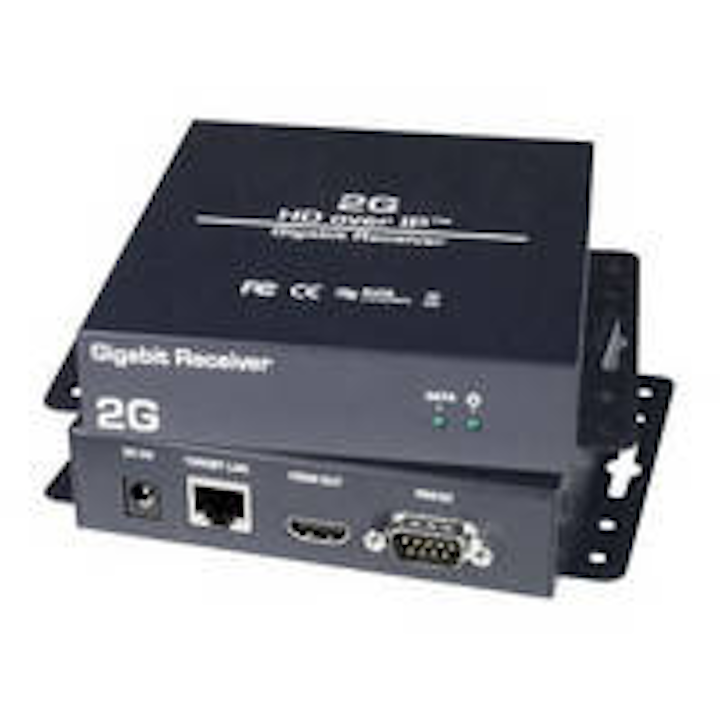 Network Technologies Inc. (NTI) has added its HDMI Over Gigabit IP Extender to its existing line of audio/video (AV) extenders. According to NTI, the HDMI Over Gigabit IP Extender multicasts digital video and audio signals to one or more receivers up to 333 feet away over a 1000-BaseT Gigabit Network connected via Category 5e/6/7 cabling. Each extender consists of a local unit that connects to an HDMI source, and a remote unit that connects to an HDMI display. The local and remote units can be connected together for a point-to-point connection via Category cabling or a point-to-many connection via a network switch. Support for multiple transmitters requires a managed network switch.

The HDMI Over Gigabit IP Extender (ST-IPDHMI-L/R-2G) broadcasts real-time HDMI video/audio to multiple display locations and supports HDTV resolutions to 1080p. Plug-and-play installation allows receivers to automatically find transmitters on the same network, making the systems easily expandable; users simply add remote units as monitors are added. Support for 2-way RS232 commands (control software on a PC, or other automated control system hardware such as Control4 or Creston) enables control of any devices attached to the matrix using RS232.

See: A checklist for jumping from analog to IP surveillance

The unit comes with a customizable EDID table on the local unit and is HDCP compliant. It also supports video wall configurations from 1x2 to 8x8 screens with a built-in control application. One transmitter can connect up to two hundred receivers using cascaded managed network switches. Users can cascade managed switches up to three levels, allowing the farthest display to be located up to 1,000 feet away from the source device. Receiver options include a Power over Ethernet version, which does not require a power supply at the remote unit.

NTI's optional Matrix software enables fast and easy switching of video sources, and supports fifty sources, fifty screens, and multiple switches. The software includes presets, sequence, and screen group functions. The Matrix software can work as a standalone system or supplement any RS232-based integrated control system. A Video-Wall Add-On for the Matrix software enables fast switching via drag and drop functionality between multiple sources and displays on a fixed video wall size.

Available for immediate sale, NTI's ST-IPHDMI-L-2G transmitter costs $595; the ST-IPHDMI-R-2G receiver costs $595; and the ST-IPHDMI-R-2GPOE receiver with Power over Ethernet costs $695. Learn more.

Related product: HDBaseT HDMI extender enables long-distance AV connectivity