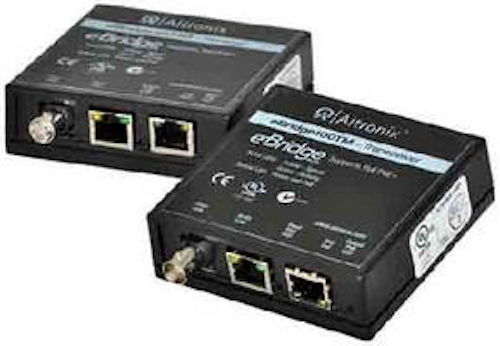 The recent ISC West 2014 saw Altronix, a specialist in low voltage power supplies and transmission devices for the electronic security industry, introduce the latest addition to its eBridge Plus family of products. The eBridge100RMT Ethernet over Coax/CAT5e Adapter Kits transmit full duplex data at 100 Mbps and pass PoE-compliant power over coax 304 m (1000 ft), or over Category 5e cable up to 500 m (1640 ft), without repeaters.

"The ability to accommodate IP cameras and edge devices over coax cabling has proven to be an extremely pragmatic solution and a cost-effective way to upgrade analog systems to a networked platform. And the ability to transmit data and deliver power extended distances over Ethernet cabling without repeaters provides added savings," asserts Alan Forman, president of Altronix. "Our new eBridge100RMT Ethernet over Coax/CAT5e Adapter Kit efficiently fulfills both of these applications."

See also: A checklist for jumping from analog to IP surveillance

The adapter kit consists of an eBridge100RM receiver and an eBridge100TM transceiver. Both of these adapters, as well as cameras and edge devices, are powered by virtually any PoE midspan or endspan, says the company. Remote management of IP cameras or devices to perform functions such as remote edge device reset, the ability to monitor current draw operational status monitoring, and more are possible when coupled with an Altronix NetWay8M/16M midspan. The eBridge100RMT is compatible with megapixel, HD720, HD1080 and VGA cameras.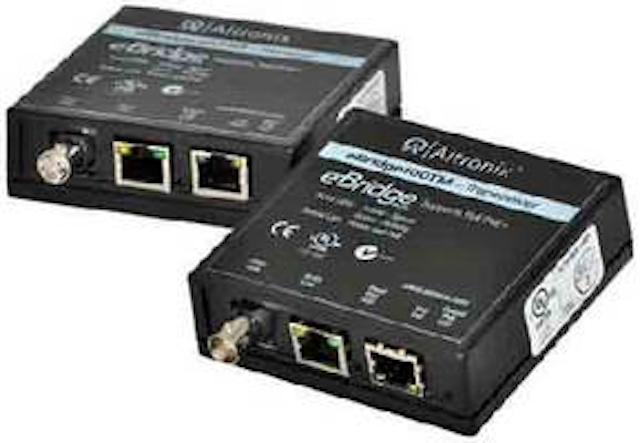 For more information, call Altronix at 1-888-258-7669, e-mail info@altronix.com or visit www.altronix.com.