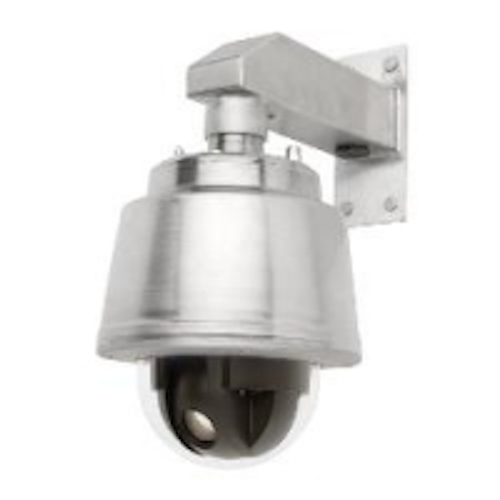 Axis Communications says its new "top-of-the-line" Q60-S PTZ dome network cameras in nitrogen-pressurized stainless steel casings are especially intended for IP surveillance and remote monitoring applications in marine, mining, oil and gas environments, as well as food, medical and clean room manufacturing facilities.
The new product line includes three outdoor-ready, marine-grade stainless steel cameras that enable 360° coverage of wide areas in resolutions up to HDTV 1080p with up to 36x optical zoom capability for superior image detail. With a SAE 316L stainless steel and a nylon clear dome cover, all Axis Q60-S cameras can operate in temperatures ranging from -30°C to 50°C (-22°F to 122°F). All models have IP66, IP6K9K, NEMA 4X and MIL-STD-810G 509.5 approvals, ensuring protection against dust, rain, high pressure/steam jet cleaning, snow, ice and salt fog. Pressurized nitrogen prevents internal condensation within the cameras' casing. The rust-free cameras can resist the corrosive effect of sea water and cleaning chemicals, and withstand high-pressure steam cleaning.

All cameras come with a multi-connector cable and a media converter switch that allows for network connection using standard network or fiber-optic cables. The switch also enables the cameras to connect to external alarm devices via two configurable input/output ports and to 12 V power. Stainless steel mounting accessories are sold separately.

See: Webinar probes intersection of cabling, IP surveillance systems

Specifically, the Axis Q6042-S provides Extended D1 resolution and 36x optical zoom. Model Q6044-S offers HDTV 720p and 30x optical zoom, while model Q6045-S supports HDTV 1080p and 20x optical zoom. All Axis Q60-S cameras support shock detection, which mechanically detects and triggers an alarm if the camera has been hit. Models Q6042-S and Q6044-S provide electronic image stabilization, which reduces the effects of camera vibrations (from wind or traffic) to provide clearer, more useful video.

Model Q6044-S also supports automatic defog, which automatically detects fog in the scene and digitally filters it out of view for clearer video. Axis claims its model Q6044-S has nearly three times better light sensitivity than the industry norm for HDTV cameras, enabling excellent video quality in low-light conditions. The model Q6045-S offers the highest video resolution, enabling exceptional detail in wide and zoomed-in views. In addition to autotracking and Active Gatekeeper functions -- which are available in all models -- the Axis Q6045-S also features built-in video analytics including highlight compensation (which masks bright lights for ease of viewing), object removed, fence detector, object counter and enter/exit detection capabilities.

Further features of AXIS Q60-S cameras include: support for H.264 Main Profile for efficient compression of video; adjustable day/night functionality that allows operators to take advantage of infrared light in low light situations; a "guard tour" feature that enables the cameras to be automatically directed to 256 preset positions; support for the Axis Camera Application Platform that enables the installation of additional intelligent video applications; and a built-in slot for a full-sized SD/SDHC/SDXC memory card.

The Axis Q60-S cameras are now available through the company's distribution channels. Learn more.