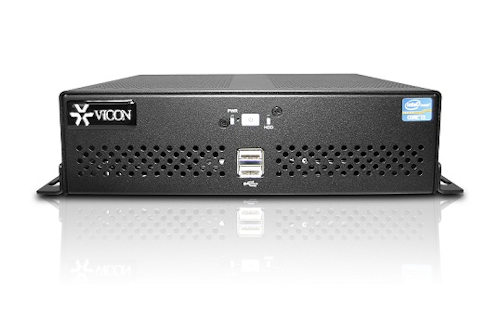 Network video management systems provider Vicon Industries has introduced its VN-Decoder-2, a 2-channel video decoder that provides added flexibility for Vicon's Virtual Matrix Display system topology. The VN-Decoder-2 offers both DVI and HDMI outputs; an adapter allows the DVI output to connect to a VGA monitor input. The device supports 1080p high-definition video, 16x9 viewing and H.264 compression. An external power supply keeps the unit cool and running quietly.

Related story: Vicon appoints new Eastern Region sales director

The company says the device provides a cost-effective means to support remote or add-on viewing stations that require only live video display, such as the view of building entrances from a reception desk. Each VN-Decoder-2 supports up to two monitors, each with the ability to display up to 64 video streams on each monitor.
When used at an edge location, such as a public view monitor or a guard shack, the video can be controlled and driven by a programmable logic controller (PLC) and IP keypad, without the need for a traditional keyboard, mouse and monitor.

Watch a short video providing a product overview of the VN-Decoder-2.

More coverage:Electronic security systems market experiencing worldwide growth