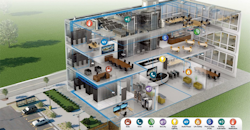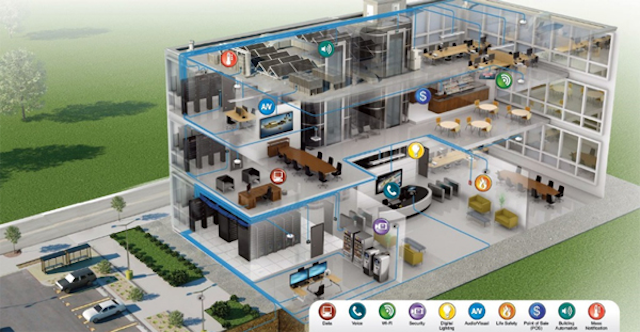 When it comes to selecting a single cabling media to support the broad range of converging low-voltage systems—everything from voice, data, Wi-Fi, distributed antenna systems (DAS), and security, to audiovisual (AV), lighting, building automation and more—there can be plenty of confusion due to conflicting information from a variety of system vendors, application standards designed to run over the installed base, and diverse data transmission and power deliver needs.
If you take a closer look at the latest technologies and industry standards recommendations, it is more difficult than ever to make a case for deploying anything lower than Category 6A. And when you combine those standards and technologies with the impact of remote powering applications like power over Ethernet (PoE) and power over HDBaseT (POH), it becomes clear that Category 6A shielded cabling should be the minimum you deploy for any new installation.
Needed for Wi-Fi
Across all price points, the latest Wi-Fi 6 (802.11ax) WAPs will need at least one Cat 6A connection to support either 2.5 Gb/s or 5 Gb/s transmission speeds. And to take full advantage of Wi-Fi 6 technology as it matures to support greater than 5 Gb/s, two connections will be required. Cat 6A is also recommended for Wi-Fi 5 because in some cases, Wi-Fi 5 data transfer rates are fast enough to saturate a Gigabit link. While 2.5GBASE-T and 5GBASE-T were developed as a means for the installed base Cat 5e and Cat 6 cabling to support of Wi-Fi 5, it is not intended to operate over the entire installed base and requires time-consuming retesting of the existing cabling plant to determine compliance. Only Cat 6Aand higher rated cabling is guaranteed to support 2.5/5GBASE-T over all installation environments up to 100 meters.
Required for SDVoE
While HDBaseT can run over Cat 5e and Cat 6 cabling to limited distances (10 and 40 meters respectively) the HDBaseT Alliance and HDBaseT equipment vendors all recommend the use of Cat 6A at a minimum to support the bandwidth required for 4K signals and to reach the full 100-meter distance. And for Software Defined Video over Ethernet (SDVoE) supporting uncompressed 4K video, audio, control and 1 Gb/s Ethernet (1000BASE-T) over standards-based network cabling, Cat 6A isn't just recommend; it is required. SDVoE requires a 10 Gb/s-capable network, which can only be supported by Cat 6A.
Better for PoE and POH
Advancements in remote powering technology such as power over Ethernet (PoE) or power over HDBaseT (POH) means the cabling infrastructure is also delivering DC power to more low-voltage system devices than ever before—everything from IP phones, desktop computers and wireless access points (WAPs), to surveillance cameras, access control, digital displays, LED lighting fixtures, point of sale (POS) machines, building automation, life safety devices and more. It is important to be aware that remote power delivery produces temperature rise in cable bundles, which has the potential to cause higher bit errors because insertion loss is directly proportionate to temperature.
To offset insertion loss caused by heat build-up, overall channel length may need to be reduced. To prevent heat build-up within cable bundles, the size of the bundles may also need to be reduced. To better support PoE, it is recommended to use cables that are more thermally stable. For example, cables with larger gauge conductors exhibit less heat rise, which is why Cat 6A cabling has less temperature rise than Cat 5e and Cat 6.
It is also worth noting that shielded cables exhibit about half the heat build-up of unshielded cables. Additionally, cables rated for higher operating temperatures such as Siemon's solid shielded Cat 6A cabling and Cat 7A cables that are qualified for mechanical reliability up to 75° C are even more thermally stable and offer better heat dissipation.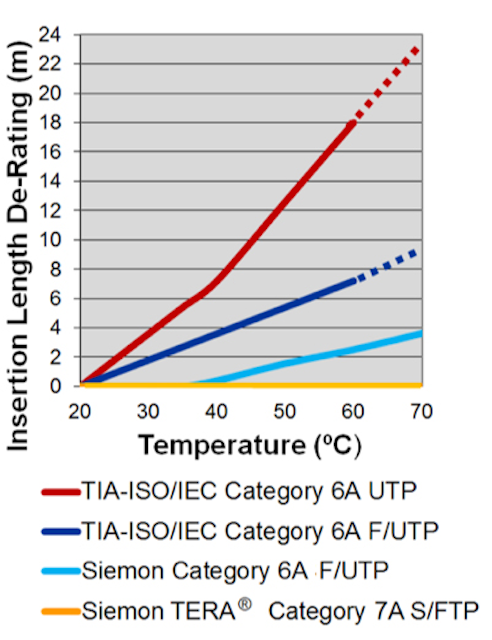 Follow the Standards
In the latest cabling standards from both TIA and ISO/IEC, there are no recommendations for Cat 5e or Cat 6. In fact, all current TIA and ISO/IEC cabling standards and BICSI standards recommend a minimum of Cat 6Afor all new installations, including ANSI/TIA-568.0-D and ISO/IEC 11801-1 standards.
The Choice is Clear!
When considering the latest technologies and applications, as well as industry standards recommendations, it is clear that the time has come to shift away from considering Cat 5e or Cat 6 cabling for any new installation. The reasons to always deploy a minimum of Cat 6Afor all new installations are clear.
Siemon's Z-MAX Category 6A Shielded System features the highest performance margins across all critical transmission parameters, the fastest, easiest and most reliable termination process, superior transmission consistency and customer focused usability, efficiency and ergonomics. End-to-end Z-MAX Category 6A UTP and shielded systems include Category 6A F/UTP cable qualified to an operating temperature of 75°C, as well as outlets, modular cords, patch panels, trunking cable assemblies, work area solutions and the Z-PLUG® field terminated plug – everything you need to support today's and tomorrow's converged LAN technologies.
For more information, visit www.siemon.com/z-max