Eaton's Crouse-Hinds unit updates 2014 NEC digest for hazardous locations per NFPA
Revised 2014 Code Digest provides a compilation of key changes to articles 500 through 516 of the 2014 National Electric Code (NEC)
Sep 25th, 2014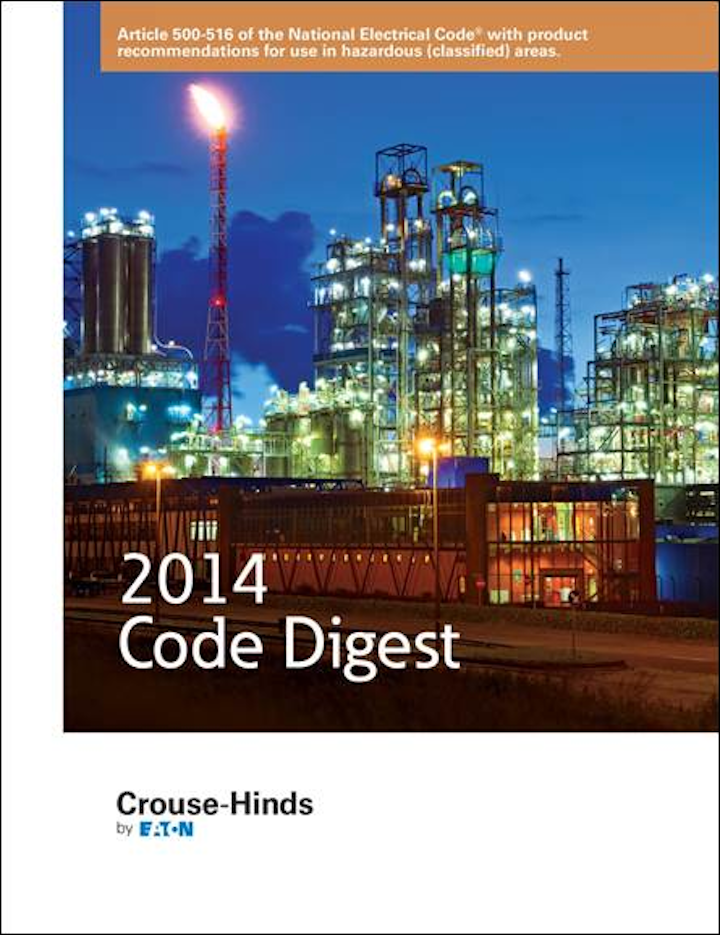 Power management specialist Eaton has revised its free 2014 Code Digest to provide designers and installers with a ready reference for equipment and installation requirements in hazardous locations.

Available from Eaton's Crouse-Hinds business, the revised 2014 Code Digest provides a compilation of key changes to articles 500 through 516 of the 2014 National Electric Code (NEC) and covers the classification of hazardous atmospheres, explosion prevention techniques, equipment, wiring methods, and more. The National Fire Protection Association (NFPA) gave permission to reproduce these articles, notes the company.

The Code Digest is designed to assist engineers involved in the design of electrical systems in Class I, Class II, and Class III locations. It includes diagrams of hazardous area power and lighting installations, as well as a "Quick-Selector" Guide for electrical equipment used in hazardous areas. Photographs of actual products from Eaton's Crouse-Hinds Business have been added for clarity and specific reference.

Eaton's Crouse-Hinds business offers a range of cable fittings, enclosures, plugs and receptacles, industrial lighting fixtures, signals and alarms, and electronic components designed for the most demanding environments. The Crouse-Hinds business serves customers in the industrial and manufacturing, mining, oil and gas, solar, infrastructure and other markets.

For a free download of the Code Digest, go to www.crouse-hinds.com/codedigest. To request a free hard copy, go to www.crouse-hinds.com/hardcopy.