ICE Cable Systems recently announced that its Category 5e and Category 6 cables have received HDBase-T certification, meeting the specifications established by the HDBase-T Alliance. The HDBase-T connectivity standard for residential and commercial distribution of uncompressed HD multimedia content features the trademarked 5Play technology "a feature set that converges uncompressed full HD digital video, audio, 100Base-T Ethernet, power-over-cable and various control signals through a single LAN cable," ICE Cable Systems explained when it announced its cables' certification.
The company's president Brian Rizzo explained, "With HDBase-T, installers are running video, audio, Ethernet, control and power all on one cable, all of which requires equipment 'handshakes' on each end. We want to help installers do it right the first time so they can move on to other areas of the job."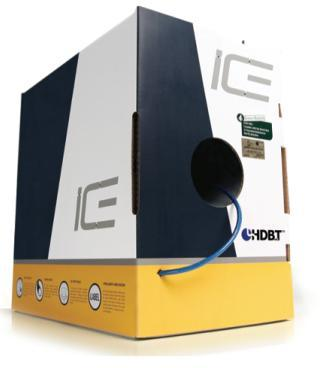 The company's HDBase-T-certified Category 5e and Category 6 cables are sold in 1,000-foot cartons that incorporate Reelex II payout technology. The cable is UL-listed, ETL-verified and RoHS-compliant, ICE Cable Systems says.
This page on ICE Cable Systems' website describes where their products can be purchased.