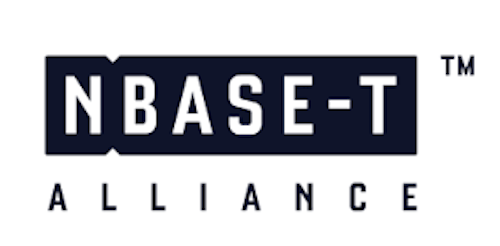 Now available in six languages besides English, this essential ICT industry white paper, published by NBASE-T Alliance, describes in two dense pages the evaluation of cabling infrastructure for network owners and designers looking to implement NBASE-T technology on existing communications cabling infrastructure.
Authored by George Zimmerman (CME Consulting), Bryan Moffitt (CommScope), Theo Brillhart (Fluke Networks) and Thomas Kelly (Panduit), the white paper charts expected NBASE-T performance under worst case cabling configurations, and suggests mitigation techniques to provide the best opportunity for cabling channels to support NBASE-T signaling. The paper also outlines the NBASE-T Alliance's work developing measurement procedures to qualify installed cabling for NBASE-T support.
Per NBASE-T Alliance, "The NBASE-T Physical Layer Specification version 2.3, and the IEEE 802.3bz standard, specify operation of 2.5Gb/s and 5Gb/s Ethernet over Category 5e or Category 6 (or better) structured cabling, applying sophisticated signaling techniques to exceed the 1Gb/s rate for which this cabling was originally designed. In the vast majority of cases, the technology is designed to deliver multigigabit speeds without any special considerations from the user. In some cases, however, the quality of the cable, how cables are bundled together, or "alien noise" (interference from sources external to the cable) affects the ability of a network link to reach these higher speeds."