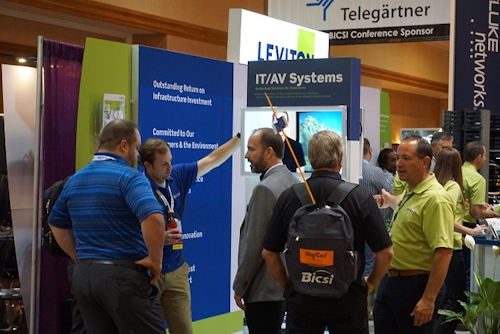 Leviton Network Solutions announced that it will deliver three technology-focused presentations at the 2018 BICSI Winter Conference & Exhibition, which runs from Feb. 4-8, 2018, in Orlando, Florida. Per the company, the seminars are as follows:
"Simplifying Your K-12 and Conference Room AV Applications and Installations"
Monday, Feb. 5, 1:30–4:30 p.m.
Leviton Network Solutions Senior Product Manager Bill Lauby and Principal Technology Specialist John Seger, RCDD, CTS, will discuss the specification and application of AV equipment and necessary infrastructure, with emphasis on simplicity and usability at a reasonable cost. They will also cover the advantages of HDBaseT, PoH, and deployment of 4K video, while considering the challenges and benefits associated with transport of high-bandwidth signals over category cable.
"Demystifying Enterprise Fiber Networks"
Wednesday, Feb. 7, 10:30–11:30 a.m.
Leviton Network Solutions Senior Applications Engineer and voting member of IEEE 802.3 Adrian Young will shed light on today's enterprise fiber infrastructure and help you better understand your options, including the quickly-evolving transceiver marketplace, and techniques to improve efficiency and cabling density.
"Exploring Cat 8: Understanding Applications, Installation, and Testing"
Wednesday, Feb. 7, 3:00–4:00 p.m.
Leviton Network Solutions Senior Product Manager Mark Dearing, RCDD, CDCD, and Fluke Networks Regional Marketing Engineer Jim Davis will cover new Category 8 and 25/40GBASE-T solutions. Even if Cat 8 is not part of your immediate strategy, this informative presentation will help you anticipate future tech refreshes in your current network infrastructure design. Find out about the practical applications for Cat 8, where it will be deployed, and how it will be tested.
While at BICSI, visitors can check out the latest Leviton innovations for copper, fiber, and AV networks. On display in its booth #901 in the Orange County Convention Center, the company's products enable copper and fiber migration from 10 to 400 Gb/s, and solve for the latest AV network challenges.
Complete information about the 2018 BICSI Winter Conference & Exhibition can be found at www.bicsi.org/winter.
To learn more about Leviton Network Solutions, visit www.leviton.com/ns.
Search the Cabling Installation & Maintenance Buyer's Guide for companies, new products, press releases, and videos: