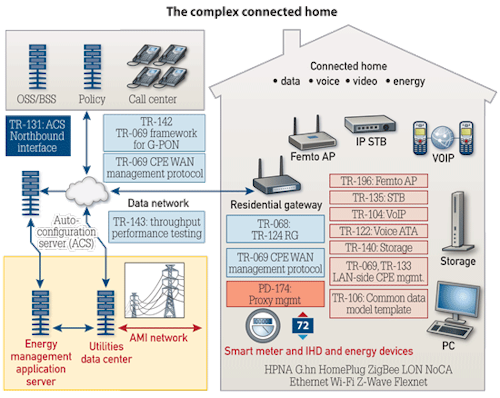 From the May, 2013 Issue of Cabling Installation & Maintenance Magazine
Standard enables service providers to remotely provision, manage, monitor and control a wide range of devices at the customer premises.
By Robin Mersh, the broadband forum
As we construct a world with billions of devices connecting us to new services and applications, and as machines begin to interact directly with other machines (machine-to-machine or m2M), finding ways to manage this complex environment has never been more important. With so many different forms of access, from cable to fiber to wireless, the importance of a single management protocol that can handle all these technologies is a major priority.
Across the industry the Broadband Forum's Customer Premises Equipment Wide Area Network Management Protocol—CPE WAN Management Protocol (CWMP)—is recognized as the gold standard of remote management. It enables service providers to correctly and cost-effectively remotely provision, manage, monitor and control the wide range of devices and systems in the home or business. So much so that a 2011 study by Ovum shows widespread use of TR-069 on all continents, confirming 150 million devices managed by TR-069. And that number is growing rapidly.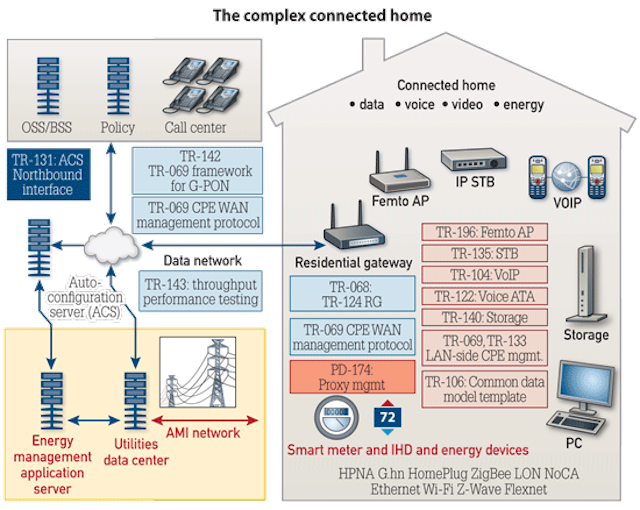 Today's connected premises or connected home is more complex than ever, with multiple communications devices governed by various specifications, and all these devices representing potential security vulnerabilities. TR-069 provides a single platform upon which to effectively manage all online devices.
TR-069 is now a global standard and is referenced by many industry bodies, such as 3GPP (3rd Generation Partnership Project; www.3gpp.org), ATIS (Alliance for Telecommunications Industry Solutions; www.atis.org), CCSA (China Communications Standards Association; www.ccsa.org.cn), ETSI (European Telecommunications Standards Institute; www.etsi.org) and HGI (Home Gateway Initiative; www.homegatewayinitiative.org) among others. It recently was voted an official ITU-T Recommendation (G.9980) and was approved by ETSI as a European standard in 2010. TR-069 is also referenced in ETSI m2M architecture as a protocol for device management. In November 2012 the Broadband Forum won the InfoVision "Outstanding Contribution to Broadband Success" award for TR-069.
TR-069 management
Home networks have grown far more complex than ever before and support a greater diversity of devices carrying out interactions, including game consoles, set-top boxes, Voice over Internet Protocol (VoIP) phones and personal computers. With the barrage of daily security vulnerabilities affecting traffic flow in the home network, these devices must be managed in order to maintain the quality of service and increase resiliency of home networks. TR-069 provides a single platform to effectively manage all online devices, simplifying the task of ensuring quality service.
There is an ever-growing TR-069 family of extensive and modular manageable "data models," defining a wide range of devices and software-module functionality. These data models indicate first that the device is an online device and will need to be recognized by the network, and then provide details of what type of device it is, such as VoIP, set-top box, gateway or femto access point, for example. There is also a proxy management data model that provides the ability for the network to support things like energy meters, security and home-monitoring devices. The list of device models continues to grow and TR-069 is updated regularly to ensure all the new device types are supported. TR-069 is access-agnostic (e.g. Digital Subscriber Line [DSL], cable, wireless) and can work with any home-networking connections or protocols including G.hn, HomePlug, OAM and others.
For a new online device to enter the market, it needs to "speak" the same language as the network so that the network can identify that a new device is trying to come online, confirm what that device type is, and provide the level of speed and stability that the device's applications require. Conforming to TR-069 and the device model requirements ensures a smooth provisioning and maintenance experience for the customer.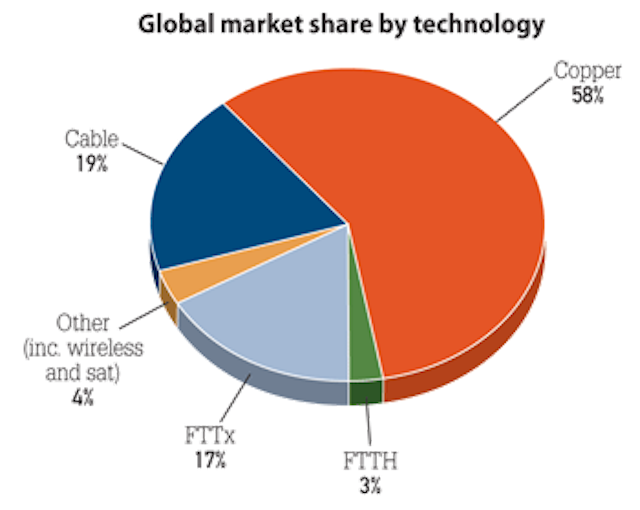 Provided by Point Topic and updated as of February 2013, this chart shows global broadband market share by technology as of 2012's Q3. Point Topic uses the term "copper" when referring to twisted-pair infrastructure, and "cable" when referring to the unbalanced, typically coaxial infrastructure prevalent in cable-television/MSO networks.
We are talking about managing beyond a broadband gateway—facilitating interaction with other devices such as set-top boxes (STBs), IP phones and network-attached storage connected to the home network. This is critical to the provider's capacity to exceed customer expectations as they are able to remotely configure, manage and troubleshoot all new devices that come online. For consumers, that is a promise of hassle-free service provisioning, troubleshooting and upgrades.
Confident product rollouts
Achieving Broadband Forum BBF.069 CPE Certification sends a clear and simple message to the industry confirming that a device is market-ready. It helps equipment and system vendors reduce testing overheads, while enabling them to easily market their products, thereby increasing their ability to address a much larger market overall.
The goals of the certification program are:
To verify that devices are TR-069 protocol-compliant and market ready;
To simplify integration of home-networking systems and equipment into providers' networks;
To improve device interoperability, making it cost-effective and easy for service providers to provision and manage the plethora of devices coming online.
The Broadband Forum Certification program has substantial advantages for all participants in the value chain. Introducing certification for TR-069-enabled products will provide additional assurance for operators and service providers making investment decisions. The program will ensure network compliance and quality, and also offer service providers an enhanced level of confidence that certified CPE devices in the customers' premises will interoperate better with their remote management ACS.
TR-069 means different things to different stakeholders in connected premises.
Producers of digital home solutions, consumer-electronic equipment as well as "smart" meters and appliances have the opportunity to sell more TR-069-certified products as they can ensure they are easily integrated into a home network and can be effectively managed remotely.
Content providers have a similar opportunity to increase sales, with consumption growing as the move to a multi-screen and device ecosystem gathers pace.
Service providers can sell more managed services and devices, to up-sell basic broadband, while also reducing equipment and network support costs through TR-069 remote management—ultimately increasing customer loyalty and "stickiness."
Utility providers are able to broaden their service repertoires, and offer TR-069-based home control and monitoring.
Meanwhile various government-sponsored initiatives around the world plan to use TR-069 to build networks of smart meters in homes, improving the management of energy resources while potentially reducing consumers' household bills.
The role of TR-069 is therefore critical to providers' ability to monitor, manage and control an increasingly complex array of connected devices, terminals and equipment. It enables service providers to maintain high levels of quality of end-user experience, and it provides them with tools to improve customer service—two prerequisites that are important factors in successfully commercializing multi-screen and blended service propositions.
Effect on cable market
As broadband deployment technologies develop, the cable industry is the second largest global market. By Q3 2012 cable was responsible for 19 percent of the world market. Cable shows no signs of relenting to some of the newer technologies available, with the Americas still using a majority of cable services.
With cable being such an important broadband technology, the industry standards developed by the Broadband Forum are critical to ensuring its continued market share. Cable companies are increasingly looking to a combination of DOCSIS 3.0 and TR-069 to manage their gateway service offerings effectively. The Broadband Forum encourages cable operators to mandate TR-069-certified products to ensure effective management and cost-effective implementation of their connected-home services.
With the advent of Broadband Forum BBF.069 Certification, TR-069 provides the key to expediting the exciting growth and potential of connected-home services around the world regardless of which technologies are prevailing. Service providers can do their part by adhering to TR-069 in their network management platform, and requiring their suppliers to provide verification of BBF.069 Certification in their requests-for-proposal. ::
Robin Mersh is chief executive officer of The Broadband Forum (www.broadband-forum.org).
More CIM Articles
View Archived CIM Issues