Dean Yamasaki
Siecor Corp.
The National Electrical Code (NEC) ) was revised in 1996 to accommodate technological advances in intrabuilding wiring practices. Specifically, the 1996 version of the code includes modifications and clarifications to sections that affect optical-fiber communications cables used in nonmetallic plenum raceways, hazardous locations and network infrastructures. For example, Article 770 covers the requirements for optical-fiber technology used in place of, or in conjunction with, electrical conductors for communications, signaling and control circuits. It also references Article 300 regarding application rules.
As users recognize the advantages of installing fiber-optic cables, optical-fiber structured systems are becoming more common within buildings. Fiber provides the high-capacity bandwidth needed to meet present and future multimedia communications needs. In addition, fiber-optic cable furnishes a communications infrastructure that can endure a substantial portion of a building`s life-cycle. In addition, all-dielectric optical-fiber cables offer high-performance capabilities and immunity to electrical interference and noise.
Adds, changes and clarifications
The following changes have been made in the 1996 NEC that reflect clarifications to existing standards as well as the inclusion of new applications:
Reference eia/tia standards. A definition of the acceptable execution of optical-fiber installation work has been added, as referenced in standards established by the Electronic Industries Association/Telecommunications Industry Association (eia/tia) of Arlington, VA. The goal is to make installation easier for network contractors, designers and planners so they can develop standard communications infrastructures. Section 770-8 of the 1996 NEC directly references eia/tia-568, "Commercial Building Telecommunications Wiring Standard," and eia/tia-569, Commercial Building Standard for Telecommunications Pathways and Spaces."
Clarification on cables in raceways. Section 770-53(a) of the 1996 NEC now specifies that only Type ofnp (optical-fiber nonconductive plenum) cable can be placed in listed ofnp raceways. In the previous NEC, the use of cables other than ofnp cables was not definitely prohibited in listed ofnp raceways.
Hazardous locations added. Section 770-53(d) of the 1996 NEC now includes hazardous (classified) locations in the intrabuilding standards. These hazardous locations are areas where fire or explosion hazards exist and are typically found in industrial applications where solvents and other chemicals might be stored or transported through an area. The same listing and application requirements of Article 770 now apply to these classified areas.
The 1996 NEC requires that optical-fiber cable used within buildings be listed for its application, installed properly and marked correctly for its intended use. The appropriate markings are listed in descending order of fire-resistance ratings with the applicable American National Standards Institute (ansi), Underwriters Laboratories (UL) and Canadian Standards Association (CSA) tests.
Type ofnp cable. Optical-fiber cables installed in ducts, plenums and other building spaces used for environmental air must be listed Type ofnp and possess adequate fire-resistant and low-smoke-producing characteristics. These optical-fiber cables must pass the National Fire Protection Agency 262-1994 test, which is identical to the standard ansi/ul-910 test, "Test Method for Fire and Smoke Characteristics of Electrical and Optical-fiber Cables Used in Air-Handling Spaces." The ofnp listing is equivalent to the CSA FT 6 designation.
Type ofnr (optical-fiber nonconductive riser) cable. Optical-fiber cables used in vertical shafts or in runs from one floor to another must possess fire-resistant characteristics capable of preventing the spread of fire from floor to floor. These cables are tested to the ansi/ul1666-1991 test, "Standard Test for Flame Propagation Height of Electrical and Optical-fiber Cable Installed Vertically in Shafts."
Type ofng (optical-fiber nonconductive general-purpose) cable. This cable listing was first adopted in the 1993 NEC. Type ofng cable is suitable for general-purpose use, but cannot be used in riser or plenum applications. The code requires that cables used in these applications be resistant to the spread of fire. One method used to define this requirement is the "Vertical Flame Test--Cables in Cable Trays," as described in the Canadian Standards Association (CSA) C22.2 No. 0.3-M 1985 standard. The ofng listing is equivalent to the CSA FT 4 designation, which is used in Canada as specified by the Canadian Electrical Code and local Canadian province ordinances.
Type ofn (optical-fiber nonconductive general-purpose) cable. This classification covers cable suitable for general-purpose use, excluding plenum and riser applications, but is less stringent than the ofng classification. OFN cables must also be fire-resistant. The vertical tray flame test described in ansi/ul-1581-1991, "Reference Standard for Electrical Wires, Cables and Flexible Cords," offers one test method for this classification.
Note that Type ofng and ofn cables are different listings even though both are identified as "general-purpose" cables. Type ofng cables must pass the FT 4 (CSA) flame test. Type OFN cables must pass a less demanding flame test and do not have to meet the FT 4 (CSA) requirements. However, the CSA C22.2 No. 0.3-M 1985 test can be used as an alternative test for OFN cables because it is more restrictive than the ansi/ul-1581-1991 test.
An alternative evaluation method that applies to the OFN category addresses both flame resistance and smoke characteristics. Test Procedure UL 1685, "Vertical-Tray Fire-Propagation and Smoke-Release Test for Electrical and Optical-Fire Cables," includes a flame test equivalent to the UL-1581 vertical-tray flame test, as well as measurement and pass/fail criteria for smoke density. Cables meeting this requirement are designated Type ofn-ls (UL); the "LS" indicates that the cable generates an acceptable low-smoke density when flame-tested.
Cable substitutions
Substitution of one cable type for another is allowed by the NEC. The general acceptance rule is that a cable with a higher designation can be substituted for a cable with a lower designation. For example, a Type ofnp cable can be used in riser applications because it meets the more stringent requirements of plenum use.

Click here to enlarge image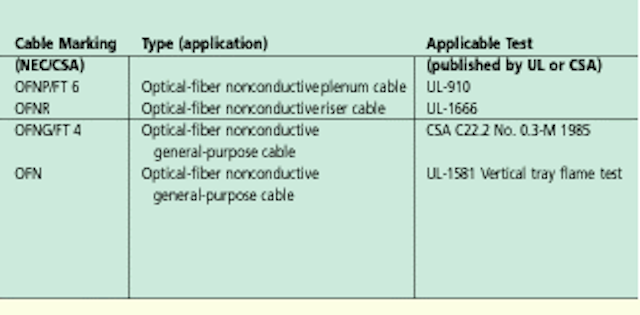 Click here to enlarge image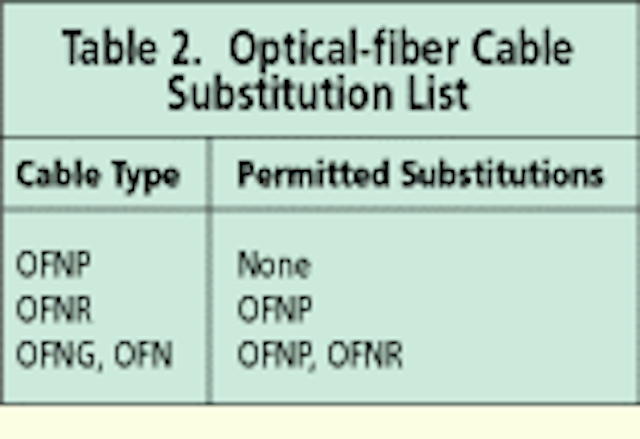 Click here to enlarge image
Correction
The Design feature in the December issue, bottom of page 28, was missing two lines of text. It should have read: "The fiber- optic cable is connected to terminal electronics using patch cords, which will have an SC connector on one end to interface with the cable. The other end of the patch cord, however, should have a connector compatible with the chosen network electronics."
Dean Yamasaki is an applications engineer at Siecor Corp. in Hickory, NC. This article was adapted from a special report that appeared in the November 1996 issue of Lightwave, an associated PennWell publication.