Ideal Networks' LanTEK III streamlines cable testing, troubleshooting and results management
The new tester includes time domain return loss and time domain NEXT capabilities, and the AnyWARE app allows technicians to share cable test data from the jobsite.
Nov 30th, 2015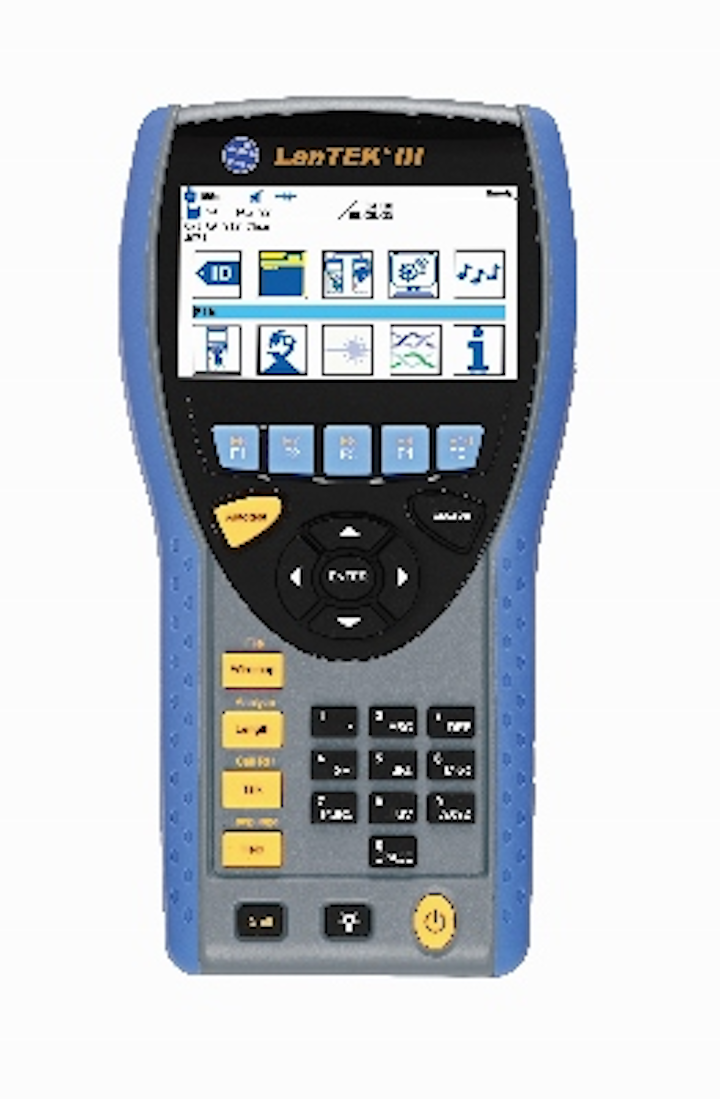 The LanTEK III cable certifier from Ideal Networks "makes it easier, faster and more cost-effective than ever to build cabling networks that meet existing TIA and ISO/IEC performance requirements up to Category 7A," the company said when announcing the cable testing tool. "Endorsed by cabling vendors around the world, the Ideal LanTEK III cable certifier features unmatched troubleshooting capabilities and holds the key to reducing time spent pinpointing problems such as hidden connections, splices and faults," the company continued.
The key Ideal referred to is the ability to conduct time-domain testing as opposed to simply conducing frequency-domain testing. LanTEK III conducts Time Domain Return Loss (TDRL) and Time Domain Near End Crosstalk (TDX) tests; the company says this time-domain test capability "allows field technicians to locate issues in seconds rather than hours, accelerating the entire certification process." These two cable testing capabilities "convert confusing frequency graphs into easy-to-read plots that clearly show the exact distance to fault, allowing for quick repair of the link," Ideal stressed.
Dan Payerle, business unit manager, explained, "Cabling installers looking to gain a competitive advantage will find it in the LanTEK III certifier. The adoption of new TDRL and TDX technology enables it to deliver a higher level of reliability and operational simplicity. It does the heavy lifting of extensive cabling testing so that the installer can move onto the next job faster."
The Ideal DataCENTER result management software tracks project progress "with fast downloading, managing, analysis, editing and printing of professional reports in PDF format," the company noted. Additionally, once tests are completed, results can be sent via a mobile device using Ideal ANYWARE—a free app that the company explains "enables field technicians to share test data with co-workers without leaving the jobsite or transporting testers. The result is greater collaboration, more on-time job completions and reduced costs."
Ideal has produced a five-minute video describing LanTEK III's features, benefits, options and other information. You can view that video immediately below.