PowerChek eliminates test leads from fiber-optic cable testing
The new tool from JDSU eliminates the need for test leads by incorporating interchangeable connectors to safely engage a bulkhead port during fiber-optic cable testing.
Nov 5th, 2014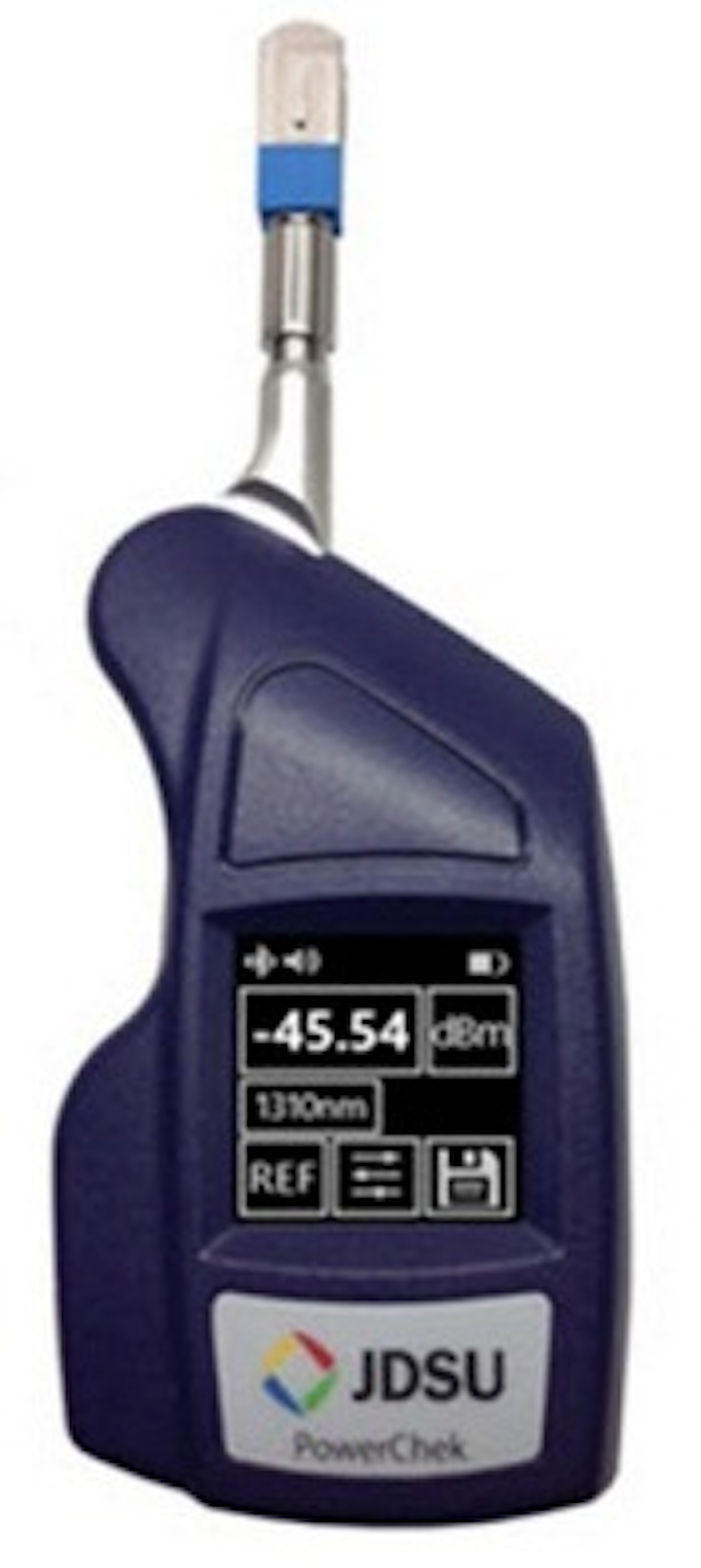 PowerChek is the newest fiber-optic cable testing tool from JDSU, which the company describes as "an innovative optical power meter that enables technicians to test and document measurements with unprecedented ease. PowerChek directly measures a bulkhead port's optical power without the need for a test lead. Instead, interchangeable connectors safely engage the bulkhead port without risking cross-contamination or damaging the fiber endface."
The meter's arm is compact, hinged and adjustable, JDSU added. The power meter's Bluetooth capability pairs with smartphones, tablets, PCs and other JDSU devices.
"PowerChek is equipped with a bright, easy-to-read touchscreen display and onboard memory, so users can measure data and store readings significantly faster than traditional power meters," the company said. "From simples moves/adds/changes and troubleshooting of existing networks to large-scale new deployment projects, PowerChek simultaneously enhances and simplifies optical power testing."
Commenting about the need to ease fiber-optic cable testing processes and tools, director of JDSU's fiber inspection and test group Matt Brown said, "Optical networks are growing at an unprecedented rate, and the expectation for fiber technicians continue to increase. The expansion of fiber into mobility, DAS, data centers and other environments has led to new expectations for documentation and interoperability while also creating a wave of technicians that are new to testing fiber networks. PowerChek addresses these technicians' needs by giving them the necessary capabilities to finish their work fast, correctly, and on time."