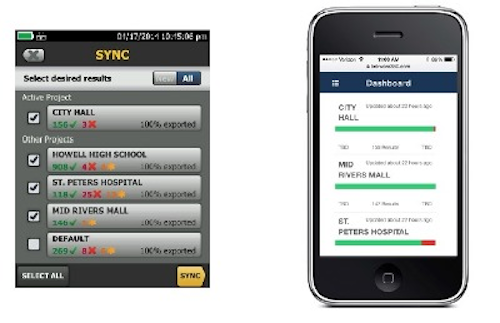 Fluke Networks has introduced LinkWare Live, a cloud-based service that enables users of the company's Versiv family of certification testers to upload, manage and analyze certification test results from cabling projects—"anywhere, anytime," the company pointed out when unveiling the service at the BICSI Fall Conference. "LinkWare Live works with DSX-5000, OptiFiber Pro, and CertiFiber Pro certification testers to optimize project management and safeguard contractor profitability by providing real-time access to testing results," the company said, "extending support to technicians in the field, and eliminating costly truck rolls simply for tester transport back to the office." LinkWare Live service is offered free to all of Fluke Networks' Versiv customers. The service is browser-based, and available to any user with a browser/Internet connection. While the service can be viewed on a mobile device, Fluke Networks pointed out there is no need to download an app in order to access the results.
When introducing the service, Fluke Networks cited a survey it conducted of more than 1,000 cable installers. Collectively, the survey respondents had installed approximately 1 million cabling links in the month prior to completing the survey. The company said that for these 1,000 installers, "poor test results management creates a significant drag on productivity and profitability." It specifically cited these stats.
83 percent reported having one or more test results management issues in the previous month.
The average time contractors spent dealing with test result issues in a single month was 15.2 hours, not including the hours necessary to get the test results back to the office for analysis and reporting.
Half of the respondents said it would be beneficial to access project status information from any location.
"Collecting certification test results is a significant challenge because they are stored in testers that frequently move from one job site to another," Fluke Networks noted. "These job sites can be hundreds of miles away from one another, as well as from headquarters. Accidentally erased or failed memory cards can negate several days' worth of work, leading to costly truck rolls, lowered profit margins and delayed payment.
"By uploading test results to LinkWare Live regularly, project managers can save trips solely to collect results, prevent data loss and continuously track project progress," Fluke Networks explained. "LinkWare Live also automatically organizes test results by job, eliminating the painstaking task of manually compiling results from multiple testers."
The company spelled out these five concrete advantages of using the cloud-based LinkWare Live service to manage test results.
Productivity increases because technicians no longer need to manually transport testers from the field just to download test results.
Time is saved by reducing the time spent categorizing and compiling test results by automatically consolidating them into the correct job.
The amount of rework is reduced by decreasing the likelihood of losing test results when testers or memory cards are lost, stolen or erased.
Troubleshooting is a quicker process because instant access to results is available anywhere.
Real-time visibility into project status is available from any location.
Fluke Networks added that through the use of LinkWare Live, contractors can achieve greater project profitability, increase the potential for project wins, and use the service's analytics and benchmarking to improve installation, certification and troubleshooting efforts in the field.
Chris Tracy, a project manager with Skyline Properties, has used the LinkWare Live service. He commented, "One of the biggest benefits we've seen is the ability to upload test results from the field so we can actually keep our testers in the field, where they are making us money. We have to provide regular testing reports to show our progress and get paid for the work we've completed. With LinkWare Live and Versiv, we don't have to stop testing to bring the tester back to the office each week, so we not only save valuable time, we can also invoice sooner and get paid more quickly."
Vice president and general manager of Fluke Networks' datacom installation business, Jason Wilbur, added, "From the introduction of our first cabling certification solution in 1997, we've meticulously designed our products to meet the ever-evolving needs of cabling contractors. One need that hasn't changed is fast, accurate certification results that contractors and their customers can trust. Our primary objective is to increase contractor profitability by helping streamline workflows. LinkWare Live is the next step in the evolution of cable testing and certification, offering the industry's first 'anywhere, anytime' visibility, ensuring every project is done right—the first time, on time."