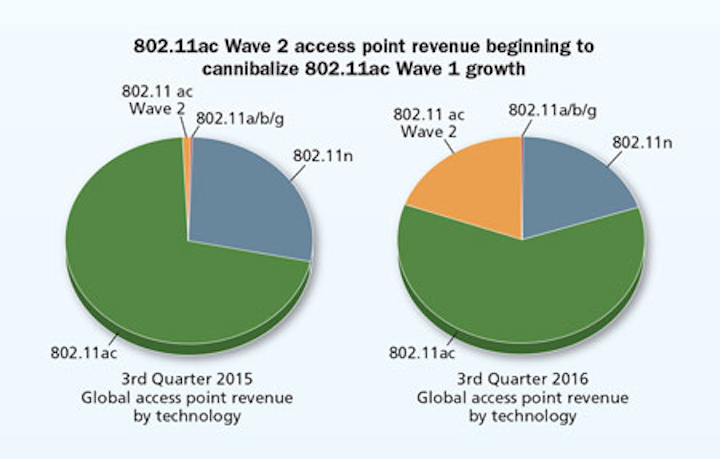 By Patrick McLaughlin
The deployment of so-called "Wave 2" 802.11ac wireless access points continues to ramp up. Research conducted by IHS Markit discovered that more than half a million Wave 2 access points shipped in the third quarter of calendar year 2016. The firm reported that in total, 6 million access points of all capabilities shipped in the quarter. "Wave 2 accounted for 10 percent of all units in Q3, nearly double Q2's rate," IHS Markit said. When measuring by revenue rather than unit shipments, Wave 2 penetrates even more; the technology accounted for approximately 20 percent of wireless LAN revenues in Q3.
While there may be as much hype as there is substance to 802.11ac Wave 2 today, the technology nonetheless promises multi-gigabit transmission speed once the access points now available are paired up with compatible user devices.
With multi-gig a reality for users of 802.11ac technologies, whether that reality is now or sometime in the future, the horizontal cabling that provides the backhaul for wireless transmission must be able to support, at a minimum, the same speed. In late 2013 the Telecommunications Industry Association (TIA) published Telecommunications Systems Bulletin TSB-162-A Telecommunications Cabling Guidelines for Wireless Access Points. Produced before 802.11ac Wave 2 equipment hit the market but after the technical capabilities of Wave 2 were known, TSB-162-A recommends the use of Category 6A twisted-pair cabling or Om3 optical fiber cabling to support wireless LANs. The document also contains information about using multiple equipment outlets to support a single access point.
Multi-gig Base-T
About a year after the publication of TSB-162-A came the formation of the NBase-T Alliance, whose stated mission is "to promote the development of 2.5- and 5-Gigabit Ethernet technology for enterprise infrastructure." Since its launch, the alliance and its initiatives always have been closely associated with 802.11ac Wave 2 technology. By just about any measure its efforts have been successful. In what might be record time, the Institute of Electrical and Electronics Engineers (IEEE) 802.3 working group developed and approved the "bz" standard, which defines the transmission of Ethernet at 2.5 and 5 Gbits/sec over Category 5e and Category 6 cabling.
When the 802.3bz standard was completed in September 2016, the NBase-T Alliance issued a statement that read in part, "The new standard offers seamless upgrade of older 1000Base-T networks - a technology that was introduced nearly 20 years ago - and boosts the speed of many Ethernet networks up to five times with no changes to the cabling infrastructure."
Contributors from several cabling-related members of the NBase-T Alliance - CME Consulting's George Zimmerman, CommScope's Bryan Moffitt, Fluke Networks' Theo Brillhart, and Panduit's Thomas Kelly - authored a technical paper that was published a few weeks before 802.3bz's official completion. Titled "NBase-T Performance and Cabling Guidelines," the paper introduces the cabling-performance parameter ALSNR - alien limited signal to noise ratio. They explain, "ALSNR is a calculation that combines insertion loss, alien NEXT and alien FEXT to estimate the response of the PHY. This determines if the channel has adequate SNR for supporting the new data rates under worst-case conditions … The ALSNR result provides a single numerical value for cabling performance to indicate support for 2.5GBase-T or 5GBase-T."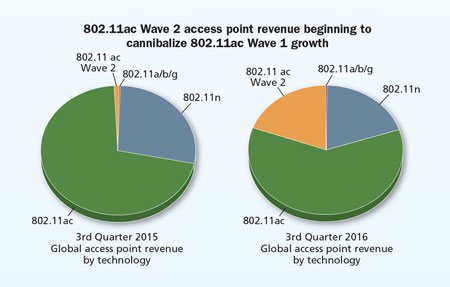 This set of graphs, produced by IHS Markit, displays a year-over-year comparison of wireless LAN technologies' revenue share. Over the course of 12 months, 802.11ac Wave 2 devices grew from low-single digits to approximately 20 percent of revenue. In doing so, Wave 2 took share from 802.11ac Wave 1 and 802.11n products.
The length of cable bundling factors into a Category 5e or Category 6 circuit's ability to support 2.5 or 5G. "Cables that are bundled together have alien crosstalk, and longer, tighter and more-consistent bundles have more alien crosstalk," the paper explains.
In January the TIA published TSB-5021 Guidelines for the Use of Installed Category 5e and Category 6 Cabling to Support 2.5GBase-T and 5GBase-T. According to the TIA, in addition to describing the evaluation of Category 5e and 6 systems, the TSB "includes visual inspection procedures to predict the suitability, and field test guidelines to determine the suitability of such cabling installations to support these applications, mitigation techniques to improve cabling performance, and recommends Category 6A channels for new installations."
Current-generation wireless access points are available with Power over Ethernet (PoE) capability, through which direct current (DC) power is delivered via the same cable that carries data signals. For several Wave 2 access points, the total components and circuitry equate to the need for 30-watt PoE, commonly known as PoE Plus.
The case for 6A
While the NBase-T Alliance's charter, along with specifications in IEEE 802.3bz, specifically call for the use of Category 5e and Category 6 cabling systems, several providers of cabling components and systems have emphasized that users can gain a level of assurance by using Category 6A cabling for the task. The NBase-T Alliance paper referenced earlier states, "2.5GBase-T and 5GBase-T applications will be supported without exception by the installed base of previously certified Category 6A cabling," adding that the same applications "will be supported by most of the installed base of previously certified Category 5e and Category 6 installations, but is not assured in all cases."
Separately, in a document titled "The Hidden Costs of Running 2.5 and 5GBase-T over Cat 5e and Cat 6 cabling," Berk-Tek asserts, "The most effective solution for a trouble-free next-generation Base-T deployment is to utilize a shielded or isolated Category 6A solution, where alien crosstalk is specified and the insertion loss allows for robust system operation in harsh environments. This path ensures the easiest migration from 1000Base-T to the eventual 10GBase-T." In that same document the company advises, "Designing a system to work over new cabling infrastructure is a relatively simple process with minimal risk and a high degree of expected success. Designing for system operation over cabling infrastructure that was developed in the late 1990s is risky and may require troubleshooting and vendor interaction to assure system performance."
The NBase-T Alliance website lists a number of products compliant with its specifications that are currently shipping, and several more products - including wireless access points - that have been announced. The proverbial rubber is meeting the road with multi-gigabit transmission capability. The extent to which installed cabling systems support this multi-gig transmission is of keen interest to users worldwide. We will continue to follow these technical developments and report what we find.
Patrick McLaughlin is our chief editor.