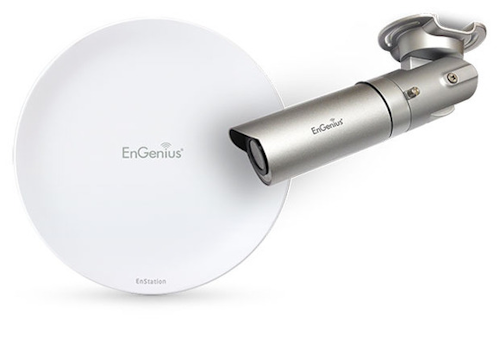 EnGenius Technologies has announced the expansion of its EnStation line of wireless access points/bridges with the addition of the EnStationAC, billed as a long-range, high-powered 11ac outdoor access point that delivers stable, high-bandwidth connections over distances up to 5 miles in a point-to-point configuration.

"The EnStationAC is an easy-to-deploy, high-performance WiFi solution that provides wireless speeds up to 867 Mbps for point-to-point and point-to-multipoint deployments over short or long distances where Ethernet or even fiber cabling is not possible or practical," stated a company press release. "By pairing two EnStationAC units in a point-to-point deployment and aligning the dish-shaped antennas, the narrow-focused, wireless beam provides high bandwidth and reliable high-speed connectivity over extremely long distances. Ideal for deployments in campuses, parks and farming properties, or in complex environments such as warehouses, sports arenas, or urban areas, deploying EnStationAC lowers CAPEX and OPEX by eliminating the costs of trenching, cabling, permits and services required to run cables to expand the network."

Key features and benefits of the EnStationAC line, according to EnGenius, include the following:

High Bandwidth, Fast Speeds over Long Distances – EnStationAC features 26dBm output power and high-gain antennas to extend wireless networks over distances up to 5 miles, and utilizes a focused narrow wireless beam to reduce frequency interference over long-range transmissions. Ideal for supporting 4k Ultra High Definition video, bandwidth intensive building-to-building wireless connections, and heavy multi-application traffic services, EnStation AC delivers 802.11ac wireless speeds up to 867 Mbps at short distances and 400 Mbps at a half mile.

Dual Power-over-Ethernet Ports – Features an 802.3at/af-compliant PoE port to connect and extend power to the EnStationAC device. A secondary 802.3af-compliant PoE pass-through Gigabit port enables users to connect and power an additional PoE-compliant device such as an IP surveillance camera or access point for greater deployment flexibility and to reduce the cost of expanding the network.

Ease of Deployment – Includes a pole- and wall-mounting kit and features a 360-degree, 3-axis pivoting arm that locks in place to ensure precise alignment between other EnStationAC devices. The included PoE adapter, which is grounded to protect valuable network equipment from powers surges or short-circuits associated with lightning strikes and electrostatic discharge (ESD), enables the access point to be deployed up 328 feet away from the power source for placement in hard-to-reach locations.
Flexibility – EnStationAC offers three operation modes: access point, client bridge, or WDS modes in point-to-point or point-to-multipoint deployments.

Designed for Use in Harsh Environments – IP55-rated waterproof and dustproof casing ensures the access point and cable ports are protected to withstand harsh outdoor climates and indoor industrial environments where temperature is a factor.
Simplified Monitoring and Configuration – With EnGenius' EZ Controller™ software, EnStationAC units deployed on rooftops or other difficult-to-access locations are easily reconfigured or upgraded remotely.

The EnStation family of long-range, Outdoor Wireless Access Points/Client Bridges includes the:

EnStationAC High-Powered, Long-Distance 5 GHz Wireless 11AC Outdoor Access Point/Client Bridge (MSRP $199.99);
EnStation5 High-Powered, Long-Distance 5 GHz Wireless N300 Outdoor Access Point/Client Bridge (MSRP $119.99);
EnStation2 High-Powered, Long-Distance 2.4 GHz Wireless N300 Outdoor Access Point/Client Bridge (MSRP $109.99).

Products will be available beginning late December in North America via authorized retailers, distributors and value-added resellers.
For more information on EnGenius Technologies and its families of long-range wired and wireless datacom and telecom products visit www.engeniustech.com.