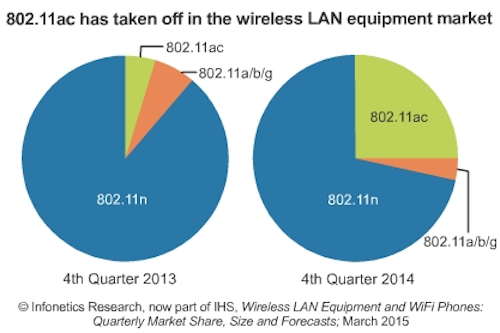 Infonetics Research, a unit of technology analyst firm IHS Inc. (NYSE: IHS), states in its latest wireless LAN (WLAN) report that almost 1.2 million 802.11ac access points shipped in the fourth quarter of 2014 (4Q14) -- representing a quarter of all access points sold, and "cannibalizing 802.11n rather than the older 802.11a/b/g access points."

Infonetics' 4Q14 and year-end Wireless LAN Equipment and WiFi Phones report covers market share, size and forecast data for enterprise access points, wireless LAN (WLAN) controllers and WiFi phones. The new report notes that worldwide WLAN equipment revenue reached $4.9 billion in 2014, growing just 6 percent over 2013 -- a far cry from the 20-percent-plus annual increases of a few years ago. Notwithstanding, the data adds that in 4Q14, WLAN equipment sales totaled $1.3 billion, up 5 percent quarter-over-quarter, and up 10 percent year-over-year.

According to Infonetics, though demand for Wi-Fi connectivity continues unabated (access point shipments were up 22 percent year-over-year in 2014) revenue growth has run out of steam due to fewer service provider and K-12 Wi-Fi sales, with 802.11ac not yet lifting ASPs, controller-less approaches and low-cost solutions. "A pullback in K–12 spending in the US has caused a significant slowdown in the WLAN market, which, after having grown at double-digit rates for several years, grew only 6 percent in 2014," confirms Matthias Machowinski, directing analyst for enterprise networks and video at Infonetics Research.

He adds, "The good news is that the fourth quarter of 2014 looks to be the turning point. RFP activity from K–12 customers is accelerating in anticipation of new funding in 2015, and that, coupled with the introduction of 802.11ac Wave 2 access points, will drive renewed growth in 2015."

The new report also states that there was higher than usual demand for Wi-Fi phones in 4Q14, influenced by a large number of deals, but this isn't expected to be sustained in 2015. Despite fickle economic conditions, the report identifies EMEA (Europe, Middle East, Africa) as the fastest-growing major region for WLAN equipment sales in 2014, up 9 percent. Among the market's top 5 WLAN vendors -- Aruba, Cisco, HP, Ruckus and Zebra -- Ruckus led revenue growth in 2014.

Learn more about the report.