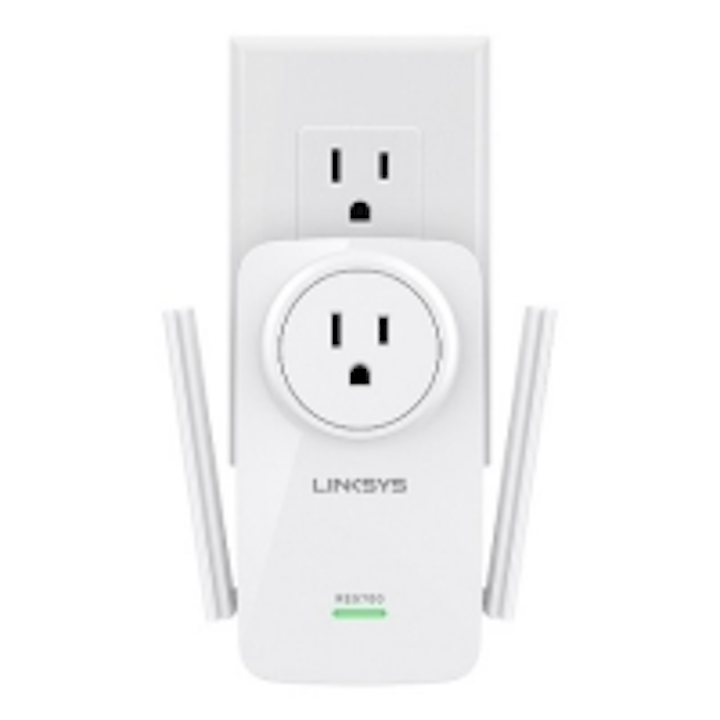 Linksys has announced the newest addition to its Wi-Fi range extender family, the Linksys AC1200 Amplify Wi-Fi Range Extender (RE6700).
The company says the new range extender was developed to provide customers with a Wi-Fi signal boost (up to 10,000 sq. ft.) into rooms throughout a home via a simple, elegant, easy-to-install solution that would blend in with home décor. The new unit's built-in power outlet maintains use of an existing wall outlet with pass-through functionality -- a new and unique offering for Linksys Wireless-AC range extenders, notes the company.

Wi-Fi range extenders help eliminate frustrating wireless dead zones by detecting, then amplifying a router's Wi-Fi signal so it extends to the remote areas of a home, basement, or backyard. But if a range extender is not installed in an optimal location, users may not benefit. Linksys says its Spot Finder Technology enables users to visually identify the best spatial placement for the range extender in a home, using their smartphone, tablet or laptop. The Spot Finder Technology automatically activates when the unit's setup process is launched. Users simply follow a few prompts for a hassle-free setup in bringing improved Wi-Fi performance to a home's existing dead zones.

To further enhance the high-speed wireless experience, Linksys says the new unit also incorporates its Auto Cross-Band technology, which allows for simultaneous use of both wireless bands for providing high speed data transfer to help with uninterrupted music/video streaming and gaming. According to the company, the Auto Cross-Band capability will identify the best backhaul path for relaying traffic from/to a given Wi-Fi client. For example, the RE6700 will use 5 GHz backhaul to relay the traffic from/to a nearby 5 GHz client with strong signals. Alternatively, the RE6700 may use 2.4 GHz backhaul to relay the traffic from/to a distant 5 GHz client with weak signals. According to Linksys, the result is reduced dropped data packets, faster media transfer speeds, and a stronger, more consistent signal throughout the home.
The RE6700 also incorporates beamforming technology that focuses and strengthens the Wi-Fi signal, while two external antennas boost performance and throughput. Other features include: a Gigabit port for connecting a single wired device, or plugging in a Gigabit switch for connecting multiple wired devices to a wireless network; a 3.5-mm audio jack that allows users to connect speakers to the range extender to stream music wirelessly from an iOS or Android smartphone, tablet, or laptop; and compatibility with any router or gateway including routers supplied by service providers.

"With more and more devices connecting to the home wireless network, the demands to extend that wireless signal are at an all-time high," comments Mike Chen, vice president, product management at Linksys. "Mobile devices are driving this demand because users want to take their devices all around the house, but can be limited if the Wi-Fi signal doesn't reach. We designed this new RE6700 range extender to provide better coverage and increased signal strength, so all devices in the home can enjoy a seamless high-speed wireless experience."

The Linksys RE6700 is now available at major retail and online resellers, as well as the Linksys store, for an MSRP of $119.99.