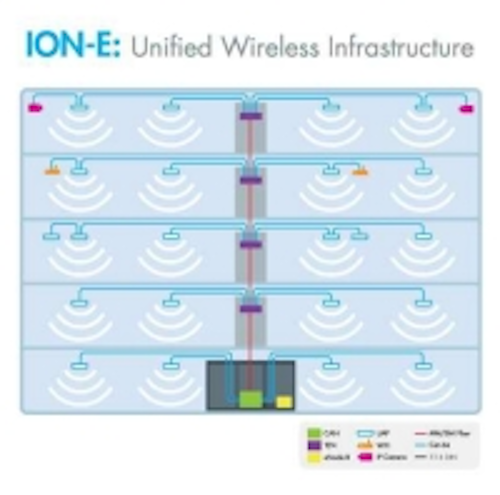 CommScope(NASDAQ: COMM) announced that its ION-E in-building wireless solution, designed specifically for business enterprise applications, is now ready for U.S. network operator trials.

The company says its ION-E unified wireless infrastructure features "multi-operator, multi-technology and multi-band capabilities" and utilizes the structured cabling infrastructure common to most commercial buildings. The system's structured cabling architecture makes it easy for IT installers to deploy a comprehensive, future-ready RF solution. The ION-E can bring almost any wireless signal to any of its universal access points deployed inside an enterprise building, enabling Cloud-RAN performance, says CommScope.

"What once was a niche market -- using distributed antenna systems (DAS) to bring wireless coverage into hard-to-reach areas -- has become a primary focus for most network operators and increasingly many enterprise IT organizations," comments Matt Melester, senior vice president and general manager, Distributed Coverage and Capacity Solutions, CommScope. "When you consider that upwards of 80 percent of mobile data traffic is indoors, and that businesses continue to adopt Bring Your Own Device (BYOD) policies, it is little wonder why."

It is predicted that one billion employee-owned smartphones and tablets will be in use in the enterprise by 2018. Yet only about two percent of the 30 billion square meters of worldwide commercial real estate is covered by an in-building mobile wireless system. The ION-E system unifies licensed wireless, power and Gigabit Ethernet for WiFi onto one simplified, flexible and scalable platform, contends the company. The system is billed as future-ready, supporting multiple operators with the air-interface technologies and frequency bands in use today and tomorrow.

CommScope unveiled the ION-E in February when it first became available for trials with certain European operators. Trials are successfully proceeding there according to schedule, says the company. To learn more about the ION-E solution, customers can schedule a meeting with CommScope at CTIA's Super Mobility Week, from September 9–11 in Las Vegas.