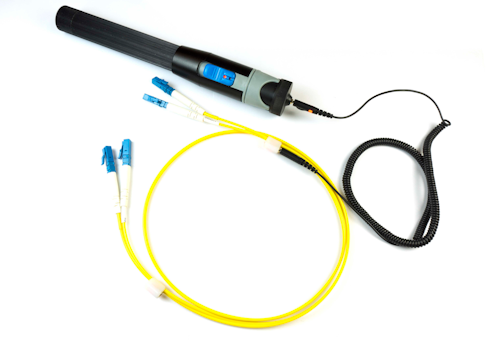 Amphenol Fiber Optic Products
Amphenol Fiber Optic Products (AFOP) recently launched its latest innovation for for fiber patching. The Traceable Fiber Patch Cord (TPC) product line (AFOP-TPC01-R1) is billed as an effective solution for eliminating interconnect errors in dense interconnect environments. Per the manufacturer, "From the back of the equipment, to the front of dense frames, or cross room interconnect, the TPC product utilizes a positive light indication to identify the other side of the patch."
The traceable patch cord compliments the AFOP indoor cable assemblies product line. According to AFOP's product datasheet, "the product concept focuses on adding functionality into a simple patch cord to be able to trace the other end of a connection." The cable is especially intended for use in high density environments where cable congestion can create a challenge in tracing patch cords, and finding the other end of a cable, across a bay or for inter-bay connections. 
Amphenol says the TPC product line is especially aimed at high density and high congestion areas of the telecommunication fiber-optic networks. Areas of potential use span the network where passive and active fiber management elements are located. These areas can be in the inside plant or outside plant cabinets and closures.
Amphenol says some of the most significant areas where the TPC product line can be applied include Data Centers (DC), Central Offices (CO), Mobile Switching Centers (MSC), Telecommunication Closets, Active and Passive Fiber Distribution Hubs (FDH), and Multi-Dwelling Units (MDU).