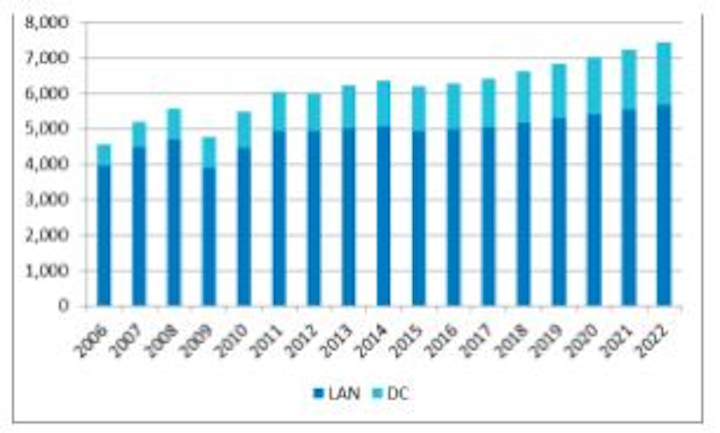 BSRIA recently published its overview of the global structured cabling market, as well as reports on the markets in 17 countries. The reports cover the 2018 calendar year and forecast the market out to 2023.
When announcing the reports' availability, BSRIA commented, "Many countries experienced decent growth in the LAN market due to a favourable economic climate, the introduction of CPR [Construction Products Regulation] in Europe and increasing uptake of plenum cables in Canada."
BSRIA added that the data center market "showed significant growth, particularly in Asia. The large colocation and hyperscale data centres are experiencing decent growth, so BSRIA is now measuring sales of singlemode fibre cables and preterm fibre connectivity by multimode and singlemode."
Category 6A continues to be the LAN's workhorse, according to BSRIA. Its 2018 sales increase was "driven partly by the increasing usage of PoE for wireless access points, cameras, and other devices," the researcher added. In 2017, BSRIA reported that Category 6A had a 19% share of all cabling systems, by volume, globally. While it didn't reveal Cat 6A's total share for 2018 (you'll have to buy the report to find that out), BSRIA did say, "The uptake of Cat 6A solutions is highest in Europe and the Middle East."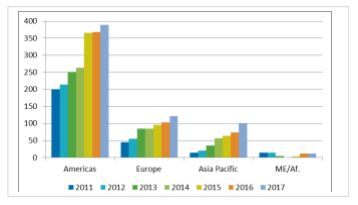 Worldwide sales of MPO/MTP by region, in USD millions, 2011-2017
Images on this page, provided by BSRIA, show worldwide sales of MPO-style connectors by region for the years 2011-2017; and the total worldwide sales of structured cabling, segmented into LAN and data center applications, for 2006-2022.
You can find detailed information, and order BSRIA's reports, here.